WIN TICKETS // Manchester – Fingathing, Mongrels, Burgundy Blood, Jonny Dub + Battlestar Mancunia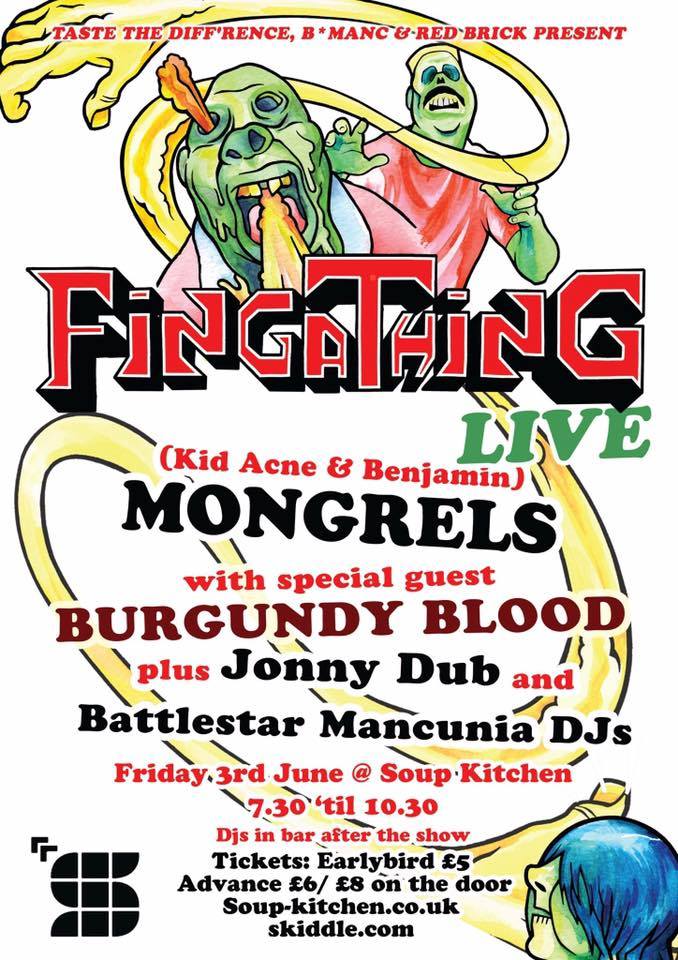 The immortal Fingathing return!
Catch Peter Parker, Sneaky and illustrator Chris Drury this Friday at Soup Kitchen… in support will be Battlestar Mancunia DJs (Danny Drive Thru, gkut, Peter Parker and I) making our debut live appearance, plus actual top drawer support in the form of Mongrels (album out imminently!), fraternisers Burgundy Blood and Manc stalwart Jonny Dub.
TO WIN TWO FREE GUEST LIST FOR FRIDAY courtesy of Red Brick and Fingathing, simply send me a name for this guy on the front of the Mongrels LP 'Attack The Monolith' below. There are no wrong answers (as I'm fairly sure Kid Acne has already named him anyway – this is just for 'FUN'.)
Order the VERY limited vinyl of Attack The Monolith here. Listen on Bandcamp here.
Either: tweet me @jamiegroovement with FINGATHING: (NAME OF THIS GUY) or email me ([email protected]) with the same subject header. Winner will be announced on the Battlestar Mancunia show, Thursday 7-9 on Reform Radio. Comp closes Thursday @ noon UK time. Names will be entered into a random name picker to choose a winner, Groovement Cat's decision is final.
GOOD LUCK!