Groovement Podcast – Agent J: Off World {July 2015}
---
Listen on MIXCLOUD / Subscribe on ITUNES / Download direct
---
Agent J: Off World {July 2015} by Jamie Groovement Aka Agent J on Mixcloud
Two episodes in two weeks? I've gone from having zero time to making the time, at the most stressful point of the year for any teacher, report-writing and data analysis time. Catharsis is obviously needed.
Shouts must also go to fellow Manchester-based podcasts from Air Adam and The Soul Twins, both big inspirations – check them out on the links!
The Mouse Outfit & Bam (The Jungle Brothers) – What'd I Do?
New track from Manchester hip hop live band featuring JBs legend, who hooked up with them at their Manchester date at Band on the Wall. Catch the JBs in Sheffield on 5 September, plus myself, DJ A-UP and Bedos in support as In The Loop.
El Michels Affair – Criminology
Raekwon – Criminology
A nod to Get On Down's 45 series, one of which is this track. Tracks originally released as 12″s, on 7″ for the first time complete with mini picture sleeves.
HOT16 – WHEREDOWEGO? ft. EPP & Elton Cray
Summer vibes from Portland!

Bilal – I Really Don't Care
Do yourself a favour and buy the new album from BBE Music here, it's completely produced by Adrian Younge and the fruit of a series of sessions between the two that turned into an album. 
Ghostface Killah & Adrian Younge – Let The Record Spin feat. Raekwon
Another Adrian Younge gem, this time from the sequel to Twelve Reasons To Die. 
Leon Bridges – Pull Away
Proper RnB. Leon plays Manchester's Deaf Institute this Thursday, but it's done sold out. Fingers crossed, will have an interview on the night for publication here and for Now Then Magazine. 
LEVELZ – LVL 09
This week they've been on Julie Adenuga's first Beats 1 radio show and have announce they'll be on Channel 4 new music programme Four to the Floor, also featuring Homeboy Sandman. The world awaits the forthcoming mixtape. 
The Internet – Girl (feat. KAYTRANADA)
Sublime, and originally premiered Kaytra's Radio 1 residency debut show. I had a Kaytanada interview sorted a year or so ago but it got pushed back to after the show, which was on a week night, so I had to knock it back. That's when you know you're too old for this shit. 
DJ Shadow – Six Days (Machinedrum Remix)
I missed this EP when it came out, on Shadow's own label. Download it on the link. 
débruit – Separated Together
Outside The Line is a great next phase for the London-based French producer. Lots more exciting stuff coming from him – this one suits the 'Off World' theme of this episode, definitely. 

Run The Jewels – Pew Pew Pew feat. DJ Q-Bert
They smashed it at Glastonbury, and have announced a radio show on Beats1.
Kendrick Lamar – Alright

New one from Musique Large boss and thoroughly nice bloke Fulgeance. Fun times!

Lead single from Dam's forthcoming album on Stones Throw – hopefully he'l have an army of new fans from his 7 Days Of Funk project with Snoop. 
Chakruna – Cumbia Achorada
Underground Peruvian bleeps from Tiger's Milk Records' Peruvian Boom comp, now available to buy. I've just pre-ordered the vinyl. 
Ghost Writerz – Back It Up feat.G.O.L.D. & Shiffa Dan
Great album from Harry 'Sleepy Time Ghost' Metcalfe and Jason 'Jimmy Screech' Bradshaw – Screech was one of the first people I interviewed for Groovement, back in 2007/8.
Thundercat – It Really Doesn't Matter To You
Great to see everyone drooling over the new EP, but make sure you go back and pick up his older stuff if you're not familiar! This one is from 2011's Golden Age Of Apocalypse.
L'Orange & Kool Keith – Twenty Fifty Three (feat. Mr. Lif)
These two team up for the album Time? Astonishing! Definitely off-world. 
Oddisee – That Real
Visiting Manchester in September, we're in support! Grab a ticket. 
Wally Clark – Almost Over
From the Gummy Soul crew. 
Pete Rock – I Wish
90s beats from the master and more Mello Music Group goodness. Petestrumentals 2 is out now. 
Golden Rules – Play Some Luther
It's ten years since Luther Vandross left us, and Paul White and Eric Biddines are feeling it. Pre-order their album from Lex, it's out 7th August.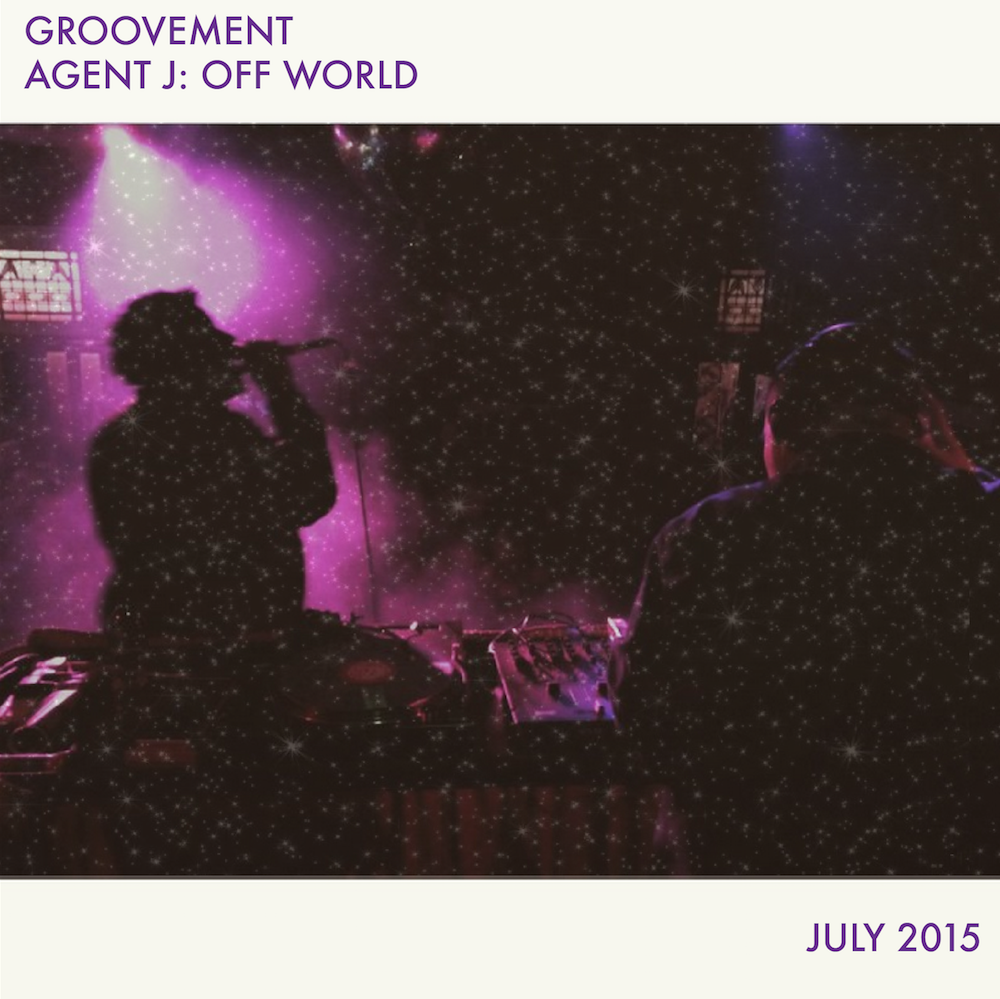 Ratking – American Gods ft. Remy Banks, Teddy & Slickyboy
We're also spinning ahead of this lot in August, also at Deaf. 
Stig Of The Dump – Standard Procedure
New LP Kubrick is out now!
Deltatron – Ego Trip
A second, and definitely interstellar, track from the Peru Boom comp. 
Gossamer – Off World
From which I've taken this episode's name. Spaced out… one for reflection and calm. 
Thanks for listening! All feedback appreciated via Twitter or Facebook.