CANCELLED: Phife Dawg (A Tribe Called Quest) in Manchester for Vent opening 7th Nov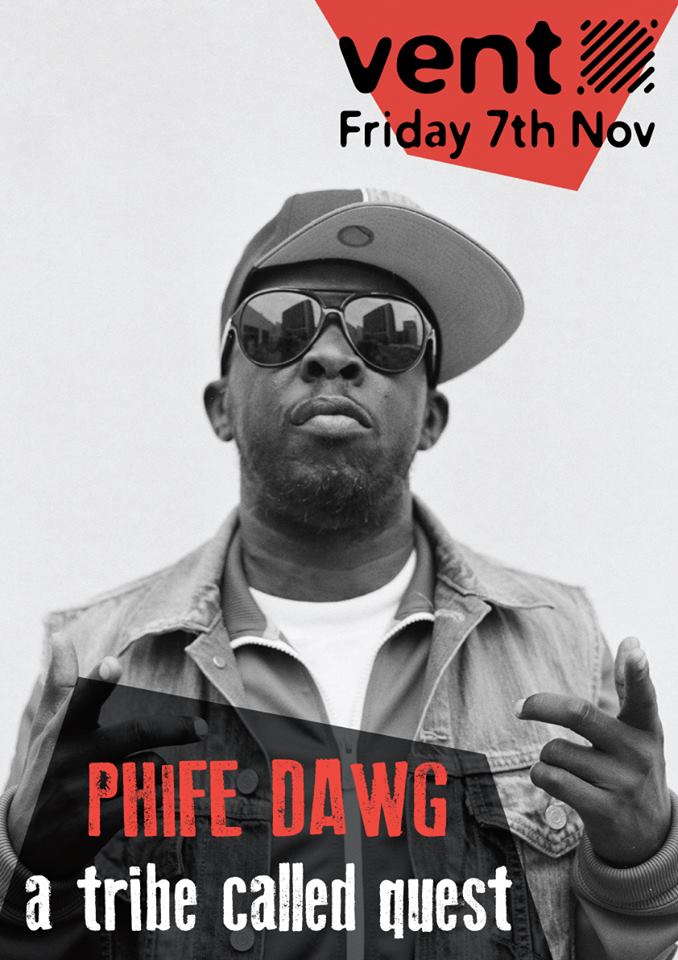 Unfortunately this Friday's show has been cancelled by the promoters Vent, with punters having been notified by ticket outlets. As far as I've heard refunds are being offered at points of purchase. Unconfirmed reports claim that an alcohol license for the venue (which remains unknown) could not be obtained, but there may be a myriad of reasons. Phife seems as clueless as the rest of us in a video posted on Facebook today, reassuring fans that he'll be in Manchester soon.
From Vent so far (with 24 hours to go), nothing.
In better news, head over to the Manchester Hip Hop Network on Facebook to view a slew of forthcoming Manchester hip hop gigs.
Original preview follows.
———————-
It's not often new spaces manage to get someone of such legendary stature on their first night, but Manchester's been taken aback by the announcement of Phife hitting town on 7th November.
'Vent delivers 3 months of Fridays from its own base, a once mill & now deserted club.. With a 24 hour licence, 3 floors and room enough for 1000, we can unleash Manchester's potential.' – Minshull Street is the best I can get for the location from Skiddle – keep an eye out for an official announcement of where the space is!
live performances from:
phife dawg [a tribe called quest]
+ dj rasta root [smoking needles]
+ probot the mighty [acid city records]
w/
WE THE BRAND SHOWCASE
w/
hector moralez [apollonia, we the brand]
tommy largo [mushroom jazz, great lakes audio]
jamie trench [tsuba, viva music]
david glass [circus recordings, roush]
jade cox [im a house gangster, robsoul]
oliver drops [departure, vent
DANNY BECK [Ibiza Rocks, Vent]
DAN J & MIKE O'MARA [Huddle]
LARRY JONES [Oddisco, Vent]
FLUX GROOVE [Kaluki]
Groovement chased up Oliver Drops to see what the dealio is…
You guys have got Manchester all abuzz with this gig, seemingly coming out of nowhere – what can you tell us about the people behind Vent?
Well, Vent started as more of a side project aimed at bringing big performers to small and unusual spaces.
Some friends had one of those old Victorian houses in Withington with a huge basement area. It was actually two rooms with a connecting corridor and it immediately sent our minds spinning. Brick walls, good headroom, soundproof, it was a perfect space for a party.
What will make Vent stand apart from other venues?
We've got a 24 hour licence, which we intend to utilise, but aside from that we're not sticking to any formula or trend. We're putting together line ups of all skills and generations. We're kind of taking the house party rules to a club.
So, let's talk Phife – whose genius idea was that?
What are your favourite Tribe tracks and why?
Ah so many. 8 Million Stories just gets me every time. The lyrics are unreal, so much attitude.
'Just last week my girl was stressin me, now her best friend be undressin me'
What a Dawg. But then, 'now that i got that out my system, watch me stab up the track as if my name was OJ Simpson,' is one of my favourite lines.
So The Hop has to be up there but God Lives Through, Check the Rhime all of them. Q is my favourite engineer and Phife my favourite rapper, so it's win win.
The opening party is also a showcase for We The Brand – what's your association with these guys and what can you tell us about them?
We The Brand is
Hector Moralez
's baby and I've loved Hector's music for a long time. Then after we booked him earlier this year at The Night Kitchen, he blew the lid so it would have been counter productive to not get him back. And it so happens he's one of the loveliest passionate guys i've ever met, and has even insisted on coming over to promote Vent three weeks early.
Any clues as to forthcoming events?
Matador, Philip Bader & Di Chiara Brothers 5th Dec //
But we have a lot more up our sleeve, some great collaborations and partners to yet announce. And watch out for NYD.
What are your hopes for the future of Vent?
We don't know, we like to change. Let's see where it takes us.
Buy your tickets for Phife (quick!) at
Skiddle
Keep up with Vent over at their
website
.