Out now: P.I.M.P. – Bacao Rhythm & Steel Band 45 re-issued on Truth & Soul Records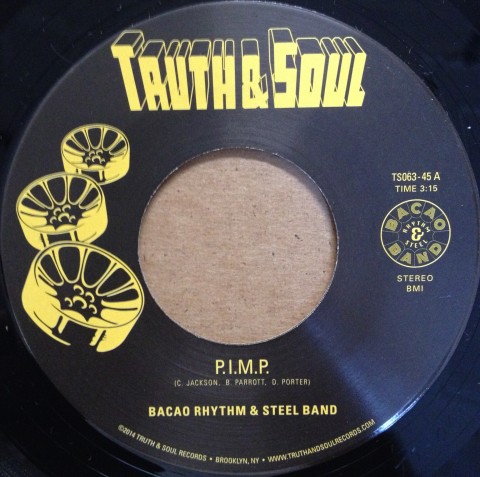 I'm so proud of my bros over at Hamburg label Mocambo, who are about to see their first Bacao Rhythm & Steel Band 45 released on New York's Truth & Soul Records, home of El Michels and the like (the eagle-eyed amongst you will spot their recent release 'Bacao Suave / Round and Round' was on T&S imprint Plane Jane Records).
Blurb from T&S:  Back in 2008 BRSB released its smashing cover of 50 Cent's P.I.M.P. which was long thought to be the original sample for the tune. The Mocambo pressing is already hard to come by and fetching top dollar on the internet has become an underground classic. On Side A BRSB treat the tune to their signature smashing drums and bass heavy production, taking the original loop and turning it into a full composition. Brass and steel pan parts putting it somewhere between reggae, steel funk, and the Superfly Soundtrack.
Side B is the first BRSB original making it's way to vinyl, "Laventille Road March" hits hard. The heavy drumming, open breaks, and pan melodies make this a sureshot for DJs and listeners alike.
The guys have a full length coming in 2015 on T&S, simply called 55.
If you don't know about 45 label kings Mocambo, check out their back catalogue here.
.