Interview: Loose Lips present Blah Records Showcase + Masaki Uchida track premiere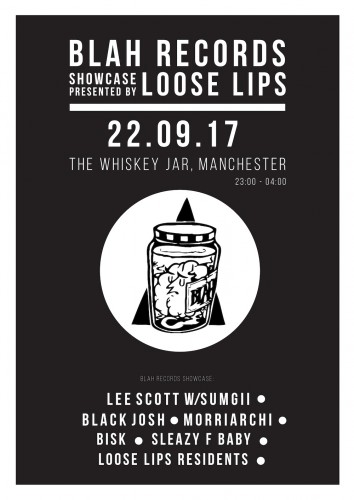 This Friday sees one of the UK's best hip hop collectives descend to the basement of the Whiskey Jar, courtesy of the Loose Lips crew – read my preview over at Manchester Wire and grab TICKETS HERE.
Far be it from me to leave stones unturned when it comes to hip hop goings on in the city – I fired some questions over to Loose Lipsers Medallion Man and Treece to find out a little more about the event and their collective.
Loose Lips looks like a massive undertaking given it's not only a club night but much more. Could you give us an outline of what goes down?
Bigups man, it does keep us busy but we love it. Work hard, play hard!
We have a range of projects. For one, we're all radio fanatics and have a weekly show on 199Radio (Mondays 8-10pm), a new station I have launched in North London. Treece & Paxman up here kill it, with shows on Limbo, MCR Live and Reform. The radio shows are quite interactive and focused on speaking to anyone musically-inclined about their passion. We then have a weekly mix series, released every Friday, which kills the chat and is focused on top quality selectors from across the musical spectrum!
We then also have a busy editorial, publishing reviews, features, interviews and the odd satirical piece! Shouts to our editors Hardy, Blaise and Max who hold that down.
Loose Lips is also a label, with our 12th release coming out October 6th – the debut album from a mad Japanese producer called Masaki Uchida… spanning futuristic grime, eerie soundscapes and industrial noise. This is topped off with events in Manchester, Bristol & London (moving between each city for a party each month) and then monthly live sessions in London which raise money for a different charity each month and focus on anything live…from hip hop to live electronics and various bands/singers.
You can explore the content of each of these projects on our website here – http://loose-lips.co.uk.
LISTEN TO A PREMIERE OF MASAKI UCHIDA'S XENOLINGUISTICS BELOW.

How did you start up?
We started up on the Sunday after a long weekend in a living room in Acton, London. Juggins and I committed to a throwing a party focused on the range of all our tastes. There were no further intentions at that point except one good Friday night. It's then evolved from there, taking over the lives of a fair few people, haha!
How has Manchester treated you so far party-wise?
It's been interesting, pretty mad and always diverse. We've invited the likes of Mo Kolours, A Broken Camarila, Kris Wadsworth, El-B, Yak, Lord Tusk, Will Welt & Circula. The first year of Loose Lips wasn't spent doing anything in Manchester so we still feel young in the city. Buzzing for Friday and for some VERY exciting news for December 2017 and March 2018.
You've turned to Blah for a hip hop showcase – why this label in particular for the city? Why is Blah important?
We have been following Blah Records' output for years now, and we have linked artists on the roster numerous times over our 3 year history, namely Stinkin Slumrok and Morriarchi guesting on our Loose Lips Radio Show in London, also Sleazy F Baby and Blah affiliate Sumgii (performing on Friday) appearing on the line up for our 'Block Party' stage at Boomtown Fair.
Firstly you can't doubt the importance of the role Blah plays not only in the hip hop scene in the North West but the country as a whole. Bringing them to Manchester felt completely natural, a Blah Records label showcase in Manchester was something that we're surprised has never happened before, so we just thought fuck it, let's give the people what they want.
Please name three Blah tracks we should check immediately (and why)!
Lee Scott – Cold Sagging White Rhino Funk Feat Sly Moon
Cold Sagging White Rhino Funk is our first choice as it might be one that new Blah Records fans overlook. It also features a cold verse from COTD member Sly Moon.
Will Sniff – Broke Zipper
Skipping forward to the present, this one will help to cement Blah Records' most recent signing Will Sniff (aka Sniff) as a legend in the UK Hip Hop scene.
Children of the Damned – Don't Talk To Frank
Classic, 'nuff said. If you don't know about Children of the Damned/Cult of the Damned then get to know, the Blah Records supergroup is a perfect introduction to the artists on the label.
What's up next for Manchester? Will we see more hip hop showcases given the talent ready to burst in the city?
We always like to switch up the vibes of our events in each of the cities we put them on. So next up in Manchester (without being able to give too much away), we are going to go back to our roots and throw a proper rave. However, working alongside the talent Manchester has to offer is something we always try to do, we offer a support slot to a local act at each of our events or through our radio shows on Reform Radio, Limbo Radio and MCR Live. If you get down to the event early (11:00-12:30), some real talented MCs from the city will be shutting down the cypher.
Massive thanks to MM for taking the time out to talk to us. Keep an eye on Loose Lips on Twitter and Facebook.