Groovement Interview / AGBEKO: Manc Afro psych-funk
AGBEKO's manic, 11-person live shows are fuelled by seventies African jazz and funk. Since forming in 2015, they've blown up stages at Secret Garden Party, Green Man, Kendal Calling, Tramlines and the Manchester Jazz Festival. Currently hard at work on a full length release, I threw over some questions to band leader, song writer and tenor saxophonist Jamie Stockbridge.
What's the philosophy behind AGBEKO?
In essence it sets out to be a dialogue. I love the music of titanic figures like Fela and Ebo Taylor but we're all a bunch of musicians from various parts of England. For me, setting out to sound as authentically like Egypt 80 or something would be both nigh on impossible and, arguably, pointless as they've done it far better than we could a long time beforehand!
As such I don't shy away from my background writing more rock or pop-based songs. It's about trying to marry together the reverence towards certain artists with the honesty about our own backgrounds to create a coherent sound.
Could you describe the band's music to the uninitiated?
I'm always tempted to get technical but in essence it's big, loud, danceable, singable and quite dirty. There's lots of horn hooks, the odd crazy time signature and a myriad of cowbells. A friend of mine who runs a 7″ label called Stutter & Twitch said we sounded 'nasty', which I'm oddly proud of.
How did you get together?
We got together a couple of years ago for a one-off gig playing Fela Kuti tunes. I was new in Manchester and keen to meet people so just got stuck in! We landed a gig as part of Manchester Jazz Festival which motivated me to start writing some original tunes and then it's just snowballed from there.
Who are the artists that have directly influenced you? Why?
I've mentioned Fela a couple of times. He's iconic, unavoidable and essential listening! I've started doing a lot more digital cratedigging, as it were, since setting up the group. I'm now definitely influenced by Afro-funk artists like Aktion, Eji Oyewole and The Funkees. I also listen to a lot of Hailu Mergia, Mulatu Astatke and more current performers like Shaolin Afronauts and Antibalas.
Could you suggests albums from these artists for people to check?
Aktion's Groove the Funk is brilliant.

Eji Oyewole's Charity Begins at Home is worth checking out, as is his much later Me & You. It gives you a real idea of how versatile a writer he is.


Soundway Records released a good Funkees compilation called Dancing Time that is probably a good way in.

My favourite Hailu album is Tche Belew, Mulatu has released a great record with The Heliocentrics. Follow the Path by Shaolin Afronauts is great, as is Talkatif (and everything else!) by Antibalas.





Any lessons learned on the road?
There's 11 of us, so it's important to make sure everyone feels they can go and get some headspace when they need it or it's just a little to all-encompassing! We're off to Bulgaria this summer, so I'm sure we'll learn a lot as we go… I'm still paranoid that someone will turn up to the airport with an expired passport.
How has the process of recording the album gone? What can you tell us about it?
Great, thanks! We hired out a space and had our own gear so we felt quite relaxed, able to tweak a lot of sounds and shift a few sections around until everything felt good! The rhythm section stuff is all done as continuous takes – they just grooved different sections for hours until it felt good, then hit the big red button. It's a short, snappy record encompassing a few big singalongs, an eight minute instrumental wig-out and a the closest thing we have to a ballad all in the space of about half an hour.
Where do AGBEKO fit into the Manchester scene, and how is it for you?
We're genuinely limited in some ways by whether we actually "fit". We got offered a gig at the Castle once, which is a lovely space but not quite big enough for the band, let alone an audience! The scene is great, there's a really supportive and enthusiastic interaction among other musicians.
Fill us in on upcoming gigs and releases?
We've got a couple of local gigs coming up. The first is at Matt and Phreds on 19th May, which is always fun. Then we're super excited to launch the new record with a headline show at Band on the Wall on 14th July.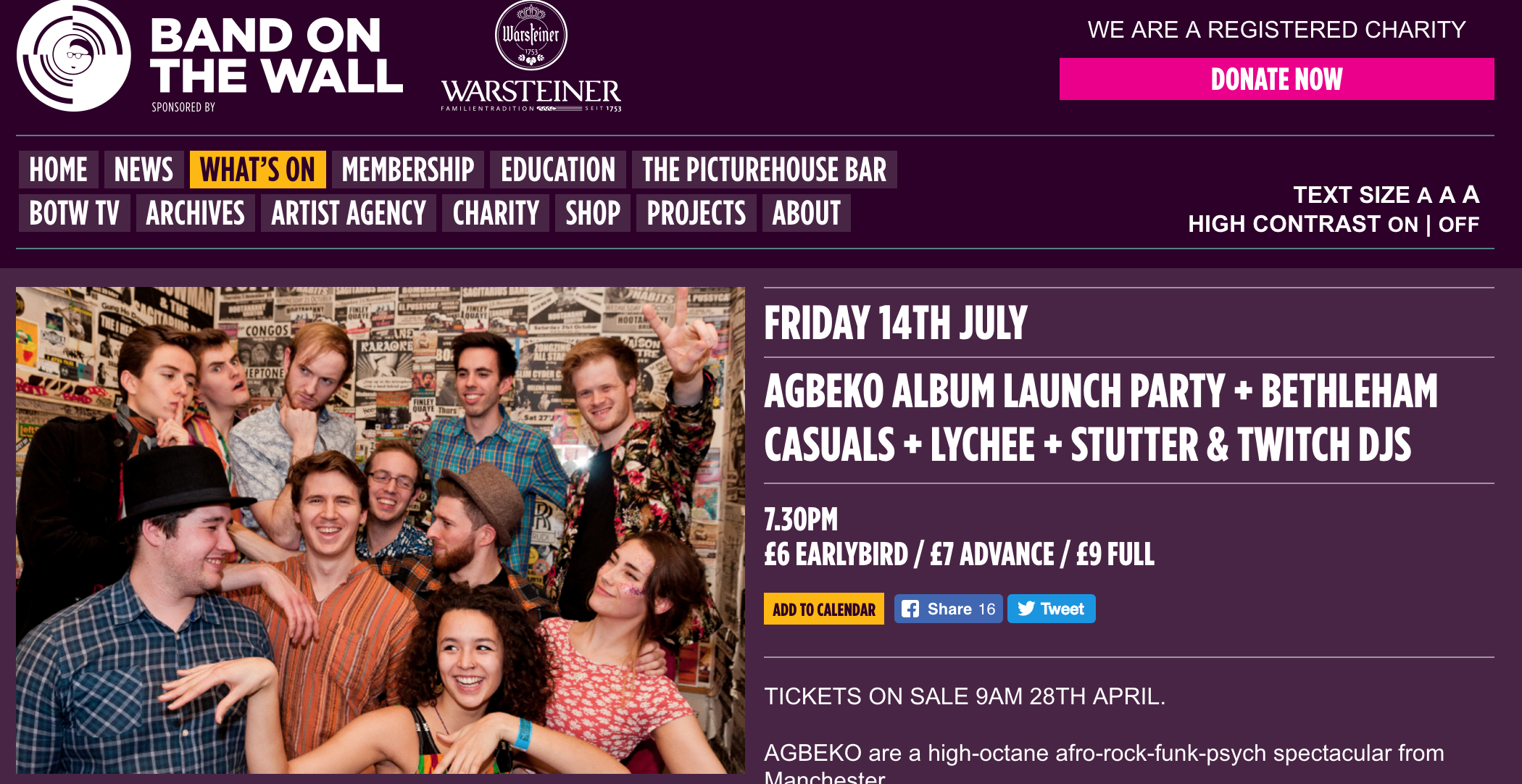 It's going to be massive and we're determined to try and fill the place so it'd be great to see some new faces!
AGBEKO TWITTER FACEBOOK ARTIST SITE