On Wax // Mr Thing, Eric Lau, kidkanevil, Tall Black Guy: Nothing Leaves The Archives
The third and final part of the Nothing trilogy of releases from First Word Records for Record Store Day is incoming. Brilliantly, it's on a John Peel tip.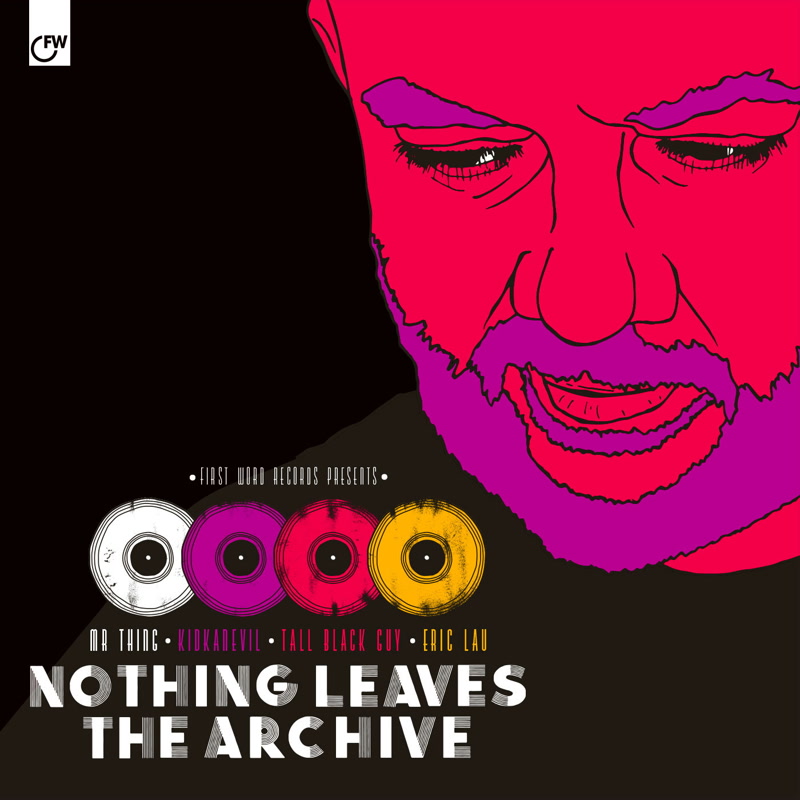 I love the below blurb immensely from label founder Aly Gilani, so I've left it intact.
PRE-ORDER 7″
Whenever I try to break down why I love music as much as I do, one element comes back to me again and again: discovery. I have enough records to last a lifetime (literally – I'm not sure if I'd be able to physically listen to all the records I own in whatever time I have left on the planet). My shelves are overflowing, my hard drive is full, and yet I keep listening, keep buying, keep searching. And that feeling of discovering that killer beat, that perfect track, that singular album is one that doesn't subside. Of course there's then the question of what you do with that discovery – my response has always led me to want to share it. Years before I started DJing, I'd find myself dragging friends to my stereo: you've got to hear this tune. It led me to starting First Word Records in 2003 – finding music that I love and sharing it with the world.
I have a natural attraction to others who are equally addicted to the cycle of discovery and sharing of music and it's why my life has been so shaped by the radio DJs who educated me as a teenager. Growing up in the pre-internet era the power and responsibility held by radio DJs was huge, and one figure loomed larger than them all – John Peel. There has been much written about his unique talent and passion for music, I don't feel I can add much more to it, but on a personal level I just loved that I genuinely never knew what I was going to hear next, which in today's focus-grouped, play-listed culture seems almost impossible to imagine. When we were fortunate enough to be invited by the John Peel Archive to access his private collection for this, the third instalment in our RSD series, there was no hesitation. So it was that on a cold November afternoon that we found ourselves trawling through tens of thousands of records in rural England in search of inspiration. It was a day that I'll remember as long as I live and will be eternally grateful to Sheila and the Ravenscroft Family as well as Leon, James and the rest of the JPA team for their generosity and enthusiasm.
For those new to our Record Store Day projects, this is the third and final part of a trilogy of releases. For the first, the producers could each pick one record from Mr Thing's collection, for the second, he picked one record for each of them. They then were tasked with creating a new track from that singular sample source. This year is no different: each of the four tracks on these records were created using music sampled from the John Peel Archive. We discovered some incredible music that day and in your hands you are holding the results. It's a pleasure to share it with you…