Groovement Interview: CHARLES EDISON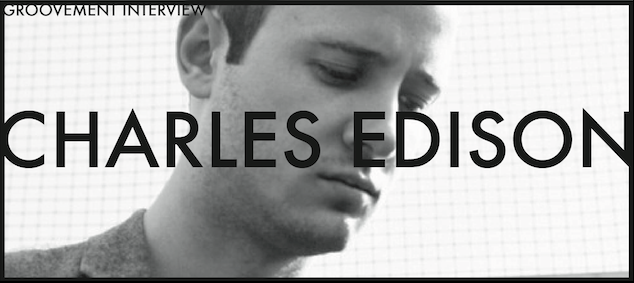 I was blown away by Charles' track My Name Is t'other month – you can find it right at the end of this Groovement episode. I holla'd at him with some questions to delve a little deeper.
Catch him on Facebook, Twitter and Soundcloud. He even has his own website here.
Also have a look at Beats Laying About and their Twitter.
Hi there, Charles! Please sum yourself up in a sentence.
The best producer in Essex that you've never heard of.
What can you tell us about the forthcoming long player, Lightbulbs?
It's an album of instrumentals ranging from 1 to 3 1/2 minutes long and there's allsorts on there. You have happy music, sad music, digital sounds, more traditional, earthy beats. You could consider it an introduction I suppose, as there are a whole range of different styles on it. I feel like I've developed my own sound, so the album has the cohesion I was looking for, but at the same time it takes you up, down and everywhere inbetween. The first track we shared was My Name Is and then after that, Bitstorm. They couldn't be more different. I can't wait to share Lightbulbs in its entirety.
How long have you been making music, and how have you been doing it?
I've been making music for about five years using various versions of Fruity Loops. I've had brief periods using hardware like the Akai MPC (the hip hop beatmaker's mainstay) but always came back to FL as I quickly realised there was nothing I could do with hardware that I didn't already know how to do with FL.
At the moment I'm using Fruity Loops 10, an Alesis Q49 midi keyboard and a Technics SL1210 MK2 for sampling vinyl.
Terrible but necessary question – who are your influences?
I could talk about this all day, but the people I find myself constantly drawing inspiration from are:
Damon Albarn – The work Damon has done as Gorillaz has had a huge impact on the way I approach projects. Each of the albums they've put out have had a clear theme running through them and a strong concept tying everything together and I always strive for that cohesion. Not to mention Damon's songwriting, which is often so vivid.
Kanye West – I'm really impressed with the way his sound has evolved over the course of his career. One of the biggest challenges I find is to continue to push boundaries and try to innovate without losing a sense of what defines my "sound" as an artist but I think Kanye's done an amazing job of doing that.
Daft Punk – The Tron Legacy score in particular is one of my favourite albums of recent years. Working with samples, I find it's sometimes difficult to lay melodies and synth sounds over them without sounding a little jarring or forced. What I loved about the Tron Legacy score was how well they combined raw, digital sounds with the warm, rich tones of an orchestra whichcomplemented the film's visuals beautifully.
Who's doing it right, right now – music wise? Who are you listening to?
I still have Disclosure's 'Settle' on repeat and I think their talent is incredible. The fact that they're only 20 and 23 is amazing. I also like London Grammar a lot. I love theirsound, it's so eerie and emotive. I also listen to a lot of 60s bands like The Doors, Jefferson Airplane and The Zombies.
You've produced for the Delusionists. Who are they?
Delusionists are a three-man hip hop outfit consisting of Ben Black, DBF, and Slim Pickens. I heard an album they put out called Prolusion Plus and was really taken by it – the production, the concepts, everything. It just felt different to what everyone else was on. I loved what they were doing so I began sending them beats – one of which became Messiah Complex. That ended up being picked up by Radio 1, so I was really happy with that.
What's the story with BLA Records? Is it a label you are heavily involved with?
Ben Black set it up to put out Delusionists' music. I met him at a couple of gigs, sent them Lightbulbs and they decided they wanted to put it out.
What about Straw Man and Fisky?
Fisky is a rapper I've collaborated with. I did a few of the beats on his album recently and I'm always open to working with vocalists. I don't know too much about Straw Man except that he's putting together an EP for release on BLA after Lightbulbs.
What's your experience been of getting your music out there in the age of Soundcloud, Bandcamp etc? What works well? What doesn't?
I use Soundcloud a lot. When I make a beat that isn't for a particular project or artist I'll usually put it on there and I've found it a good way to test reactions. It's always so difficult not to let your own feelings or opinions dictate what you do with a track. I might not like a beat because it only took a little while to make but everyone else might love it, so I think platforms like Soundcloud make it so much easier to understand what you're doing right.
Lightbulbs is due on BLA Records quite soon.