WIN TICKETS: Eden Festival, 12-15 June 2014 ft De La Soul, The Nextmen, Mungo's Hi Fi, Prince Fatty, The Heatwave and many more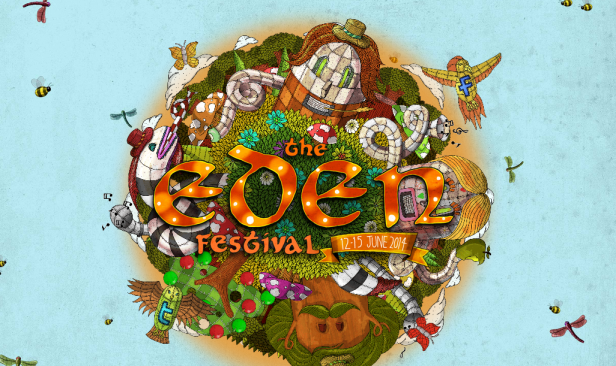 I'm pleased to announce we have a couple of guest list to give away for one of the UK's best summer festivals, taking place 12-15 June in Dumfries and Galloway. This years sees De La Soul headlining and a killer line-up to accompany them.
WINNERS ANNOUNCED SATURDAY 7 JUNE!! Winners will be contacted by email and/or text message.
Now set across 11 stages, Eden originated as part of the Wicker Man festival in 2002, finding its own feet in 2009/10, fuelled by local youth. Tickets are available on the site, but most early birds are now sold out… buy tickets here!
Find out about the plethora of stages and stuff to do on offer here.
Find out more details about Eden Festival on their website.
TO WIN a pair of guest list to the festival courtesy of Groovement and Eden, simply drop me an email with the name of De La Soul's forthcoming album. Email me with the subject header EDEN COMP GROOVEMENT and your answer, with your full name and a mobile number to text. My email's j @ groovement dot co dot uk … Good luck!
Eden Festival FACEBOOK TWITTER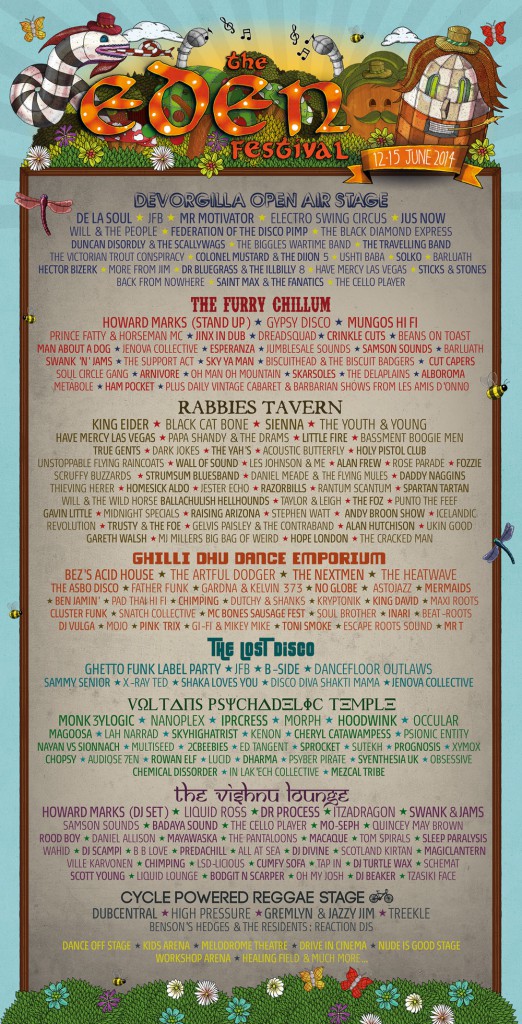 More info from the press release:
Set across 11 stages, Eden hosts an electric mix of sounds and environments, from auld eclectic drinkin' dens, to psychedelic tropical dance tents, to circus styled brass and ska cocktail bars, to Indian wedding marquees filled with hammocks and bath tubs.
Let's stumble upon a few..The Devorgilla Open Air Stage, it's mighty hand built tortoise shell body hosts the festivals headline acts, including Del La Soul, Electric Swing Circus, Jus Now and Mr Motivator (Come on you know you love him!)  and a whole lot more.
Next up the Furry Chillum Cocktail Bar, immerse yourself in the enticing, warm and exotic atmosphere, while lending your ear to acoustic, brass, swing and ska, plus a heavy smattering of the bizarre. It's cabaret time!
Then the Ghilli Du Dance Emporium, a colourful melting pot of everything from Drum 'n' Bass to Soca, back to Bassline and Breakbeat and over to Electro and Techno and anything in between – there will be something to suit any dance fan. Hear from The Nextmen, Father Funk, Artful Dodger and the Heatwave.
Rabbie's Tavern will provide an auld Scottish bar to drink the local hooch with live bands playing celtic, roots, rockabilly, bone shakin blues and anything else that makes you stomp your foot, hoist yer tankards and get yer melons oot! Rabbies Tavern will also have a traditional Scottish ceilidh each night and some Karaoke with Barry on the Saturday afternoon.
Beyond the winding tunnel lays a florescent utopia, Voltans Psychadelic Temple; melting, merging, dripping, like a lucid lysergic vision from behind closed eyelids. Stretch your head back and the see the luminescent projections finely mapped across stages atmosphere, with spectrums of colour and light bouncing off aerial installations. The thunder provided by the mighty Mezcal Tribe Soundsystem, with the clans gathering from all over the UK and as far way as Greece and Portugal.
Tune in and drop out – The Vishnu lounge provides a taste of paradise on the fringes of eden, a place to chill out and swing in the hammocks, lounge in the bath tub and soak up some ambient audio treats to a nice hot cup of chai.
Come get fit at the Cycle powered Reggae Stage.  The Green Space Geo-Domes – Pedal-powered stage and cafe, celebrating all things sustainable! Providing music and entertainment with a Dub / Reggae theme – with Bands, DJ's and MC's from around the country, a small cinema space in the early hours in our cosy cafe serving cake and tea. All powered by the tip-top Chain Reaction Bike Powered Sound System.
Welcome to our wonderful heated chill out tent, Casa Caliente. It's a shoes off affair as we deck it out in luxury deep pile hand tufted carpets. This year we will have some mysterious afternoon workshops, one of which will be entitled "Silence". We will also have board games available like chess, draughts and of course cards. On Saturday, we will also be hosting the 1st competition of the Eden Cup; a "Switch" card game competition played under the House rules (practice sessions available). We will also be hosting the Freelance Silly Dance Championship with a trophy and prizes to the winners. In the evenings we will really chill with some acoustic sessions.
Solar and battery powered – the Bearcub Soundsystem is the brain child of Jon Purkins who mixes carving wood with crafting beats in the festivals sunset strip alongside the Northern Green Gathering crew and Cycle Powered Soundsystem.
Keeping it real for all those sinners out there, Barry Band Wagon is on hand, aboard a travelling stage in some ill fitting dress to provide some sing-a-long music for those that would tap their toe to anything really. 
The Nude is Good Stage -Take a wander and enjoy the tranquil surroundings of The Nude is Good Stage nestled down in the valley outside the festival. There is some brave bands down there and a relaxing sauna to detox and leave your worries behind.
The Shellycoat Kids Tent offers sustainable, environmentally friendly, arts, crafts, performance, forest skills and play, free of charge for all children, in a pleasant and natural setting. It consists of a decorated craft and performance marquee, a little ones yurt, outside space, and a forest skill's area under the oak tree. Indoor and outdoor activities take place all weekend from 9am to 8pm. 
Join the Circus Shenannigans with Spinning Jenny and her team, to delve into her box of tricks.Learn to juggle, hoola hoop, stilt walk, spin a plate and more…
Providing an array of amazing vintage cabaret over the weekend in the Furry Chillum Stage, as well as horse tricks and barbarian shows in the special arena outside – be sure to drop by in the afternoons for some jaw dropping cabaret and stunts from Les Amis D'onno.
Melodrome Theatre by day, hosting theatre shows, comedy, impromptu music and all sorts of quirky entertainment. Hum Drum Club by night, look out for special invitations from the Melodrome Womens Drinking Society to this exclusive invite only boogie parlour.
And finally the Lost Disco, a flaming outdoor dance parlour playing host to some of the finest funky djs and label parties. When the old wooden door swings open at mid night every night its your time to enter the arena and set fazers to stunning!