Interview and ticket/CD comp // Dr Syntax & Pete Cannon album launch @ Antwerp Mansion Friday 11 April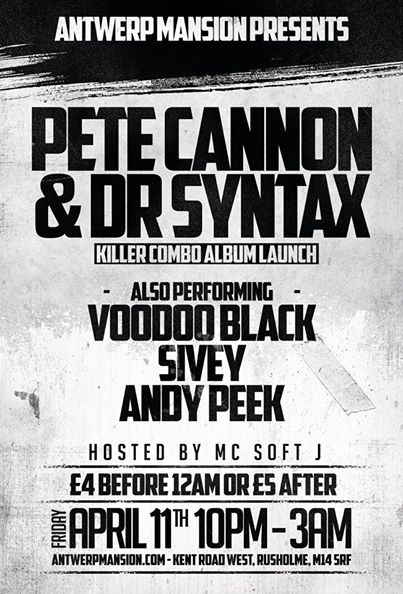 WIN  A PAIR OF GUEST LIST  TO THIS GIG ON FRIDAY, PLUS A COPY OF THE 'KILLER COMBO' ALBUM ON CD!
Simply share this Groovement post on Facebook or Twitter. If you want to enter by email, just email me – [email protected] – with the subject heading SYNTAX CANNON COMP and your full name.
Comp closes Thursday midnight so get sharing… (Winners will be chosen by the Groovement random name selector robot).
LINK TO SHARE: https://groovement.co.uk/2014/04/interview-and-ticketcd-comp-dr-syntax-pete-cannon-album-launch-antwerp-mansion-friday-11-april/
Killer Combo is available now on Bandcamp.
Afternoon, Syntax. What are you up to this fine day?
Good afternoon to you too! I've just been writing a depressing verse about being sick of eternal winter. Not my most upbeat effort, which, ironically, may never see the light of day.
We have the Manchester album launch coming up this Friday at Antwerp Mansion. How long have you known Cannon and how did you first meet?
I've known Pete since about 2007. I was doing a show in Manchester at Music Box (Now Oxford Road Tesco Metro), and he gave me a beat CD afterwards. It stood out from other beat CDs because his name at the time was 'Mr Dick', and he'd drawn a stick figure with a huge penis on it. Needless to say, the beats were great, and we've been pals ever since.
Give us a quick rundown of the album.
The album is called 'Killer Combo!' and is loosely based on the concept of being overgrown man-children united in pathetic defiance of adult expectations and responsibilities. Hence you've got songs called 'Do What We Wanna Do' and 'On My Terms', madcap Ren & Stimpy-esque artwork and production reminiscent of the stuff we grew up listening to in the nineties.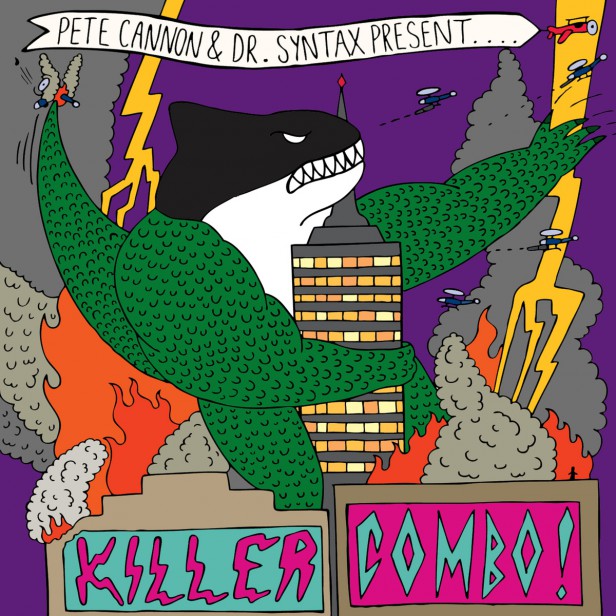 Who guests on there?
We've got Jman and Eva Lazarus on 'Weed And Ale', DJ Woody on 'On My Terms', Del The Funky Homosapien & Jehst on 'Do What We Wanna Do' and Dirty Dike and Lunar C on 'Grotty'. The only beat Pete didn't make was for 'Got Me In A Spin – that was by Defty of The Mouse Outfit.
How did the Del collab come about?
Del did a one-off show for the night 'Taste The Diff'rence' in Manchester a few years ago. We shared the same agent at the time (shout out to Tom @ One Step), who hooked up the meeting. Del's verse was in fact recorded in a hotel room in Fallowfield, during a very surreal evening. We went to MacDonalds and he had four boxes of large fries for tea, and told me a story about taking mushrooms with the Beastie Boys. We couldn't really have found someone better suited for the project, really.
Here's a Groovement interview with Del from that very evening:

GROOVEMENT // Del The Funky Homosapien / Interview 18NOV10 by Jamie Groovement on Mixcloud
The cover is very colourful. Who is this El Tacodor?

El Tacodor is a heavily-tattooed, hursute young man from Chester, who currently resides in Canada. As well as the album artwork and design, he did the animated video for 'Do What We Wanna Do', as well as 'Smooth Crash Landing' by Fliptrix. He has a very active imagination, shall we say. I love his work.
There's been a lot of buzz about your work with the Mouse Outfit this year and last (and I see bassist Defty pops up on the album). Is that a collaboration that's set to continue? What plans are in formulation?
Definitely. It's been a great year for us. I'm a fixture as frontman in their live shows along with Sparkz, and the bookings keep coming in, which is fantastic. We're announcing a summer festival tour soon. There is a second album in the works, and really it's the same formula as before: lots of tracks with different MCs, mostly from Manchester or Manchester-based, with Pitch and Chini on production duties.
What are your favourite non-Syntax Cannon tracks?

Damn, that's a good question. He's got so much material. What he actually has released is the tip of the iceberg. I love what he's done with High Focus, and he's got a whole remix album coming with them, but he's also got a jungle EP coming out, and a whole solo album of parody songs. There's nobody quite like Pete Cannon.
Tell us about the support acts on the night.
Voodoo Black is the combo of top local MCs Sparkz, Ellis Meade and Dubbul O, with DJ Cutterz. Some people might recognize Sparkz and Dubbul O from Mouse Outfit tracks, but the production style is very different with Voodoo Black – more of an electronic sound. I think they are such a great group – stacks of energy and charisma onstage, and their music is just really, really good.
Sivey is an incredible producer as well as a DJ. He met Pete through Louis Den, which is a now defunct online forum and Birmingham club night where all the country's best underground beatmakers converged. His music nowadays is mostly instrumental, but he produced for people like Lowkey and Doc Brown a few years back. As a DJ, he's very versatile, so we're in good hands.
Andy Peek is one of my favourite DJs too. He just has an encyclopaedic, obsessive knowledge of music. Some DJs will bang a few records in a bag (or files on a stick) and maybe still come off nice, but you know Andy is going to plan things meticulously.
Also, Pete Cannon will close the night with a jungle set, which will undoubtedly leave him giddy with excitement. I don't think you could be more enthusiastic behind the decks than Pete, he gives it some welly.
Can you name three other killer combos that could give you a run for your money?
In terms of light entertainment and gentle banter for the tea time TV audience, I'm not sure we could take on Carol Vorderman and Richard Whitely in their prime.
In terms of early-90s fraudulent wrestling outfits, the Legion Of Doom were always pretty impressive. They looked pretty formidable with their spikey shoulder pads, and while I'm pretty sure it was all fairly harmless fun, I think they still deserve the 'killer combo' stamp of approval.

Nice & Smooth are probably our biggest heroes as far as rap duos go. There aren't many rappers that seem to be having that much fun – we're trying our darnedest to bring that back though.