DJ A-UP presents the rest of A Tribe Called Quest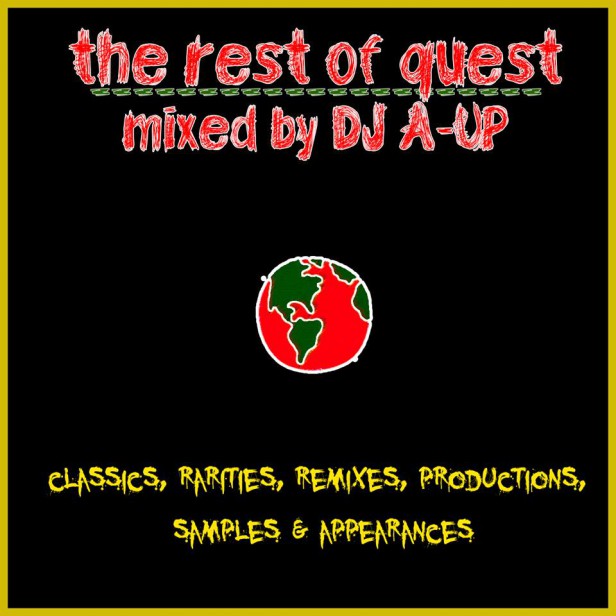 My brother from another / DJ partner in rhyme at In The Loop / fellow Groovement writer, DJ A-UP, has been working on this Tribe mixtape for quite a while. Rather than going the simple route with Tribe standards, he's prised out samples, remixes and the like of some of his favourite tunes. It's an out and out banger of a mixtape, as is the case with all his previous releases.
Check his previous mixtapes, as well as the Nougold podcast with emcee Bedos,  on his Mixcloud.
Listen on Mixcloud (DL link here too)
The Rest of Quest by The Nougold Podcast on Mixcloud
A Tribe Called Quest – Award Tour Intro
Kool & The Gang – Who's Gonna Take the Weight
.A Tribe Called Quest – Oh My God
A Tribe Called Quest – Oh My God (Remix)
A Tribe Called Quest – Oh My God (Organ Mix)
A Tribe Called Quest – Bound to Wreck Your Party
BUN ft. Phife Dawg – What's The Deal?
Mint Condition ft. Phife Dawg – Let Me Be The One (Ummah Remix)
Phife Dawg – Bend Ova
De La Soul ft. Q-Tip – Buddy
A Tribe Called Quest – Jam (Instrumental)
Consequence – The Consequences
A Tribe Called Quest – We Can Get Down
Bill Cosby – Martin's Funeral
A Tribe Called Quest – Stressed Out (Raphael Saadiq Remix)
A Tribe Called Quest – Peace, Prosperity and Paper
A Tribe Called Quest – Money Maker
Craig Mack – Get Down (Q-Tip Remix Instrumental)
Mobb Deep ft. Q-Tip – Drink Away The Pain (Situations)
Phife Dawg – If Men Are Dogs
Phife Dawg – Dear Dilla
Slum Village ft. Q-Tip – Hold Tighhht
Beastie Boys ft. Q-Tip – Get It Together (Q-Tip Remix)
Q-Tip – Q-Tip For Preisdent
Biz Markie – Nobody Beats The Biz
Steve Arrington – Beddie-Biey
Minnie Riperton – Inside My Love
A Tribe Called Quest – Lyrics to Go (Tumblin' Dice Remix)
Hiatus Kaiyote ft. Q-Tip – Nakamura
Common ft. Q-Tip, Pharrell & Erykah Badu – Come Close Remix
A Tribe Called Quest – Bonita Applebum
Janet Jackson – Got 'til it's Gone (Q-Tip live verse)
A Tribe Called Quest ft. Erykah Badu – Doin It (I.C.U) (Edit)
Apache – Gangsta Bitch (Instrumental)
A Tribe Called Quest – Electric Relaxation (Instrumental)
Black Ivory – You and I
Q-Tip – Gettin' Up
Lonnie Smith – Spinning Wheel (Drumbreak)
A Tribe Called Quest – Can I Kick It
Tiger ft. Q-Tip – Who Planned It
Phife Dawg – U Know U Want It
Q-Tip – Work It Out
Q-Tip – Work It Out (Remix)
David T. Walker – On Love