Boca 45's 3rd 2020 Donut features Swaby of The Heavy and Invada Records crew The Bryan Munich Allstars
The third in Scott Hendy aka Boca 45's Donuts 2020 series (these guys are never to be released again as 7 inch singles) is out for pre-order, featuring Swaby of The Heavy and long-time pals Bryan Munich Allstars.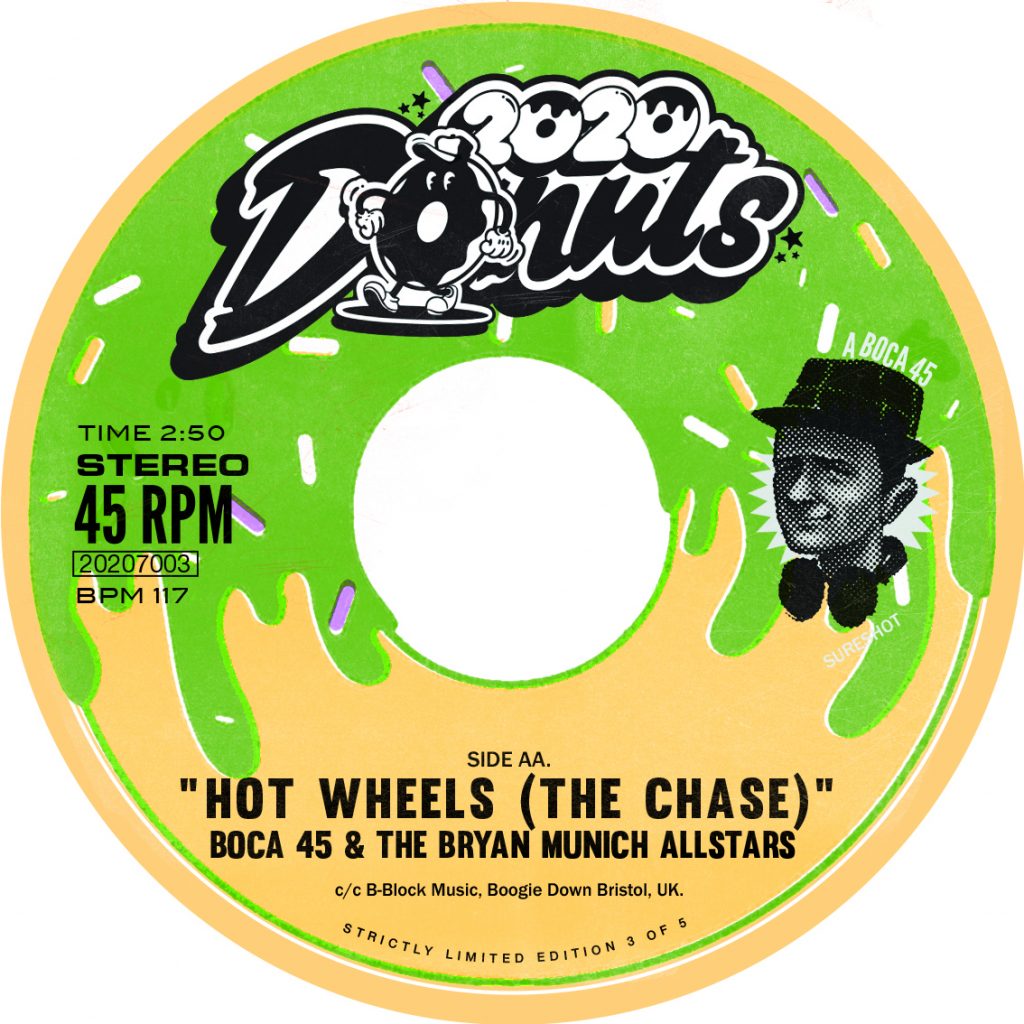 While the A-side's a stomper with Swaby's vocals and funk guitar aplenty, the B side's of particular interest having been recorded at Geoff Barrow's Invada studios in Bristol with some of the Invada crew: Hot Wheels (The Chase) is a cover of the 1973 track by Badder Than Evil, and sees Geoff (Beak, Devs, Portishead), Ben Salisbury (Drokk with Geoff, Dolman with Boca 45, Devs, The Life of Mammals, Beyonce: Life Is But A Dream), Billy Fuller (Beak, Robert Plant), Jerry Crozier Cole (Ex Machina, PP Arnold, Ruby Turner, Elliott Randall, Pee Wee Ellis and Fred Wesley) and Ant Poploski – it's a sequel to the Bryan Munich Theme from Boca's 2019 LP Forty-Five.
Scott Boca says:

"I'm now halfway through the 2020 Donuts and here's a special one for y'all. This one took a lot of work pulling it together! I have known of (Kelvin) Swaby since the early 90s. Although I'm from Bristol, I (ill advised) went to Sixth Form College in Bath.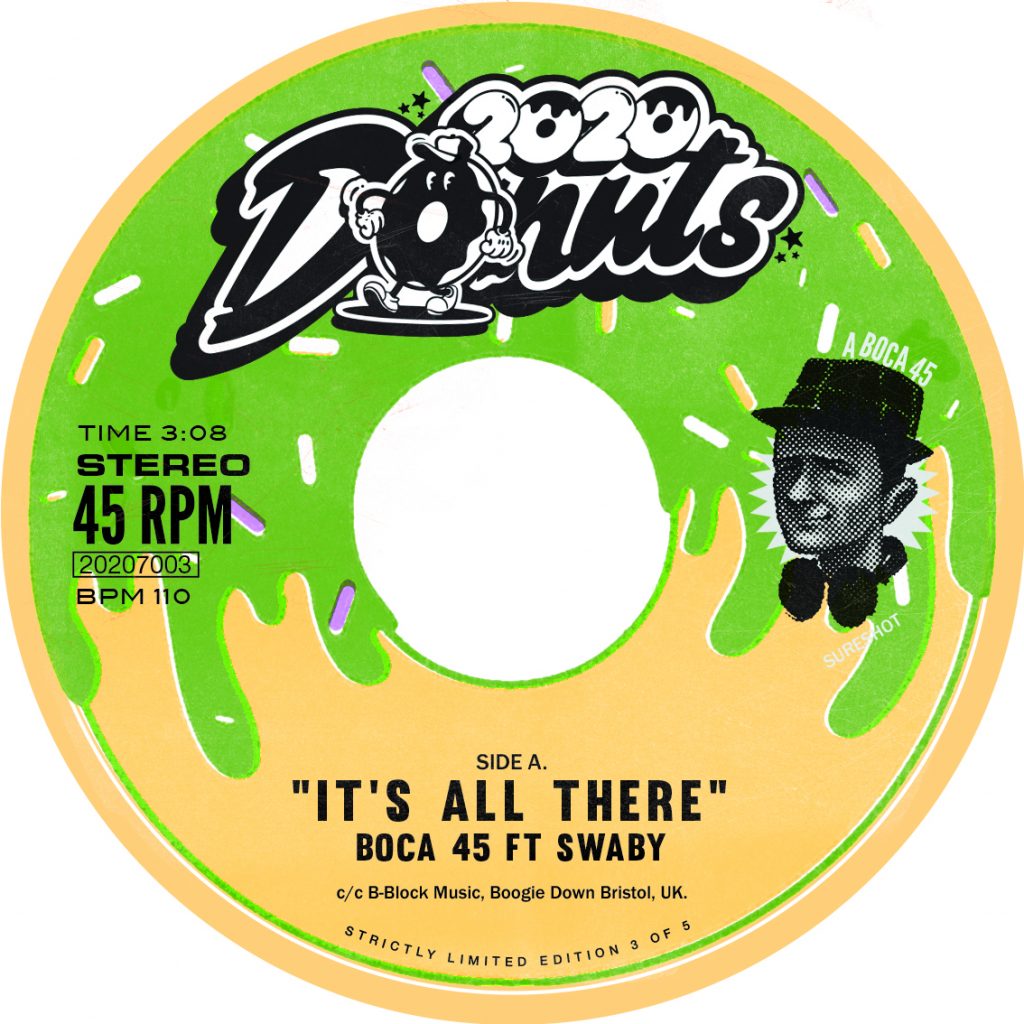 There was a popular hip-hop crew there called "Perno & Black," they were kind of local Bath celebrities and one of the MCs was Kelv (Swaby). 10 plus years later, whispers came down the A4 that Swaby was no longer an MC, he'd become a HOT soul / funk singer. In 2006, he jumped on three tracks on my 2nd LP "Vertigo Sounds." Stepchild, Swaby & I formed a live trio, "The Boca 45 Experience" and played a host of gigs around Europe including a jump off sessions at Cargo in London & the legendary Jelly Jazz.

Swaby's band "The Heavy" went on to become a phenomenal success story. I've been pestering poor Swaby to jump on another beat with me for years but he's always crazy busy. Luckily, he was keen to be part of the "2020 Donuts" project so we made it happen. I hope that you'll agree that 'It's All There' was worth the wait?

On my semi-autobiographical LP "Forty Five, I got together some of the fine Gentlemen I've been playing football with for many years. Our (rubbish) team from the Bristol Casuals League is called "Bryan Munich" and we got into the studio and came up with "The Bryan Munich Theme." Getting this band back together for my idea of doing a Bristolian cover version of the B-Boy Classic "Hot Wheels (The Chase)" was hard beyond belief. Sometimes I thought it would had been easier putting The Beatles back together! We managed to finally get back in a room in March shortly before lockdown and what you hear on the record is take 2 LIVE from Invada studios, Bristol mixed down by my good buddy Geoff Barrow.
The 45 is out Monday 1st June, buy it here.