Out Now: Aver is ready to cheer us all up with Breakfast In Dystopia (includes colouring)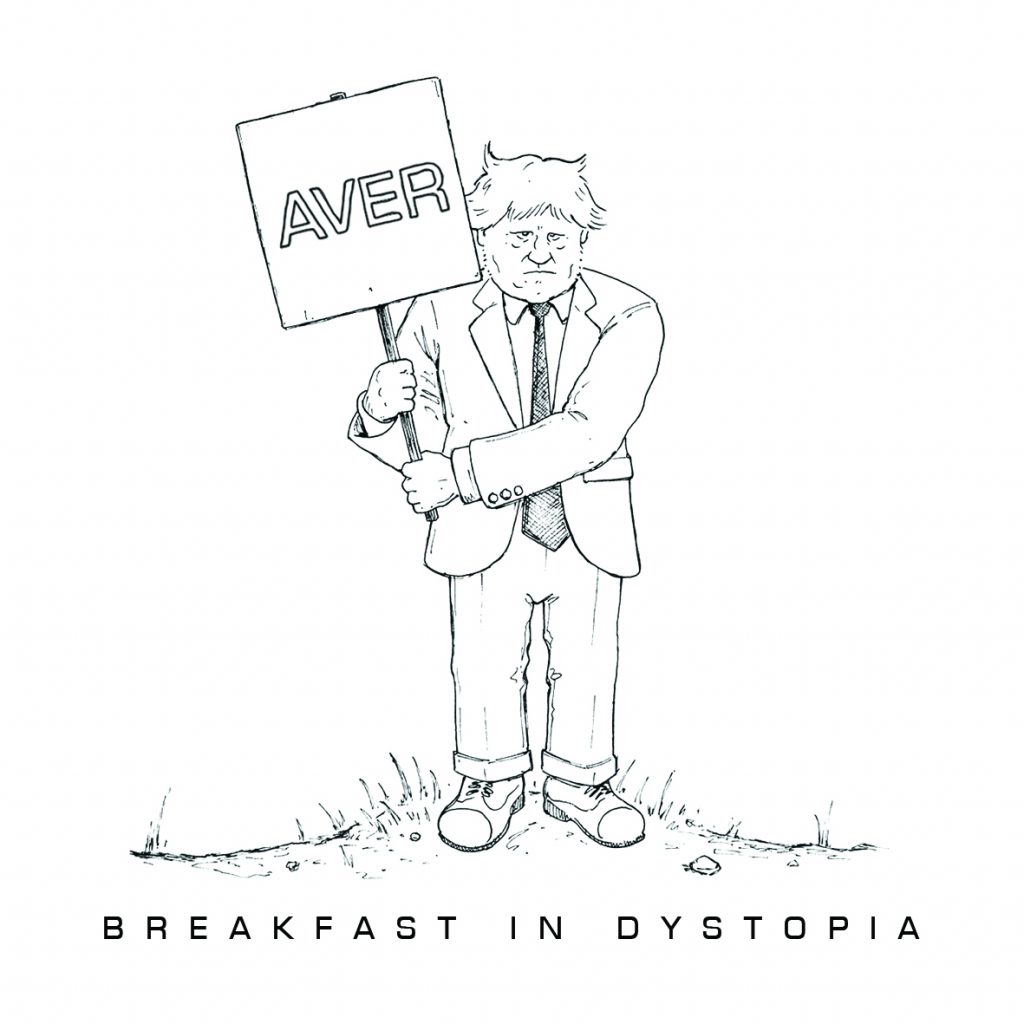 New music from Aver! But don't rejoice, it's a dystopian and apocalyptic vinyl EP. This is the second time I've done this today (also see Jamael Dean's lovely words) – and I make a point of NEVER doing this – but I'm going to copy and past some of the press release below because it's so damn good.
Propaganda follows:
---
Village Live Records is somewhat reluctant to present the new EP from Aver, "Breakfast In Dystopia".
Having spent three years in a dream-like daze whilst in political exile in Germany, Mancunian hip-hop producer, Aver, awoke last December to the scorched earth reality that lay before him…. Environmental collapse, Johnson's Brexit triumph, Donald Trump's seemingly invincible presidency, the global lurch to the political Right, and a music-consuming public with the attention span of a goldfish.
In an attempt to resist the truth no longer, Aver haphazardly threw together four incredibly short, dense and dark tracks that he felt fitting for the modern era, and sent them to his sympathetic label bosses, Remulak & Joey Deez.
Taking pity on the failing musician, the two men decided they would give the EP a low key release in order to save Aver from spiraling into depression.
The EP itself has zero features or note-worthy co-signs upon which to advertise itself. It is merely music, drum-heavy, dystopian hip-hop music.
A disturbing video for the single The Future is Orange will be released along with the pre-order of the EP on the 27th of April, 2020, with the full release coming on the 1st of May, 2020.
The music itself comes in two forms: the limited edition vinyl for those who still live in a consumption-driven past, and mp3 streams for those who live in the high-speed reality disconnected from the physical world.
The EP cover, illustrated by Anthony Hardman, does a good job of trivializing the corona-riddled world in which we find ourselves. Having been conceived long before the outbreak of COVID-19, the apocalyptic drawing can now double as a colouring book for all those in isolation.
The 7″ also comes with a personalised insult for each buyer, held on a placard by the loving Boris.
Keep an eye Village Live for the pre-order (27 April) and full release (1 May).