Skiddle's Manchester 2020 Gig Picks
The kind people at Skiddle have put together a bunch of recommendations of upcoming gigs – keep an eye on Manchester events on their site here.
---
Are you a gig lover and wondering what's on in Manchester in 2020? Well, we've got you covered if you're need of something with a bouncing bassline, fantastic flow or laid back beat.
From smaller spaces such as YES and Band On the Wall, to the enormous Victoria Warehouse and beyond, there are a whole heap of rappers, melody makers, jazz wizards and more ready to wow you in 2020, and below are Skiddle's top picks of what's on in Manchester this year.
---
What: Winston Surfshirt
Where: Band On The Wall in Manchester
When: Sunday 1st March 2020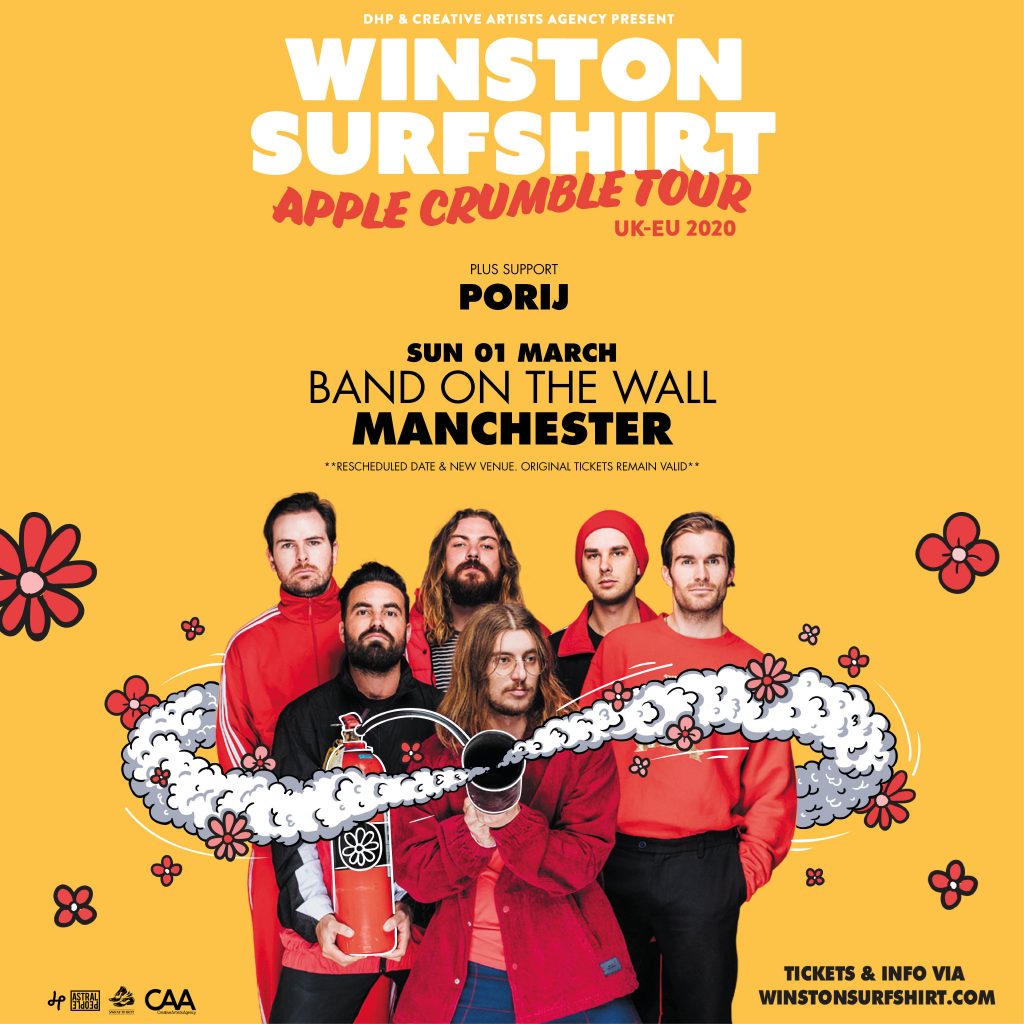 Aussie collective Winston Surfshirt are masters of creating, laid back vibes of the finest quality. Mixing soul, hip hop and slacker, two delicious sounding records Sponge Cake, and Apple Crumble contain traces of grooves, honey dipped vocals and hooks aplenty.
Of all venues then, Band on the Wall is without doubt the perfect accompaniment for the Manchester leg of their UK tour, promising to be an extremely special, and intimate, display of chilled out goodness.
Buy tickets here
---
What: Hot 8 Brass Band Mardi Gras tour + DJ Jim Bane (Eastern Bloc)
Where: O2 Ritz in Manchester
When: Friday 6th March 2020
Blending hip-hop, jazz and funk styles with traditional New Orleans brass sounds, Hot 8 Brass Band are well known and loved for their cover of Marvin Gaye's Sexual Healing, plus a whole heap more.
In October 2007, the band released Rock With The Hot 8, their first studio album via Tru Thoughts, and were the first US act to sign to the British label.
Two records have followed, and with a repertoire that is bursting with party starting tunes, the Hot 8 Brass Band's Manchester leg of their Mardi Gras will most definitely live long in the memory.
(Editor's note: I'll be joining Hot 8 in Sheffield on Wed 26 Feb – buy tickets here!)
Buy tickets here
---
What: GZA – 25th anniversary of Liquid Swords
Where: O2 Ritz in Manchester
When: Tuesday 31st March 2020
Little needs to be said about the impact Wu Tang Clan co-founder GZA had both as part of one of hip hop's greatest ever collectives and also as a solo mic slayer.
With sophomore 1995 record Liquid Swords an icon was born, and 25 years on GZA will celebrate this seminal release with a huge show at the O2 Ritz.
Buy tickets here
---
What: Caribou – live
Where: O2 Victoria Warehouse in Manchester
When: Friday 3rd April 2020
With a brand new album out at the end of February entitled Suddenly, what better time to catch Dan Snaith aka Caribou at one of Manchester's most impressive live music spaces: Victoria Warehouse.
Six years from his previous release Our Love, which featured the sensational Can't Do Without You, Snaith returns to treat his fans to brand new sounds and what will doubtless be an unforgettable show in Manchester.
Buy tickets here
---
What: Gogo Penguin
Where: Albert Hall in Manchester
When: Thursday 21st May 2020
The Manchester ensemble continue to grow and grow in their home city, this time coming to the incredible live music space that is the Albert Hall.
The former Wesleyan chapel will play host to the group dubbed the 'Radiohead of British Jazz', where they will deliver their lavish, experimental sounds in stunning surroundings. A new album for 2020 is in the wings, making this date even more unmissable.
Buy tickets here
---
What: Lupe Fiasco
Where: O2 Ritz in Manchester
When: Sunday 7th June 2020
For those who remember his early '00s come up, seeing Lupe Fiasco live and in the flesh will be one hell of a nostalgia trip, but Lupe is well more than past glories.
From the days of Kick Push and Superstar to present day releases, Lupe Fiasco has been one tireless producer and has consistently released records, right up until the present day with Talib Kweli collab album Blackstar (a nod to an Kweli's work with Mos Def).
With a date at the Ritz, this is an opportunity to witness live a great of modern day hip hop, and an overseas performer who rarely touches down on British soil.
Buy tickets here