Groovement Podcast: Pan Amsterdam in conversation with Agent J
The elusive Pan Amsterdam landed in Manchester a couple of days back for what was only his second gig – but not his first rodeo. Leron Thomas, the real life aka of the drawling lyricist, has his own rich musical history, some of which we dive into over the course of our interview which we chose to conduct (wisely or not, you decide) over food in Chinatown.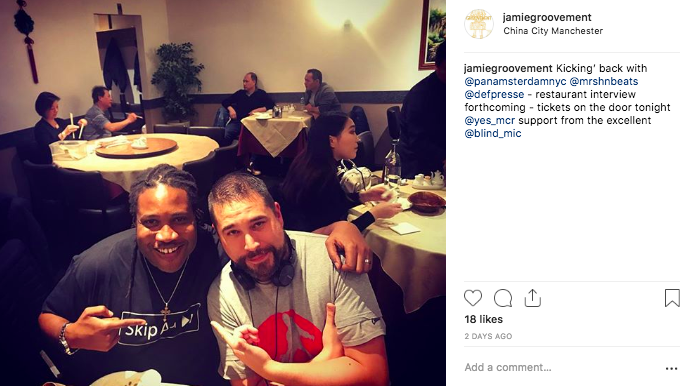 Pan Am recruited Tacoma, Washington beatmaker/producer Mr.Shn (pron. 'martian') to provide the soundtrack for the tour, big shouts to him plus Matt at Def Pressé for facilitating our meeting, and all the people who bought wax at the gig after succumbing to my sales patter.
Join us as I steal his sweet and sour sauce, chat career, his good friend Malik Ameer Crumpler, thatmanmonkz, Madison Washington, opportunities, Bilal, Erykah and corruption in jazz. Track selections by Pan Am!
TRACK LISTING
Pan Amsterdam – Plus One
Interview: Introducing Pan Am
GUTS ft Leron Thomas – Man Funk
Interview: What's yo boy sendin' me?
Isaac Hayes: Ike's Mood
Interview: Malik
Pan Amsterdam: Landlord Elijah
Pan Amsterdam: Landlord Elijah (Re-Do with Mr.Shin)
Interview: You can't be too romantic then just die
Madison Washington: Children Of Sarah Connor
Miles Davis: Water Babies
Madison Washington U R What U Loop ft Cecilia Knapp & Lorin Benedict
Interview: Bad habits
Cotonete: Layla
Interview: Freedom to innovate / Bilal / Erykah
Bilal: You're All I Need
Mr.Shn: Entering The City
Interview: Focus
thatmanmonkz, Malik Ameer Crumpler, Leron Thomas – Amerikkkan Poets
LISTEN: ITUNES / MIXCLOUD / DOWNLOAD / RSS FEED
Remaining tour dates:
PAN AMSTERDAM BANDCAMP TWITTER
MR.SHN BANDCAMP SOUNDCLOUD TWITTER INSTA
LERON THOMAS SITE TWITTER INSTA
MADISON WASHINGTON BANDCAMP TWITTER
MALIK AMEER CRUMPLER TWITTER  SITE
Stream and buy the LP Pocket Watch over on Bandcamp.
Stream and buy Madison Washington's (((FACTS))))) LP over there too.