Interview: Scor-zay-zee picks up the pieces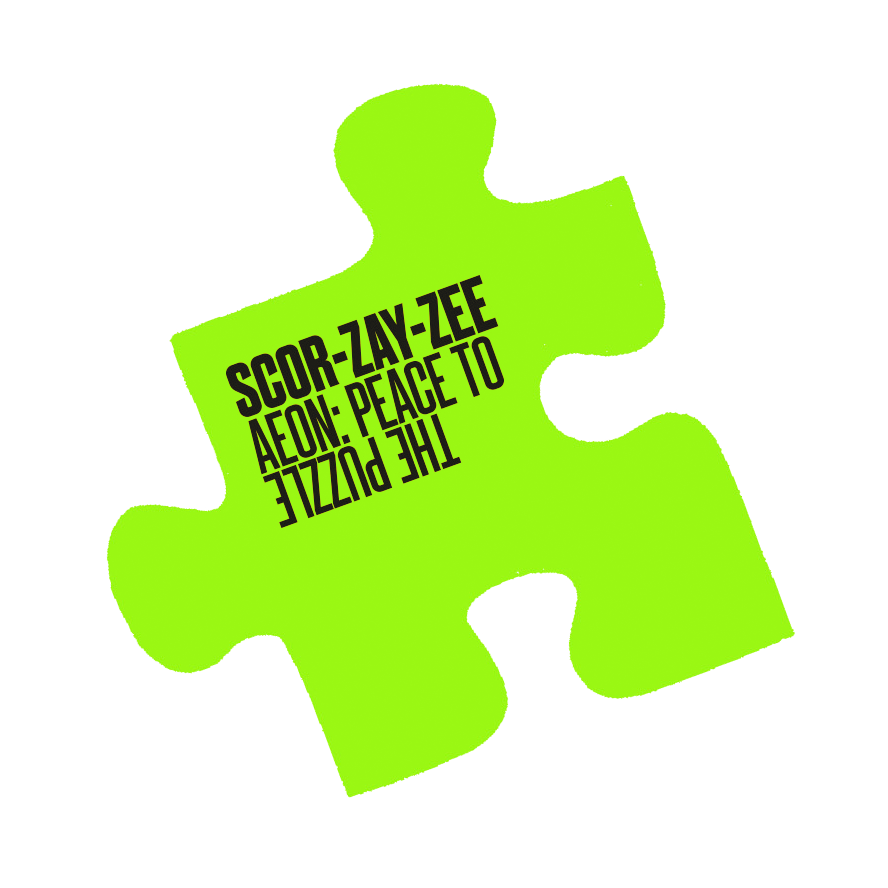 This interview is the extended edition of one done for Now Then magazine, May 2015. Find it online here. Thanks to the ever-sound Now Then for linking back!
Scor-zay-zee is one of the most respected lyricists in the UK, first being noticed as part of Nottingham crew Out Da Ville, then later gaining wider attention in 2008 as co-star of the Shane Meadows film Le Donk and Scor-zay-zee with Paddy Considine, in which he played an exaggerated version of himself.
Scorz, aka Dean Palinczuk, drifted in and out of the hip hop scene as he battled with depression and schizophrenia, chronicling his struggle in the 2010 single, 'Luv Me'. Now in a much more settled frame of mind, Scorz has emerged with his debut album of no less than 28 tracks, entitled Aeon: Peace to the Puzzle. It's triumphant, powerful and a banger to boot.
I caught up with Scorz over coffee and cake, and must give a massive shout and thank you to Kam for stepping in on recording duties when my Zoom let me down! Kam co-hosts The Boxing Coalition podcast, check it here.
Buy Aeon: Peace To The Puzzle and keep up with Scorz' goings on over at Scorzilla.com.

How did the album come about?
---
I've always been a free spirit as an artist, so I've always been a bit elusive and did music whenever I wanted and how I wanted. I always used to do projects and give them as a free download. The last one I did, the mixtape War to the Puzzle, which was meant to be a pre-album mixtape, after about two weeks I ended up giving it away free and everyone who paid three quid for it, kinda got pissed. I've always been like that – do music, save it on my hard drive, put it out online – and have never been really tied down into doing something as professional as this Kickstarter campaign.
The three guys – Ste Allen, Jack Curtis and Greg – they came to me with the idea that as fans they wanted a real studio album, professionally put out. It was their idea. They brought the idea to me. Ste rang me and mentioned the idea of Kickstarter, and I'd not really been too up on it. I was a bit sceptical at first. The first thing I thought was, will it work? When we did the Kickstarter documentary to promo the campaign, everyone started talking about it and it got a bit of buzz online. When the campaign went live, it kind of went through the roof. The target was £8,000 and after four weeks we'd hit double the target. I then thought to myself, I can't do a single album. If I've hit double the target I've got to do a double album at least because people have waited for so long.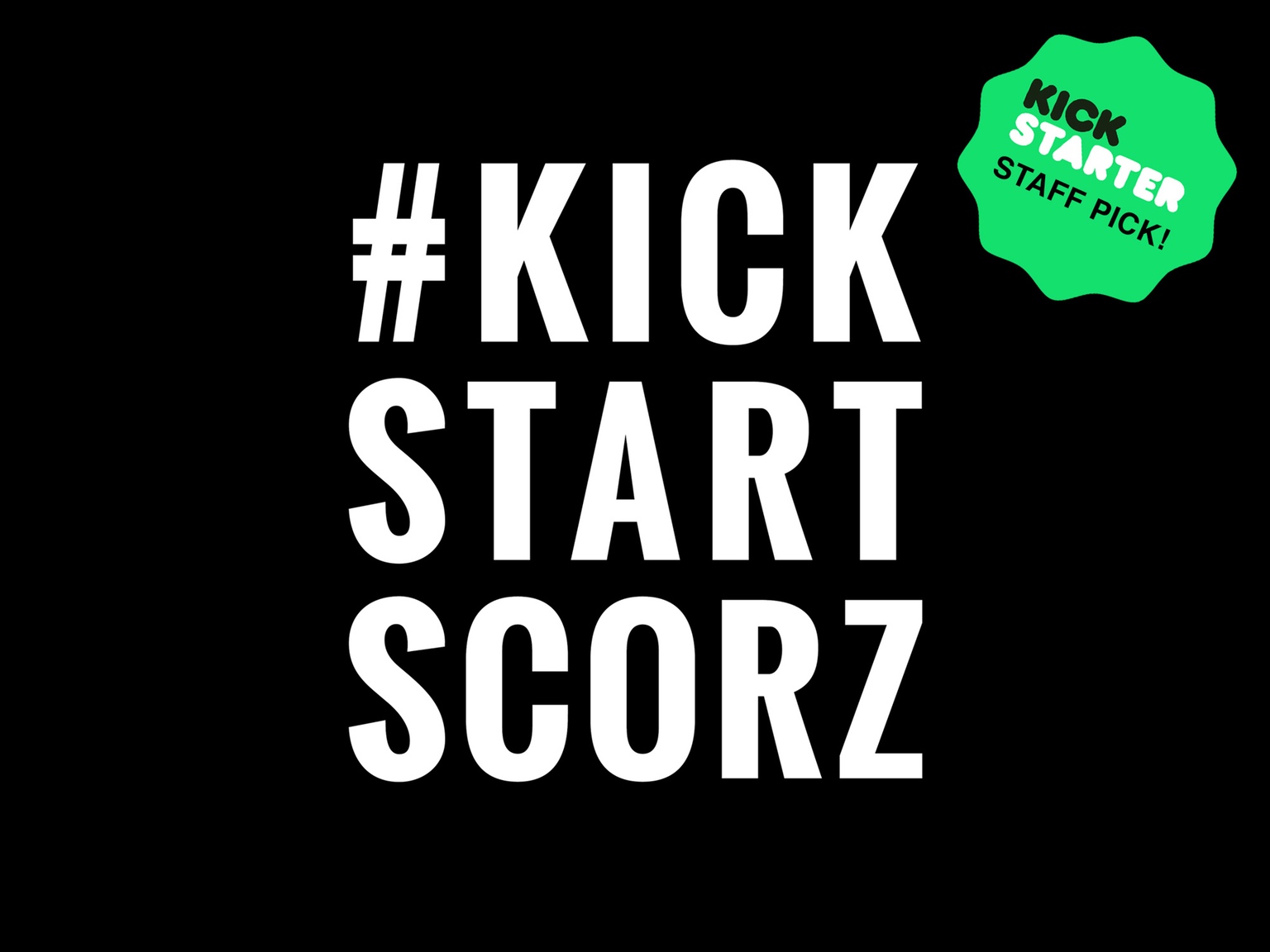 I hear Jack is an actual magician. 
---
Jack's amazing. His bookshelf is immense – CIA mind tricks, magic… if you went to his yard and looked at his bookshelf, you'd sit there for hours. He did an amazing job on the video, he's a great film maker. He was also a great actor, he's just making films now rather than acting.
They've (all) helped me with the admin. Greg has been a great PR man, conversing with the people and getting things out there, he did the poster and sticker campaign, he also did all the emailing and Kickstarter correspondence. He just makes stuff happen. He's a music manager himself and you can see why he's so successful – he's such a great guy to correspond with and he's so nice. His customer service skills are phenomenal. When you meet the guy, you leave with a smile because you know he loves what he does.
And then you've got Ste, who's the overseer of all of it. The guy who makes all the big things happen, the decisions with me about what we should do next. Them three together, the way they did the campaign, they made it happen rather than me on Facebook and Twitter.
With the video, they made it look so slick, like a documentary on MTV where people talk about artists. I thought 'wow' – it gave everybody who's always wanted an album that reason to have faith in me, 'cos I haven't put music out professionally worldwide for a long time, I don't think I would have had the faith in me, if I was a fan. The motivation was to show love back to everyone who supported it through working hard and doing a 28-track album. That's what I hope I did.
You have to come up with a business plan for Kickstarter, which we did in February. It got accepted around April, and then we did the video, that got edited. When the actual campaign went live, that's when I started writing.
I was on my computer every day, promoting the Kickstarter and corresponding with supporters, and at the same time writing the songs, all day and night.
I did that all the way up 'til about November, and then kind of realised that November was too ambitious of a target to be releasing when we'd only just finished it. We then time to tweak, rewrite and add certain bits. I think the last track we added was really late on before the release – the last track on the album, Flow Sicker, was the last track I wrote for it. I listened to the whole album, and then I thought, I need something that is fun at the end to have a celebration.
Street Angel reminds me of fantasising about being a superhero and saving everyone when I was little.
---
I do like the stories of superheroes. I always see connections between superheroes – say in the Marvel films – and everyday life. Street Angel was actually the first song I wrote for the album. In my rhyme book, as you open it, it's the first one. I wanted to do something imaginative and I like going off into a different world. I'm talking to someone at the moment about doing a comic book style video for it to fit in with the superhero thing. There's something spiritual about it as well that I like, where the angel decides what to do depending on his knowledge of the future.
Superheroes can be quite lonely and they realise they have to sacrifice everything they love. And I love that they can't escape their fate, even if they try to undo themselves, and not become superheroes, they always eventually have to meet their fate and do it again. They can't escape it, which has something spiritual behind it, I can't put my finger on it.
You worked on a couple of tracks with producer Mecca:83…
---
Some of the stuff that I heard [from him], it really touched my soul because his music is just… in a spiritual realm, somewhere else.
That's music to make you cry. I don't know why. Not tears of sadness. It just kind of melts my soul when I hear his beats.
I corresponded with him by email and he went off the radar for a couple of months, so when it came to the Kickstarter campaign I emailed him and asked him to do a couple of beats for the album, if he didn't mind. He emailed me straight back saying yeah, and sent me a stack of beats. I chose the Good Grammar one, and the tune called Saturday, which has got a really nice sample in it.
I didn't want to do an album with skits. All my favourite albums have got skits, but after two or three listens I do skip them. So I thought, why don't I do a song that is not four minutes long with three verses, but a song that is two and a half minutes long with a really nice concept? So I had that idea for Good Grammar.
For Saturday…  (Scorz pauses and reflects for a sec) I write off a sample, a vibe. When I was listening to the beat for 25 minutes, trying to figure out what to do with it, for some reason I thought about waking up as a kid on a Saturday. When you was a kid, Saturday had a routine. Nowadays, not so much. The Raccoons in the morning, football results, the programmes that I used to watch. My granddad, for some reason, had to go to the chip shop on a Saturday. Them sort of things, all came into one. That was all from the sample he used and the way he made it. It just triggered off that memory. And I've done that with every song I've ever written. It's the vibe and that loop that's brought it out.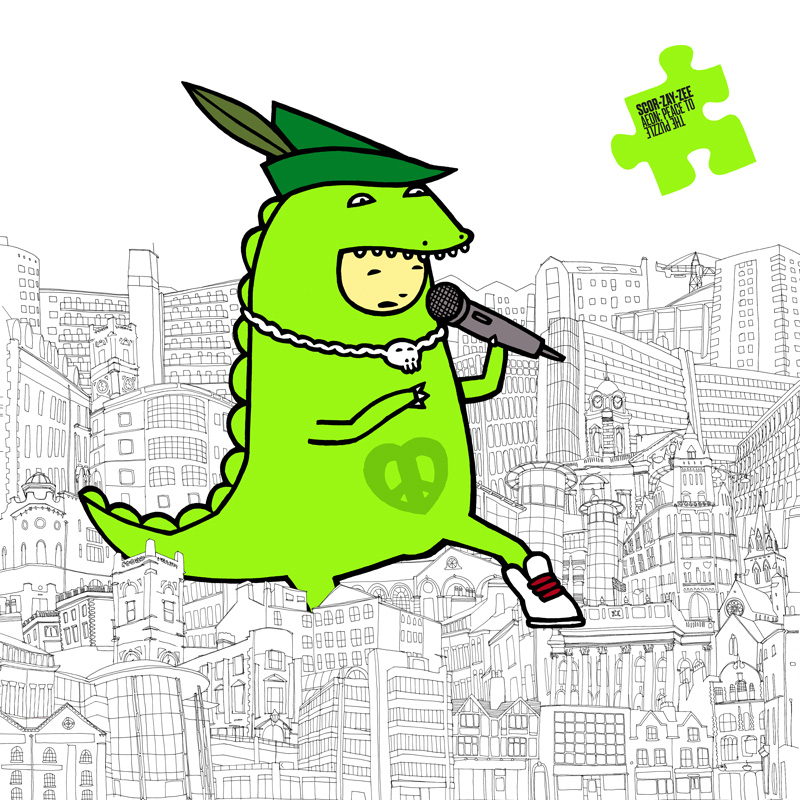 Originally we were going to do a poetry book after this release, and get Kid Acne to do the artwork. I do write poetry as well, and I did a few kids' poetry events last year. They went down well with the kids. I've written short stories that are like poems. I'm part of a group on Facebook, a secret poetry group of Sufi poets, some are Muslim, some are non-Muslim. They invited me to this group, and I get to study other people's poems. That will be nice, to mix the raps with poems.
Being part of this poetry group, The Ecstatic Exchange, there a guy called Daniel Abdal-Hayy Moore, he taught me how to structure poetry on paper for the reader to get a feel of how you wanted that poem to come across. When I first started writing, as a beginner (well, I'm still a beginner!), I was writing with no gaps in the stanzas… they critique it, like 'pause here', or 'it looks more interesting this way' to get an idea of the feel and pace of it.
I'm still learning all that now. As a rapper you do certain poetic techniques without realising. You do it subconsciously without listening.
Why 'Aeon' as part of the title?
---
I was looking for really cool words to add on to the album title. Like Illmatic – is it really a word? Can you find it in any dictionary? So I was going through dictionaries and wrote a few down. I seen this word, aeon, and the way it looked… I was just gonna call the album Aeon, and then I thought, I've been saying Peace to the Puzzle for years! I only used that word because of the way it looked with the letters, and then finding out it means a new period of every billion years, I thought that's kinda cool. Shane Meadows bought the lyric book, and in it you can see comments like, 'that's shit', 'that's so shit' with little corny ideas that you look at and think, that would've been so rubbish.

With Peace to the Puzzle… I can't remember where the idea came from. War to the Puzzle was a prelude, but with me being so indecisive and rapping for a bit then not rapping, it didn't work 'cos I stopped! I did all those tracks and put it out, then I didn't do the other bit.
There is old tracks that are from when I started working on Peace to the Puzzle originally, there's about twelve. Nick (Stez, Scorz producer) mixed a few and put some on Soundcloud, and then I came away from it. I am guilty of promising things in the past then as an artist, getting scared and going, I don't want to do that. At least I came through on this one and am doing it properly.
I've always been scared of my own music, I don't know why.
One, I'm always scared that it's not going to be as good as everyone expects, and two, whether I've done it right.
Kid Acne has blessed the album with an iconic visual identity.
---
Kid Acne has the Zebra Face cartoon and Task Force do voices in it. When Kid Acne first did little snippets for Channel 4, I auditioned to do the voice for Zebra Face. I don't think I was very good at it. I got an email back saying they've gone with Task Force, I was like, oh man! But then when I heard Chester (P) and Farma (G) do it, I thought they did it way better.
Zebraface – Rumbles In The Tumbles from Chris Sayer on Vimeo.
The characters [for Aeon: Peace to the Puzzle] are based on Where The Wild Things Are, where the suit is my rap persona. Then the other characters are all the producers on the album, like Juga-naut and P Brothers.
Kid Acne's exhibitions have all got themes and messages. His artwork has an innocence to it. If you watch Where The Wild Things Are, there's a whole innocence to it, with the fact that the characters are not accustomed to the ways of the nasty world and believe whatever they are told. The whole innocence of that I think is beautiful, rather than an old-school picture of me looking mean or trying to portray a certain kind of hard image, or looking miserable. Listening to the album, you hear how underneath, everyone has an innocent nature to them and I think the characters portray that.
The character that represents me has got a torch. The black is the dark. When I tried to get the idea to Kid Acne, I said, 'Think of The Goonies, an adventure.'

The album's out on Gangsta Music  – what's Gangsta Wraps? 
---
Gangsta Wraps is my manager Ste. Gangsta Music is a merger between us. Gangsta Wraps is an idea incorporating food and gangsta rap.
Are you familiar with the Hip Hop Chip Shop? 
---
Ste knows those guys, the Hip Hop Chip Shop. They've got the van!
How are the live shows going? 
---
The Afrika show was good. That was the first time back live for about four years, so that felt really good to warm up, get back into it. I like to have a laugh with the crowd and I realised I was still confident enough to do those sorts of things.
Then I went on to do the Method Man and Redman gig, but it was really different because that crowd in Bristol and Liverpool, not many people knew who I was. As a support act, it's really hard to win the crowd over. I was really nervous for that one. The Bristol one actually, some of the crowd knew some songs from the old days, so that made me feel comfortable onstage. That was really good, to perform to that massive crowd again.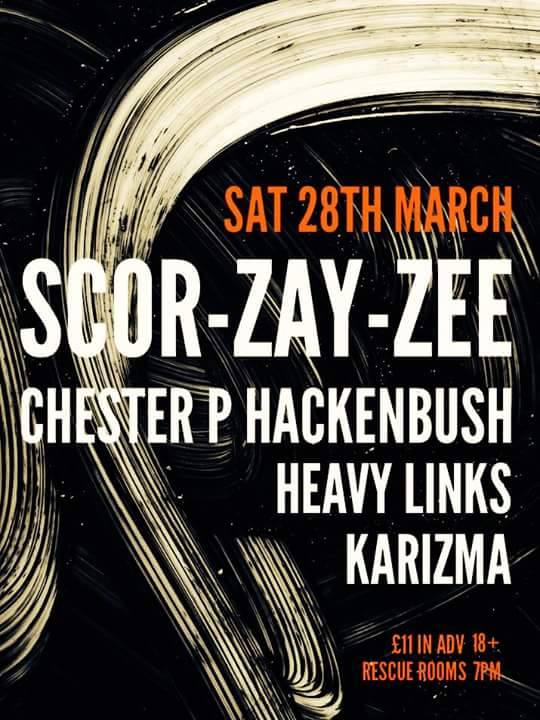 I just did the launch (for the album) in Nottingham, at the Rescue Rooms, and that was packed. I did a full 70-minute show, Chester P came on before, I did all the classics with a live band. We did a few jokes, Alan Partridge references. My DJ's called Dan, so we did the whole, 'Dan! Dan!'. We threw some 10p mixes into the crowd, we brought on a four foot microphone and I rapped into it. The new stuff went down really well. I'm back on it, I'm back on it.
What's up next gig wise then? 
---
I'm doing the Sheffield Tramlines festival, and Wu Tang are on. And I'm doing Detonate, and Nas is on. But I think the nights where you hit your core fan base are those local hip hop nights really. They're the ones that'll mostly buy your CDs. Where if you do say, Detonate, you're hitting crowds that've never heard of you.
I like the bigger shows because it's fun and you get to meet your heroes, but you do get a lot of the crowd deciding whether you're a nob or not. But that's like a challenge in a way, innit.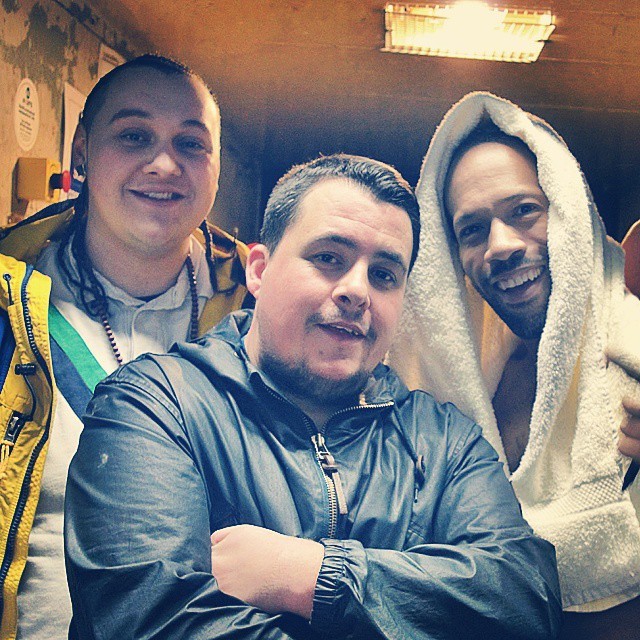 What are the most important tracks for you on the album?
---
One of the guys who backed the biggest reward of £1,500, to be credited as executive producer, runs a permaculture association and teaches people how to sustain themselves and grow their own food. The track that means the most – there's two – Penny For My Thoughts and Live Free. There's a lyric in Penny For My Thoughts where I say, "You saw the light on the farm and you grew your own food while the police were being rude to ya", which was about the struggle of people who wanna get out the system and sustain themselves, the whole free energy thing. As I was writing that line, I had my Kickstarter account open on the laptop and was writing that physically with my pen, the Kickstarter money went up on my screen. I thought it was a mistake. As I was writing the lyric! It sounds made up. Looking into his permaculture practice that he runs, and finding out more about the food, then I wrote Live Free. So them two there are linked. Strange. A bit too strange, in a way.
I suppose with the album I wanted the drums to have that nineties feel. The heavy snares. I picked the beats and formulated each one into a pattern. With Juga-Naut's tune, 1995, the tempo of the song is 95bpm. When he sent me that it reminded me of Black Moon's older stuff, with the big snares and the head nod. So as soon as I heard it I thought, I should do a track about 1995. A lot of the stuff I do with (regular collaborator) Nick Stez, he does really kind of radio-friendly tunes but still with hip hop samples. Get Up has a loop, then some big drums. Lions, even though it's a radio-friendly tune, still has the hip hop beat pattern. Nick made Crepps, a hip hop tune but it has that brightness to be played on the daytime on the radio.
Ste had an idea, he said that tune Heroes Die, the original was never released properly. He said, a lot of people nowadays could still relate to those lyrics.
I'm quite a negative person. The first thing I thought was, are we going to make a nice tune worse or better? He was talking to a singer called Daudi Matsiko, to see if he could sing the intro. I still wasn't sure, but Ste's vision was to do it with live instruments. It took a few weeks of persuasion but we booked the studio, I went in… and when I heard it I thought, 'wow'. The difficult thing was laying the rap on a faster beat, 'cos it's faster than the original, and we did it and it turned out really well. If it wasn't for my album, I would've loved to hear what it sounded like if Daudi sang the whole thing. I would've took a step back.
What about singles?
---
Well, for the radio sampler we sent out I chose All In Together, Lions and Get Up (both featuring Nina Smith), I chose Flow Sicker, Heroes Never Die and Love 'em All. I think to cover the whole sound from one end to the other. Also, the way that Robin at KJAMM mastered it, he went for a nineties beat cassette feel. He wrote a blog post about it. The bass has that warmth… I don't know how he's explained it.
On the double vinyl, it's gonna be sixteen tracks with four tracks on each side to keep the quality nice. I wanted it to sound nice and warm, not cram it on. I chose the tracks that would sound best for the vinyl. So tracks one to sixteen are on the vinyl, and you get the rest as a download. The vinyl is staying limited edition, for the backers with a few left over for the producers. I'm gonna make sure I get the test pressing, and auction them for charity or something.
What're your next steps? 
---
The funny thing is, I've already put ideas to my manager Ste about what to do next, and he's still snowed under about Peace to the Puzzle. I've already got a track list of my next album on my phone! I've wrote the track listing for the concept for each song, but the songs don't exist yet. I'll probably give it a year and a half, two years before the next album.
(At this point Scorz pulls out his phone and shows Kam – who hasn't seen it either – and I a full track listing of the next album.)
I've got this big thing about videos, I hate rapping into the camera. It's the most boring thing that's been done for so many years. I'm working on a few ideas with video directors now, that have got to be interesting or else I'm not gonna do it. I've done an acapella of Bone Stash with a zombie theme, and horror music, things dripping, not a beat.
We were born in the same year, so I have to ask: do you feel the creep of age?
---
I did worry about that for a little bit, but then I thought, it doesn't really matter. You don't have to be a certain age to do anything. I am always gonna be the guy who likes nineties hip hop. I still don't get… I love Kendrick Lamar, I think he's an amazing rapper, but I still don't get what everyone else sees. Even though he's ten times better than me, I still don't get it. I see a lot of youngsters now, their version of real hip hop is J Cole, Wale, Kendrick, ASAP Rocky… I do listen, but I'm doing that old man thing where I'm comparing it with what I like. I shouldn't do that, I'm blinding myself. 'Cos really, I am like that guy from the eighties going, 'it's not as good as Rakim, Big Daddy Kane, they can rap', or the previous generation going, 'I remember Sugarhill Gang, all about party vibes…' You can get trapped in it, can't ya?
Saying that, no, because I've got Joel Ortiz's album and it ticked every single box that I love about rap. So there is certain… I don't what you judge rap on. But when I listened to Joel Ortiz, I liked every track. Certain rappers I listen to and think, yeah I liked it, but it's not in my classic box.
The time that I clicked and understood the hype was when he did the BET cypher. When he killed that, I thought 'whoa, this dude is sick'. Emcee wise, I like MF DOOM. At the moment, I've got 6GB of DOOM on my iPod. Operation: Doomsday, King Ghidora, Madvillainy… I like DOOM because you can spot stuff that you didn't spot before. You hear things that you missed. I was listening to him the other day when I was walking and I felt like a madman because I was chuckling to myself. He said something like, 'I went to school with Moet in a flask' and it just made me laugh. MF DOOM is just in his own category, his own world. I wish I could be like him – wear a mask, do 25 albums and just put 'em out. It's sad that he's stuck over here, but not that many people know what he looks like. So it's all about tryna get DOOM in the studio, pinning him down (laughs), target him.
AEON:PEACE TO THE PUZZLE IS OUT NOW
Massive thanks to Scorz and Kam for their time. 
Follow Scorz on Twitter and Facebook.