Interview: M20 COLLECTIVE + TWISTED TUBES PREVIEW
And so, the next generation continue to take over the city. M20 Collective have already made a substantial mark in the make-up of the city, and their forthcoming event on 24 April looks set to continue the proliferation of their unique outlook. Groovement decided it was time to catch up. Thanks to Yemi for facilitating and Joel for answering so eloquently. Keep up with the crew on Facebook, Twitter and their main site.
---
Can you give us a little history of what M20 Collective have been up to so far?
---
Growing! As many of our old faithful know, the M20 Collective was and will continue to be a humble project based on fostering an ethos of collaboration and community. We have done everything from banging on a line-up of bands in little run down art studios to throwing free integrated arts festivals in the NQ across several venues, from hosting Pangaea stages to putting on acoustic nights in small Fallowfield pubs like the Brewers Arms.
What we have continually focussed on is the curation of events. Many promoters out there go for either a combo of as many artists as possible to fill a room or one big headliner to fill a room. We try to think carefully about the combination of what would go well placed together. I guess we see our role as promoters as an artistic one in its own right.
Recently we have become more focussed on how we can use the brand we have established to effect positive change. We are currently working on some ideas for a creative youth project which we intend to fund through our events. We are also working on some video concepts which you may find out more about soon.
I have always been amazed by the power of ideas. What started as a scribble on the back of an unpaid bill one late night in Withington has become something tangible and meaningful. Two years ago the idea was conceived of creating some sort of organic entity that could do great things. Now we can.
---
What do you think of the Manchester scene at the moment? What are we lacking and who's doing it right?
---
The Manchester scene is thriving on many levels but of course there is much room for further development. I think one of the major issues facing the scene at present is the lack of accessible spaces with decent enough kit for new budding promoters. This is something that certainly needs addressing. Everybody needs to start somewhere but not everybody has money available to risk. I feel that this is something that should be addressed. Although I have fond memories of me and others carting odd bits of kit from here to there and breaking our backs in the process, which I perhaps sometimes romanticise as being our baptism of fire into the scene, it would be nice to see a space with a decent spec accessible to new promoters.
Another thing that is definitely lacking is female representation in the scene especially in music. I personally think that more should be done to address the gender gap. There are next to no female promoters in this city, few female DJs of notoriety and still not enough female musicians in bands. Music is still very much so a male dominated sphere and this is something I would like to see change but think it's only possible if we drop the damaging and misguided gender stereotypes that riddle society at large.
What I think is great about the Manchester though is the variety you can find here. In some other cities I have visited I have found that one particular genre, style or whatever you prefer to call it dominates much to the detriment of others, but here I don't feel that this is particularly the case.
While there are definitely identifiable trends the scene in general tends to cater for all art forms and we as a Collective try our upmost to pay homage to this amazing diversity.
What is also amazing about the Manchester scene is the connectivity and community spirit. What has really blown me away since starting the project back in 2014 is the willingness of people from across the scene to impart advice, collaborate and support ideas. This is essentially what the M20 Collective taps into and I suppose forms itself around. There is certainly a buzz in the Manchester scene at the moment and it's infectious. Long may this continue!
In terms of who is doing it right there are so many but I would like to mention two that stick out for me at the moment.
First of all I have a lot of time for Rich Reason. He has grafted hard and fed a lot back into the scene. The Levelz project is something I admire and I know inspires a lot of young people out there too. I have seen them all progress from taking turns on the mic at Hit and Run events to becoming what is now probably one of Manchester's most exciting acts.
I also have upmost respect for the Young Identity group for their valuable work within the community. I have a lot of admiration for Keke Thomson in particular for her ability to tackle difficult subject matters in her works. Her spoken performance is something else too. For me, she shares Billie Holiday's ability to breathe new life into every performance. This is something that inspires me.
There are really so many out there in Manchester doing it right right now: Generic Greeting on all things design, Black and Blue publications, Zara Khalique with the Keep It Bright fashion brand, Chris Jam for his colourful words and community focus, Kris Extance for his support of up and coming Manchester artists and the March sessions project, etc etc… it would take an entire feature to go through them all!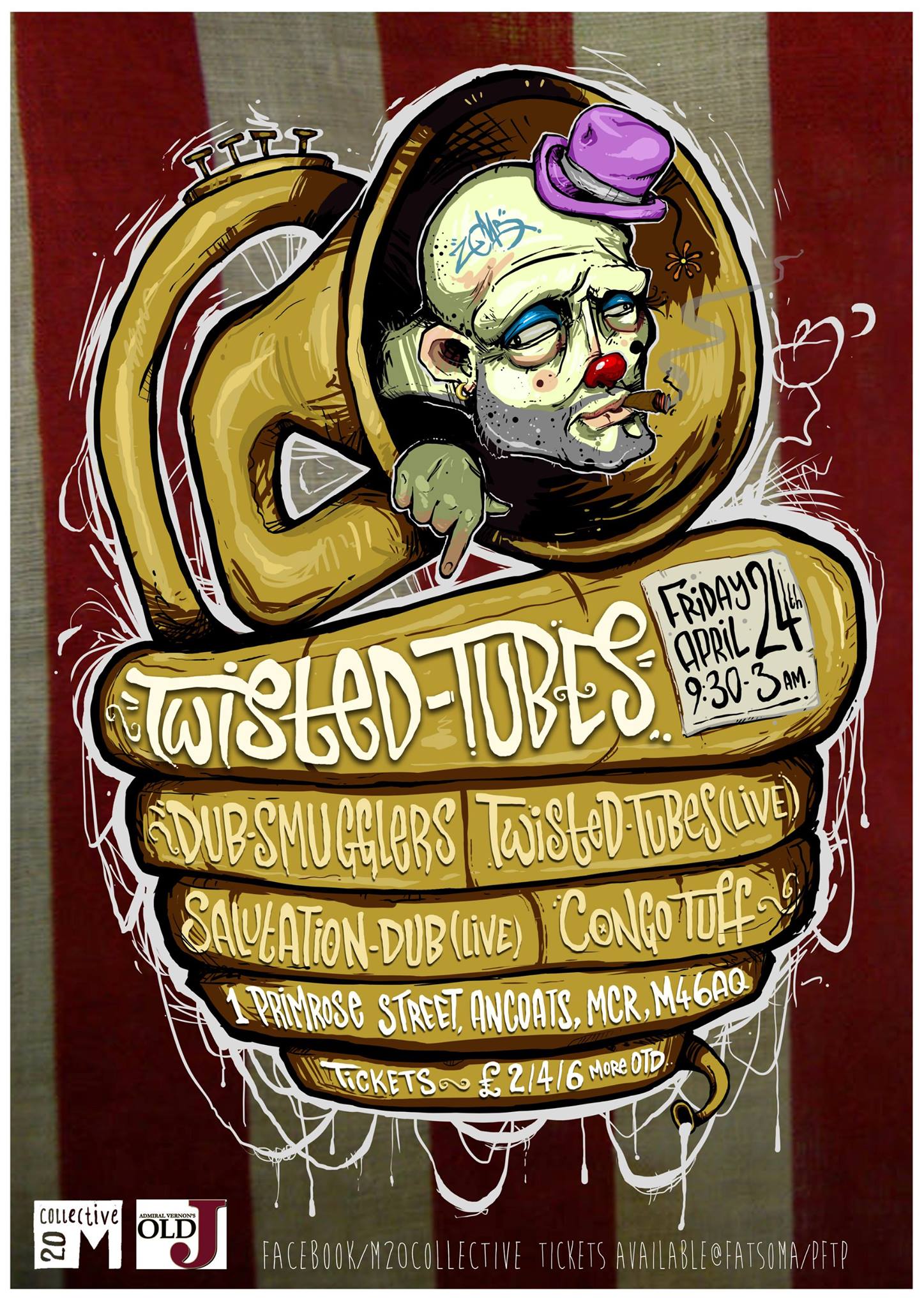 ---
The April event is influenced by the 1940s. In what way, and how did this come about?
---
This was a theme the Twisted Tubes were really keen on. We got the call and basic brief to design a production around a 1940's sideshow and we jumped at the chance. It has been great as is has provided us the chance to get together as a collective to hash out mad and wonderful ideas. The idea of twisting the theme and making the mundane and ordinary a spectacle is I suppose a way of nuancing the idea of what "freakish" is in a modern society? The art direction will provide our slightly dystopian and humorous visual representation of some possible answers I suppose. Come and take a look is what I suggest.
---
What can people expect from the event?
---
First of all the event line-up is lively, so bring some comfy shoes. Community vibes, positivity and energy mixed in with a playful atmosphere and top quality sound provided by no other than Jonny Opo and Neuron Pro Audio.
Spring is here, the nights are much longer and we will be hitting up 1 Primrose Street to celebrate the Twisted Tubes UK tour launch, the vitality of the Manchester scene and M20Collective's 2nd birthday! Three reasons to get a bit wobbly in Ancoats on the 24th April.

---
Who's playing and why them?
---
Salutation Dub Collective are in my opinion one of the unsung heroes (so to speak) of the Manchester scene. If you haven't seen them yet then you need to. Apart from being exceptional musicians oozing with technical ability their live shows are entertainment at its best. Lead singer Dave McCarthy, who I lovingly would describe as the unlikely love-child of Freddie Mercury and the Cookie Monster, is something else. His ability to own a crowd is something to be admired. To add to this Sally Dub's bass lines are off the chain and their brass section un-really talented.
Dub Smugglers are a given really. If you want to bring sunshine vibes into an ex-abattoir in Ancoats, who else in Manchester would you call? Congo Tuff is our wildcard. His mixes have impressed us so we thought he deserved the chance to go the bill and play through a banging system. All about supporting the scene.
---
What can you tell us about Twisted Tubes?
---
Twisted Tubes are a 10 piece brass band that have been hard at work in the studio working on original set material which shall be premiered on the 24th. They are everything you want from a brass band; they are loud, sassy, adventurous and full of energy. I have known these boys for around 2 years now. As with many things M20 the relationship started in our stomping ground of Withington in Solomon Grundy. Since then they have been earning their way as musicians working incredibly hard in the corporate music sector to fund their ambitions to take the UK by storm this year with their original material. I have a lot of respect for their dedication and direction. M20 are truly honoured that they chose us to host their UK tour launch. Their new original compositions are incredible! Check out Werk on soundcloud for a taste of what is to come.
---
What else have M20 got coming up?
---
M20 have got Pangaea disco apocalypse to prepare for next. The line-up of which shall be available next week. Again we got some banging bands on the bill and some mad ideas for art direction brewing. Apart from that we have a few ideas in flux regarding line-ups we want to hear. There are some amazing new bands we have found recently and we will be putting them on in a venue near you soon so watch this space! We also have some ideas about a summer art exhibition churning. The concept is incredible. Probably the most edgy we have been so far so keep an eye out for more on this. Asides from our own directed activity we are really excited to be part of the FREE EDUCATION MCR movement.

I think that this movement has the potential to do great things and stir things up. I encourage people to look into it and get involved in the discussion. With sore heads we shall be repping at the FREE EDUCATION MCR community event featuring Akala on the 25th April.
We look forward to meeting many more like minded people who are interested in the possibilities of free, democratic and liberated education. As followers of our social media and blog will know M20 Collective will continue put the funds we raise from events into projects which support creative expression in the community. We would like to extend our hand out in friendship to anyone out there who wishes to collaborate with us on the mission to see some of these through.