Interview: Super-Helpful Kwame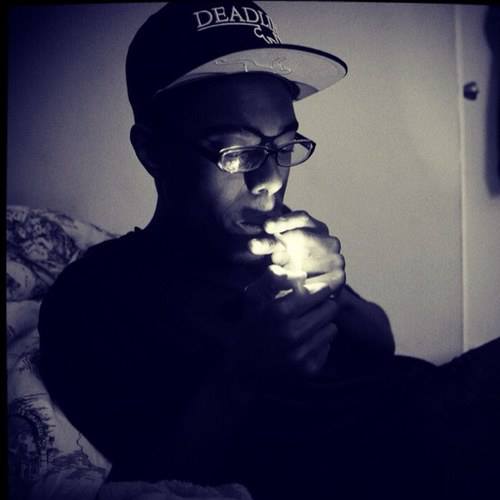 To me, Kwame is one of the most passionate up-and-comers in the independent rap game.
The Brooklyn native is an embracer of more abstract sounds, as heard to maximum effect on his most recent full body of work, SoBeR.


A contemporary of Pro Era, Kwame (then known as Kwame3000) formed one third of Super Helpful with Chuck Strangers (on mic duties with him) and Lee Bannon (producing), dropping the track Sumo followed by The Help EP (the 'first excellent hip hop EP of 2013, according to FACT). Lawns, from The Help EP, also ended up landing on Pro Era's PEEP The Aprocalypse mixtape.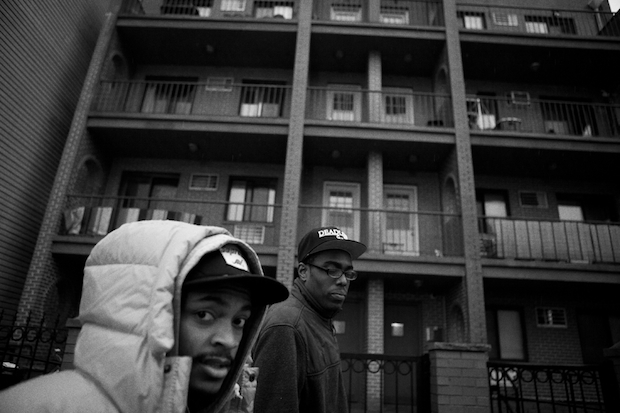 Into 2015 and Kwame is now Super-Helpful Kwame, busy on his own path. He kicked off the year with this track, Dopamine.
Curious as to what his plans were, I dropped him a line.
Catch Super Helpful Kwame on Twitter, Soundcloud and Facebook. Download his music here. 
Dopamine is a great start to 2015 – how did that one come about?
I did a show early last year at the Mecka Art Gallery in Williamsburg, Brooklyn. Slvdr Geo, Dopamine's producer who I worked with before on SoBeR, DJ'd. After the show on the way back to their crib, Geo played the beat and I fell in love with it immediately – but took my time releasing it though it was written fairly quickly. Shortly before Christmas, I went in and recorded with Chris Conway who's mixed some of my favorite albums and decided to start the year off with something new.
What's the action plan for the rest of the year?
I have a EP coming out soon probably around my birthday in April. Also a video with Biracial Bastard called Heaven Sent dropping early next month. Ski Beatz, whose production I blame for my weed habit today, produced it. I was hoping Biracial would ask me to get on the track when he played the beat and was glad when he did. Also I have a couple videos being worked on at the moment and I'm always creating music so stay tuned: it's coming sooner than later.
SoBeR is a great trip. Introspective, lots of emotive chords, an abstract
feeling, lots of unique elements and well chosen beats – what was your
overall aim with that project? Is there anything you would have done
differently or anything you regret not doing?
Thank you! But I was hoping to get a 2 million dollar signing bonus and unlimited studio time in a beach front mansion so I consider it a failure, lol. Nah, you hit the nail on the head.
I wanted to create a project that tells a story with ups and downs and allows the listener to experience that with me. I consider SoBeR somewhat of a introduction to who I am as an artist and what shaped who I am now.
I was very raw coming out of practically one-taking The Help EP and I had help from Chuck Strangers and Lee Bannon putting it together.
With SoBeR I wanted to go try to resonate with the listener on a deeper level than a traditional project would have been able to. I had this vision for a while and about 5 of the tracks I wrote years before even releasing any music. With the help of twin super engineers, We Are The Stars, we spent about the whole summer working 12 hour days experimenting and pushing ourselves and I'm very proud of what came out of it sonically.
I regret not having the budget to film videos, or having the backing too get it out to the media more, but I feel as if that would be an album that'll still sound unique to listeners in the future. SoBeR was a much needed learning experience on both the business end and creative side.
As indicated on Sober, your tastes are obviously broad. What sounds and
artists have you found to be the most influential, and who are you only
now discovering that you wish you had earlier?
Back when I first started letting people hear my music the first comparison I would get would be Andre 3000. I grew up a big fan of Outkast and the diversity in their music. While I haven't tried to replicate what they did I do try to replicate that fresh feeling they give you hearing their older music even today. Gasoline Dreams, if it came out today, would still sound fresh and I want that timeless feeling. The Weeknd and Janelle Monae are also big modern influences on my sound – I like how they take risks despite having the tools to make more traditional R&B. On the technical level, Nas, Eminem, Biggie, Hov and Lupe are all big influences.
I like to take a little bit from everything I like sonically and make it unrecognizable.
As far as new artists that I wish I checked out sooner, it's a small group. I recently saw FKA Twigz live and loved it, she's stunning. I've heard her music before but went back and really listened again. She's a genius. Also Tink – I gotta go back and check her older stuff but her new music is fire.
Joey's album has obviously done phenomenally well since its release. Why do
you think his rise has been so quick? As an up and comer yourself, is
there some magic formula?
First off, shoutouts to Joey for having the #1 rap album debut independently! When I met him, you could sense an energy and I felt he had star potential since he was still in high school. I'll admit, him and Steez got me on the first track we ever did –  (they) have the natural It factor that's needed to succeed and draw people in.
A big part in addition to being capable is also opportunity – in Joey's case there was a need and real void for his message and sound.
The people craved some shit with depth. Which Is why I feel rappers today are more introspective than in years past.
Many young people are becoming conscious and Joey's almost the voice of that. If you're a conscious young adult there's no way you coulda seen that Survival Tactics video and not want them too succeed in a world full of shallow music and shit that's there to dumb us down.
I think with the internet the main key to blowing up is consistently quality music that people can enjoy. The power of word of mouth has increased because of social media. And of course, a good team of people around you and persistence. Create something there's a void of, be yourself, create something that represents you and people would recognize and hopefully support that.
How do you consider the state of hip hop as we kick off a new year? Does
Joey's success, for instance, indicate a desire to be rid of the more
over-produced side of the industry and a return to boom bap?
Hip-Hop is great right now though 2014 was weak. Every MC should feel eager to get in the booth with whats been droppin' recently. I wouldn't necessarily say a return of Boom Bap, though.
That's a sound Joey's mastered and modernized but it wouldn't be natural to everyone. I doubt Kendrick or Drake's next album is gonna sound like anything we've heard before and I feel that's where the industry is headed.
Rap at its best has always been self expression – even back in the 90s it would be unnatural for a Bone-Thugz from Cleveland to sound like a Mobb Deep from NY, but both was REALLY spittin'. So I feel lyricism is back but the sound scape around the lyricism will continue to evolve due to the internet and technology making us all closer.
Have you managed to surround yourself with creative types at the moment? Who close to you is inspiring you and how?
I would say in a way I've always been amongst the back packers or smokers and naturally that led to being around a lot of creative types. I mentioned the homie before because of the Heaven Sent video, but Biracial Bastard has some really innovative stuff coming out.
I like Wati Heru and Chelsea Rejects music. Chelsea recently signed to Duck Down and has some heat coming on her CMPLX project. Little Pain takes hella risk and has his own world he's crafting with his brand – it kinda reminds me of Odd Future but he's being him. Joey obviously, dude should be inspiring the whole rap game but he exposed my music to a lot of people by getting on The Help EP back in 2012 and putting Lawns on Peep: The Aprocalypse. And he didn't have to do that – he knew me from rapping together before Pro Era blew up, but I hadn't released anything myself. So to see his success now I'm probably prouder than the average rapper would be, lol. It's like I'm Al Hortford watching Joakim Noah in the Eastern Conference Finals first and we played at Florida U together or something. And this is all just people I know from Brooklyn before releasing any music to the world.
Do you get much opportunity to perform live? Is the local hip hop scene a
vibrant one? Is the Beast Coast alive and well? That's how I like to
imagine Brooklyn…
I've done a few shows. I'm kinda selective with what I do but I definitely want to do more and some out of NYC real soon. They are shows popping up here year round but locally I feel sometimes it's too much of the same talent performing at the same shows for the same people and kinda feel NYC talent should travel more –  like how artists travel from outta state to NYC.
Joey's the #1 seller in rap this week and has been very under shipped so I'd say yeah Beast Coast is alive and well. Long Live Steelo and R.I.P Yams, but a lot of the work they put in years ago to provide opportunities are still impacting and feeding families today and energy never dies. People are hearing Steez for the first time everyday and learning and the further it grows the more people I think will be better off because of the power in his message. Also being in NYC I know there's a lot of talent from rappers to producers that just haven't gotten a real chance yet who are iLL. When I hear Erick Ark Elliot's music it sounds miles ahead of anything on the radio so I think it just takes time for the world to catch up with NY.
What are you listening to at the moment and where do you look for new music?
Barely anything but Tetsuo and Youth and B4.Da.$$ right now. Lupe got me feeling like I'm 16 tryna break down The Cool again. I'm always playing my unreleased music but right now Heaven Sent and Dopamine have been staying on the recently played list.
I check forums for new music sometimes like The Coli and KanyeToThe.A few of the bloggers I follow on Twitter usually keep me in tune with cool stuff. I went to the club the other day and knew none of the songs though, so maybe I'm missing a lot of what my peers are currently listening to.
I noticed on your timeline you were checking Akira – that's a hefty film! Coming
back to it many years after watching it I picked up on stuff I didn't
the first time. Do you have an interest in anime, or comics, or similar?
What are the themes and titles that interest you?
I was a heavy Otaku (anime nerd) in middle school. I stopped only because it got too expensive to buy weed and manga every week. I've had Akira on DVD for like a decade – loved it but was into almost all the classic anime. I was a little bit into comics when I was younger but now I'm more into seeing the same heroes in other mediums, like on Arrow/Flash or in animated movies.
I also grew up during the golden age of cartoons, from the DC animated universe to the PokeYugiDBZ anime boom, so it's a part of me. It was good decade to grow up in, TV wise. Now I just wait for The Avengers sequels to feel nostalgic.
The last comic I read somewhat regularly was Invincible by Robert Kirkman, who did The Walking Dead series, but I couldn't keep up with the releases. Last year someone on Twitter suggested Full Metal Alchemist and made me spend a $100+ on the box sets by the end of that same week, so I thank them for rekindling that interest. I referenced Full Metal in a song once and I feel that's because I know there's other people that'll get the subject matter, because my generation was into those kinda things.
Thanks for your time man – a really enlightening chat!
Thanks for being a day one listener – I remember you putting people onto The Help EP in 2012 before I had any idea how it would be received, so thanks for still rockin' with me.
Catch Super Helpful Kwame on Twitter, Soundcloud and Facebook. Download his music here.