8 FEB 2014 // Sound and Motion: film, performance & speakers in Ancoats, kicking off with A Guy Called Gerald, MC Tunes & more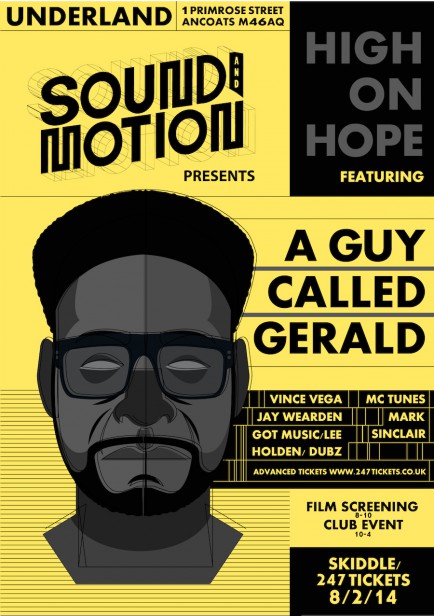 Sound And Motion 
A Guy Called Gerald & High on Hope
Underland Manchester || Saturday February 8th
Sound and Motion is a series of events combining film, performance and guest speakers, with the aim of providing a deeper insight into sounds and scenes that have shaped UK dance music.
Underland is a new space located in Ancoats, just outside of Manchester city centre.
Press release:
The first event in the series takes place on Saturday February 8th, paying homage to the Acid House Scene, arguably the foundation of dance music in the UK. Beginning in Underlands hangar, we'll be screening of Piers Sanderson's High On Hope; a harrowing testament to movement created when Acid House arrived from Chicago to Northern England. The documentary is an accomplished look at how Thatcher's youth, facing a future with no jobs, sense or community used the derelict warehouses of Britain's old industrial era to forge a new sense of togetherness based around music. 
Preceding the screening of High On Hope, Underland will open the doors of its club area for an evening of Acid House music. The event will be headlined by A Guy Called Gerald, and will also feature supporting sets from Vince Vega, Nicky 'Tunes' Lockett (808 State), Jay Wearden, and Mark Sinclair.
Sound And Motion aims to encapsulate and project the values of the movement, which shaped the UK's club scene. Piers Sanderson (Director of High On Hope) will be joining us at the event to discuss his motivations behind making the film, capturing a movement that united a nation for a few short years.