Preview // Boxcutter to drop Gnosis EP on Om Unit's Cosmic Bridge
Released: 16 December 2013
Tracklist:
1. Not The End Of The World
2. Dream Gator (with Ken & Ryu)
3. Daylight Saving
4. Gno515
5. Tibetan Metastate
6. Dream Gator (with Ken & Ryu) (Drums mix)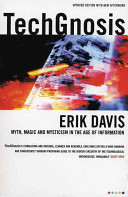 Erik Davis' TechGnosis was a landmark book upon its release in 2004,  presenting an original perspective on technoculture, tracking the mystical impulses behind the human obsession with tech. Erik continues his thoughts on his web journal here. Combine this with the music of Om Unit and Machinedrum and you have the influences behind the new Boxcutter EP, out in December on Cosmic Bridge.
The label says: "Boxcutter crafted this record in the timeless tradition of  reaching into the crates, seeking to take from vintage library sounds, as much as using his own musical abilities to weave a tapestry that is subtle, forward thinking, but also drawing on classic musical tropes found in his work as "The Host" incorporating the theme of Time + Drugs + Memory into his visualisation for the work."
Keep an ear out for a preview here, where you can also pre-order the vinyl.