MC Dro-P x Mankub Q&A / La Plan​è​te des Cons review
by RED HEN
Red Hen takes you through the album then talks to its creators.
La Plan​è​te des Cons is an unflinchingly honest, wry look at modern, Western society and the human condition. Pulling no punches, it delivers poignant commentary on a range of topics including mental health, animal cruelty, and technology. This collaboration from French rapper, MC Dro-P, and Manchester producer, Mankub, flaunts powerful beats and skilled lyricism and features guest MCs from both the UK and la France. The mixture of French and English verses gives the album a truly international feel.
Released by record label Gold On The Mixer, and launched at Manchester's Hip Hop Chip Shop, this unique album is the perfect soundtrack for these (sadly) dystopian times.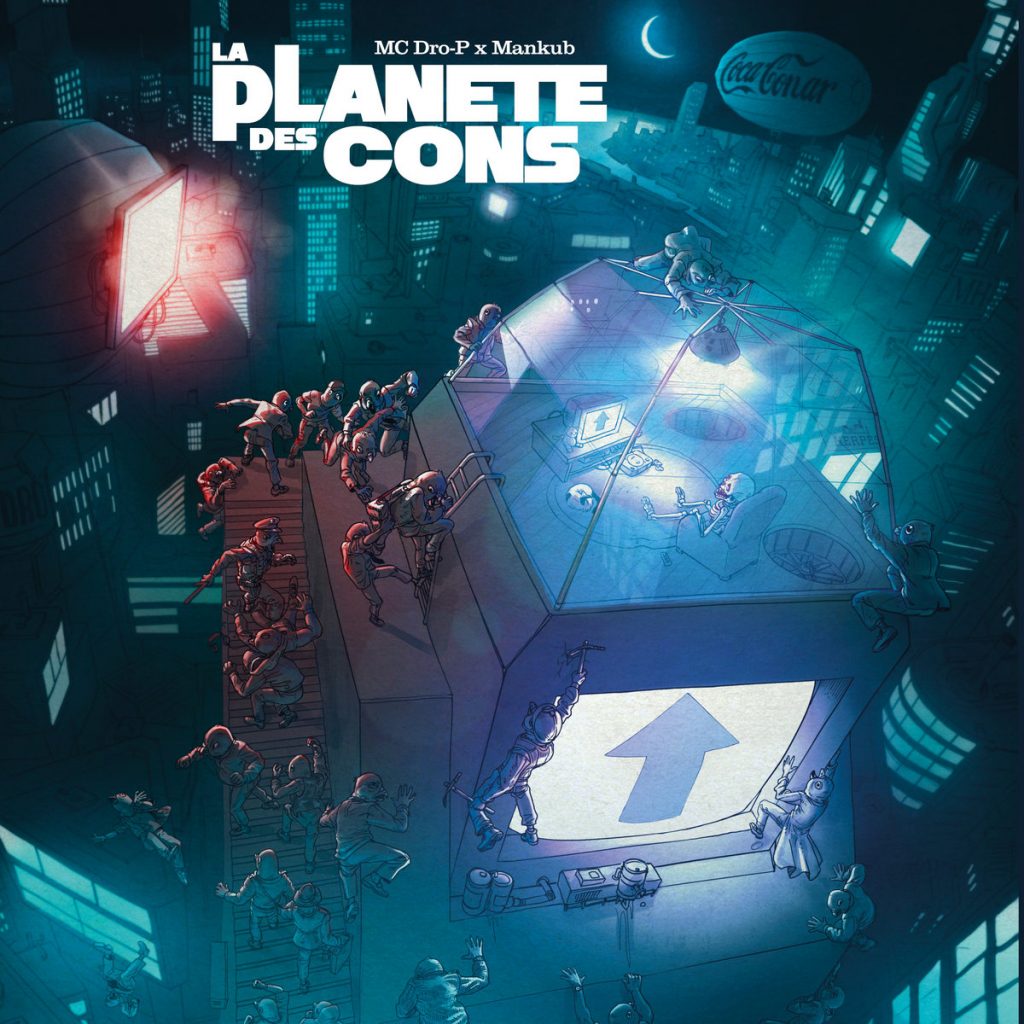 Le Camp Des Perdants (The Losers' Side) expresses feelings of disillusionment with the current political system in the West, along with a sense of powerlessness to effect change. The catchy hook and lush flute samples make this a stand out track for me.  
On Quelle Epoque (What a Time) Dro-P flows smoothly over an emotive, jazzy beat. Complete with a heartfelt chorus, this track provides cynical and sarcastic commentary on the so called "progress" of the Western world. It laments the fast pace of life today and yearns for a simpler time without social media, citing George Orwell's observation that "progress enslaves." 
Prison Mentale (Mental Prison) features guest verses from Gold On The Mixer label mates Deeq, Teach Em, Amos and Blaster B. Over a tense, suspenseful beat, the MCs explore the potential of the mind to generate self destructive and self critical thoughts. 
Opening with a sample from Planet of the Apes author, Pierre Boulle,  La Planete des Cons discusses the parasitic way in which humans interact with the natural world. To a dark, discordant beat, Dro-P protests at humanity's lack of respect for animals and the environment. 
In Un Pave Dans La Mare (A Cat Among the Pigeons,) Dro-P and Scam Leon call out the lack of depth and integrity in some mainstream hip hop. With a medieval inspired beat and French samples, this is a lively, bouncy track. 
The nostalgic outro nicely completes this one of a kind album. Mixed and mastered by Sans Tord and with artwork from Clement Pierre, La Planete des Cons is a thought provoking, head nodding international masterpiece. 
Read on for an interview with the album's two main creators…
Links:
Stream and buy La Planete des Cons on Bandcamp
Enfants Terribles – Q&A with Mankub and MC Dro-P
La Plan​è​te des Cons is a winning collaboration between esteemed Manchester producer, Mankub, and French rapper, MC Dro-P.
An audio tribute to Planet of the Apes, the album reflects on the dystopian aspects of today's society. Spanning themes of mental health, animal cruelty and technology, Planete des Cons raises some important issues in the funkiest fashion.
Mixed by French engineer Sans Tord and with artwork from Clement Pierre, the album boasts French samples, evocative beats and sharp lyricism. Planete des Cons combines the romance of the French language with no nonsense Mancunian grit.
1.What does La Planete des Cons mean?
 Dro-P: 'Planet of the Idiots,' sounding like the novel 'Planet of the Apes' to which the album pays homage.
2. What was the inspiration behind the album?
Dro-P: You can see this project as a snapshot of our modern – at least western – society. The linkage with 'Planet of the Apes' came relatively quickly: in just 5 tracks, you've got a one-way trip to the most absurd setbacks in the universe: the decaying democratic myth and our bygone hopes and dreams ('The losers' side'); the dark side of technology and its so-called progress ('What a time!'); the capacity of a brain to become a prison for itself ('Mental prison'); cruelty, vice and torture against animals and ourselves ('Planet of the Idiots'); and the growing loss of integrity and moral demands in arts, especially in rap music ('A cat among the pigeons'). And like in the novel Planet of the Apes, it is indeed on Earth that that tragic comedy takes place. 
3. It seems to be quite a thought-provoking album which reflects these difficult times. Is that fair to say?
Dro-P:  Absolutely. I have always been doing what we now call 'conscious hip-hop'. But like the French rapper Casey says 'if you do rap, it is to kick up a fuss about something' (i.e. not just entertain or make people dance). So, yeah my lyrics and music are always thought-provoking, just like the hip-hop I listen to.
4. There's some really nice French samples. Where did you find them?
 Dro P:  Most of the samples are taken from 60's or 70's movies with dialogues written by Michel Audiard. The opening sample in the track 'Planet of the Idiots' is actually taken from an interview of Pierre Boulle, the French novelist who published Planet of the Apes in 1963.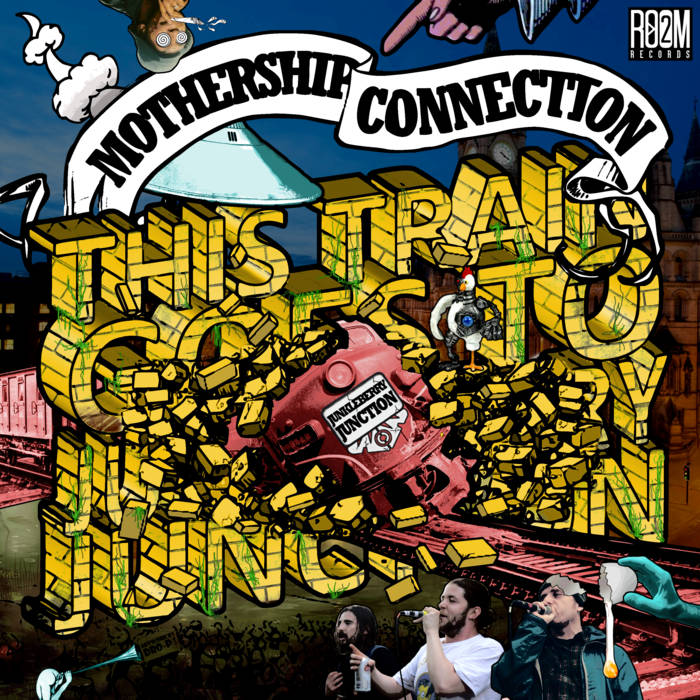 5. How did the collaboration come about?
Dro-P:  It all began in 2016/2017 when my good friends from the rap supercrew Mothership Connection asked me to do the artwork of their EP 'This Train Goes to Junkleberry Junction' (Room2 Records). This led me to communicate with Mankub.  We had not been in touch for a few years, but when I found myself struggling with beat making ideas, I reached out to him to enquire whether he'd be interested in working on something together. And damn yeah, he was! 
6. What are the challenges and benefits of collaborating across languages and cultures?
Dro-P: I always find it enriching and inspiring to work across cultures and languages. I have worked with artists from quite a few countries, but the UK is special to me. Indie UK hip-hop has never really been a thing in France, certainly because of too much French and US stuff being available, but we have a lot more in common than one may think, in my opinion. 
Mankub: I've had Beats featured on a fair few projects. Mostly UK artists but it's always been a bucket list tick box to work with a US MC which i achieved twice when I had Cali Heavyweight BLU jump on two tracks a few years back. To push the language barrier and branch out on a full Project with Pierre has been amazing. I guess it helps that we have Zoom Calls but also the fact that Pierre speaks fluent Manc..Ha!
7. What is your hope for the album?
Mankub: We still have a few copies of the vinyl edition that need a home. It would be great to reach a wider audience, do more gigs with it, and get cracking with a sequel.
11. You had an album launch at Hip Hop Chip Shop. Any more live shows planned?
Dro-P: Not right now, but there may be a few gigs in Switzerland this year.
12. When did you start producing and how did you get in to it?
Mankub: Just being a teenager in the 90s and being spoiled with an era of classic Hip Hop records. I've just always really loved all kinds of music and when I left home at 18 due to expecting my first son my parents humble record collection left with me.
I started making beats really late though, Like in my late 20s but I've always bought vinyl and so I just got into making beats as a hobby to keep me entertained through young fatherhood. I'm not a work horse and I don't make beats everyday. I just dip in and out when it feels right. 
13. Who are your influences?
Dro-P: I guess old-school hip-hop, soul, funk, jazz, blues, reggae, and traditional music can all be found in the way I make music, sing and rap. 
Mankub: I definitely owe a lot to cats like RZA and Muggs as theirs is the first style I was drawn to. I've never stuck to a formula and just go in blind until I find something. I honestly get more motivated by my peers rather than any artist I've grown up listening to. My favourite Band is Radiohead due to the fact that they make lots of different sounding music all under the same gaze.
16. Who do you rate on the Manchester music scene?
Dro-P: Mothership Connection! Sparkz is amazing! Cheech has one of the most unique flows I know of and Dubbul O's new project with Jointhedots is super mint, go check them out!
Mankub: This city is and always has been flooded with talented musicians. I guess for me the most proud I've felt is to watch Children of Zeus get their flowers. I had the pleasure of cutting a track with Ty just before they blew up ('Do What You Can'with Dubbul O.) Go sift that one out!