Groovement Interview / Starkiller's C.E. Garcia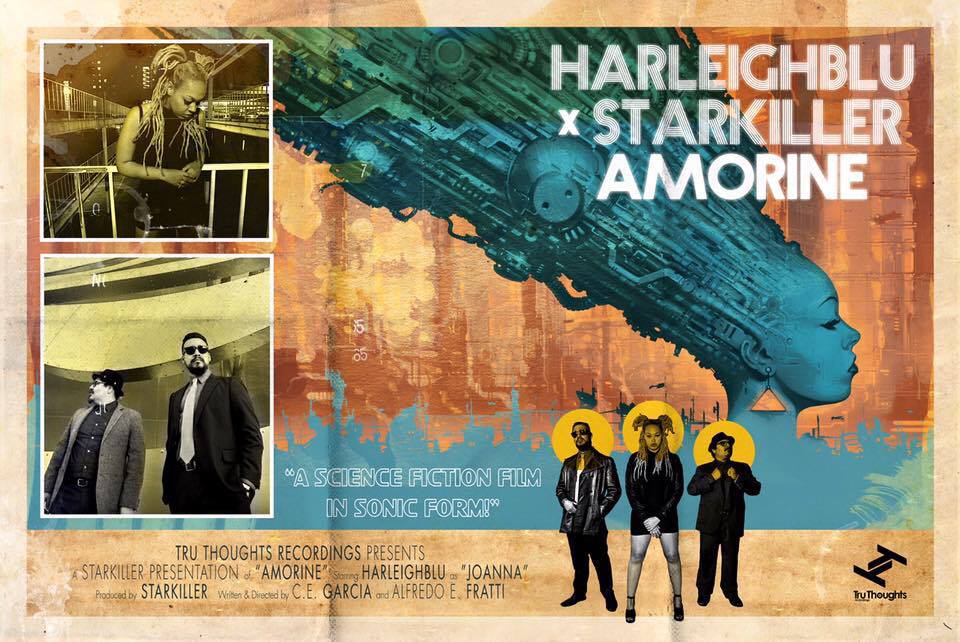 Los Angeles-based C.E. Garcia is a man ready to step out of the shadows. A close colleague of Adrian Younge (a musical maverick with a passion for vintage sounds and the producer and multi-instrumentalist behind albums with legends The Delfonics, Souls Of Mischief and Ghostface Killah in recent years), he plays bass and keys in his band Venice Dawn. Together with fellow Dawn-er Alfredo Fratti, he forms production duo Starkiller whose debut release, Amorine, is an organic collaboration with Nottingham soultress Harleighblu on the auspicious Tru Thoughts label. A tale of forbidden love set in a dystopian future with striking artwork from Boo Cook (2000AD, Doctor Who), the story seeps self-confessed film and comic nerd Garcia's many influences.
'Boo Cook, he's the man', smiles Garcia. ''We always knew that the cover was going to be a big deal. Before we even got to the music, I had told the label and Harleigh, even if I'm making a shit record, that album artwork is going to define what's inside that sleeve. So it needs to be on point. I was going through weird sci-fi, pulp stuff on my tumblr, and this image popped up, a 1950s pulp story. It's the face of a woman and there's a quarter piece missing from her, and she has a robotic skull. At that point I was inspired to do the story, so I hung on to that piece of artwork for a year. The recording's done, all the business stuff is done, and the label owner, Paul Jonas, said now we need to start talking about the cover. I said, here's what I got man. The album is very much inspired by (legendary French writer and artist) Moebius and (Geroge Lucas' first movie) THX-1138, I told him I really need somebody who's going to be on par with what I was inspired by. He said hey, my friend works for 2000AD – I'm like, fuck. That's a match made in heaven. He had a lot of pieces I really liked.
When we're dead in 100 years, they'll find that record and they'll be like: holy shit, that's a dope ass cover.
'I sent him three things: the image I was inspired by, that I used Moebius as inspiration to create the album, and I like Sil from Species (1995 alien flick). He kicked back this quick sketch and I thought he was on the right path. He showed me another one, more rendered, I was like, okay. Then I woke up and he had the artwork done and I was like, holy shit: that's way more than I had imagined it was going to be. He totally nailed it.
'I was talking to Alfredo the other night and we were saying, when we're dead in 100 years, they'll find that record and they'll be like: holy shit, that's a dope ass cover. When you're digging, you buy shit just for the cover sometimes. That cover will definitely stand out.'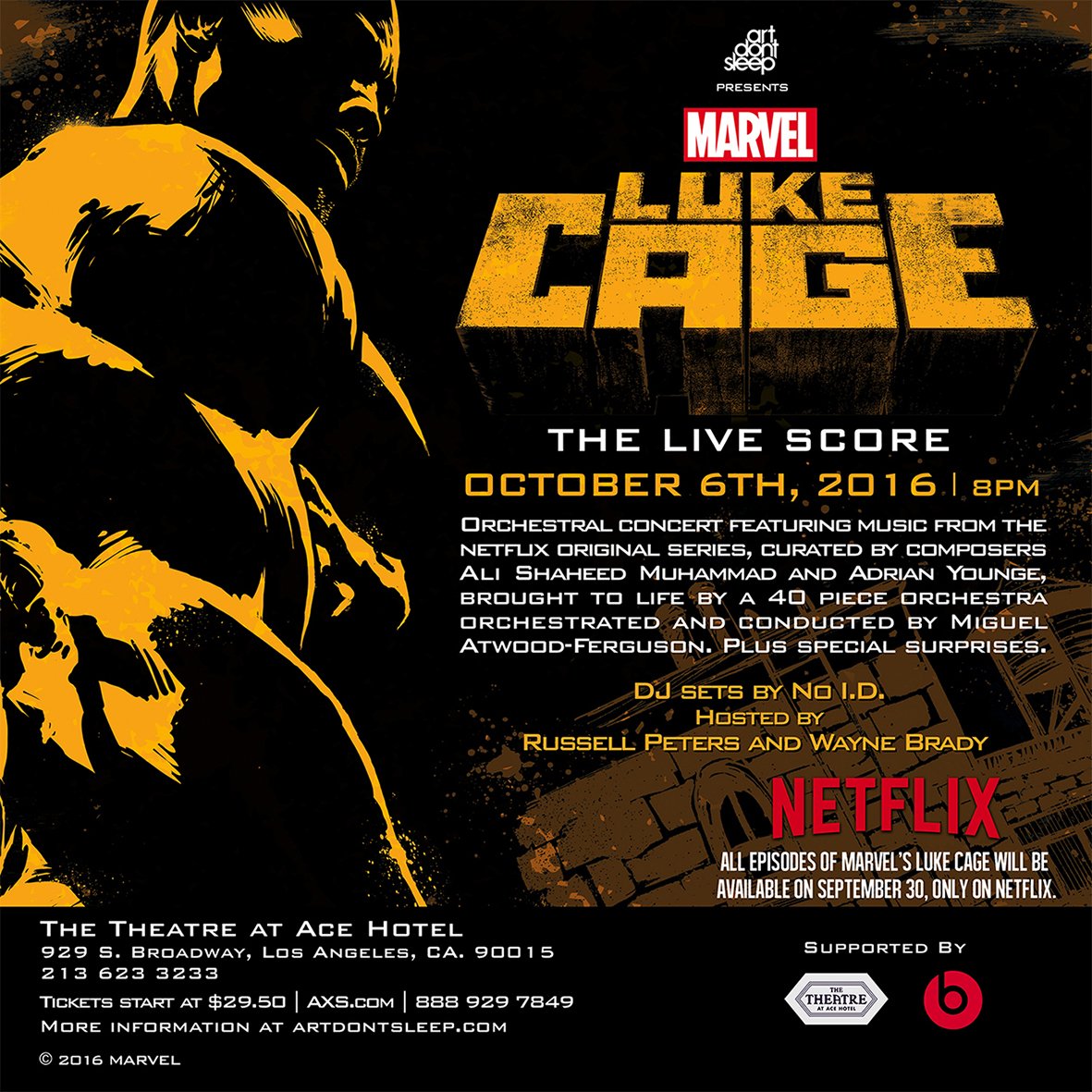 Garcia and I have been sharing nerdery for a while over socials, so it's a pleasant change of pace to catch up with him in real life over the phone. He's on a comedown from manic preparation for then live rendering of the soundtrack to Netflix and Marvel's uber-successful Luke Cage series, a performance involving a full orchestra and the score's co-writers, Adrian Younge with A Tribe Called Quest's Ali Shaheed Muhammad.
When we did the first, I said man, we gotta make a trilogy out of this. I already had the idea for the second one, so when he said we're gonna do a Ghostface 2, I was like, I got it.
As Younge plays virtually all instruments on his own albums, Garcia's more often involved in the live incarnation of Venice Dawn than the recorded version. 'Adrian lays down the principal pieces, if there's something he needs we'll come in lay that down. For this, he used an orchestra and of course had a writing partner (Ali Shaheed Muhammed) so had to approach things very differently for this one. When we do the music for Venice Dawn, we know what's been recorded and we can embellish and give a live feel to it. With the Luke Cage thing, we followed it as close we could because we were dealing with 41 other people. It was really good, dealing with professionally trained musicians who've been doing it since god knows when. They're able to pick up on you and everything we're doing, everything that they did sounded like the recording, so it was like playing to the record, they're not gonna mess up!  It was really amazing.'
Has he copped the vinyl version yet? 'Not yet! I don't even have that special edition of 12 Reasons To Die that came out (Adrian's album with Ghostface, for which Garcia fleshed out the supernatural gangster narrative). The wooden box set, they only made 250. I need music now, so I have a tendency to go digital. I still collect, but I'm more of a film and blu-ray collector versus a vinyl collector anymore.'
How does Linear Labs come into all this? Is it more of a label or a production house? 'It's actually production. Linear Labs has been around a long time, it's kind of the moniker Adrian's used to record under since the Black Dynamite days. He was fortunate enough to create his own label out of it. As of right now, Adrian and Andrew Lojero (run it). As the years go on, he's doing a lot more collaboration with other artists. I predict that in a few years time you'll see more artists on that label. That guy is busy, dude, in a good way.'
His relationship with Younge seems pretty solid, I remark. 'I've known him as long I've known my wife, so 23 years. We've done music maybe 19 of those years, together. I'm one of the guys who's been around since the very beginning, me and him just had a real connection in the late nineties. One of the milestones for us was the first Portishead album, then (DJ Shadow's) Endtroducing… those records came out and a lot of people didn't know what to make of them, especially in the States.'Me and Adrian, we got it, we understood it. From that point, we started listening to soundtracks, to really weird breaks that people were looking for. Now, everybody's into it. Everybody's digging, everybody's sampling, liking soundtrack music, so me and him were liking that stuff when people thought we were weird. One of the first records we got was In Search Of, the Leonard Nimoy TV show from the seventies. That one blew us away. The next one was Lord Of The Rings by Bo Hansson. Those are the things we were listening to in '99.People just were not into it. We could always talk music, we always connected on a weird level, and pretty much just went from there. I sat in with him after he recorded the very first soundtrack to Venice Dawn, I think that was '99. I've just played with him ever since, one thing after another.' Growing up together musically has resulted in many unspoken understandings between the two, and they recently got a chance to hark back to one of their heroes by contributing a remix of the song Changeling for DJ Shadow's anniversary reissue of the Endtroducing album.
Adrian's just put out an electronic album called The Electronique Void. 'The funny thing is, because Starkiller is myself and Alfedo Fratti who's also in Venice Dawn, we're working on an electronic piece as well. What I'm trying to do right now is not branch out, but create a whole new musical platform for us, an outlet. We were talking the other day, and it's so weird. Me and him weren't involved in The Electronique Void, while he was doing that me and Alfredo were doing something else similar. It's just how we are, we really are like kindred spirits. It's really strange. It's a beautiful record and that's the kind of weird shit we were listening to a long time ago. I'm very happy that a lot people are receptive to it.'
Amorine credits Harleighblu x Starkiller on the cover – is this just the beginning for Fratti and Garcia? 'Hopefully, Starkiller will have many different guises. We just closed out an all-instrumental album, it's a score to an eighties action movie that never came out. Our third one, which we're in the middle of recording now, will have a couple of other artists involved as well.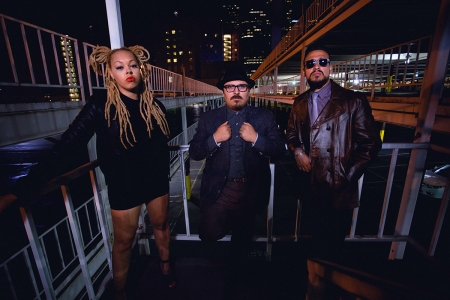 Harleigh and Starkiller finally met after recording when she visited LA.
'The birth of Starkiller kinda came about maybe ten years ago. When Venice Dawn was in downtime, me, Alfredo and another gentleman, we would do shows to get our musical rocks off. We would record little pieces to hang on to. As the Twelve Reasons To Die  tour kicked off, the label was asking, what does the 'Adrian Younge camp' have next? Adrian said that we had something going on – that moment was when it really became manifested in a physical form. I'd always just been a player. I always wrote my own stuff, just never officially went out and did it. The band we'd done shows as before was Starkiller, so it kind of just stuck. Over the years, it's morphed into what this Harleighblu incarnation is right now, and of course what the instrumental incarnation's gonna be as well. Ideally, it will be a production outfit with a very distinct sound. The Harleighblu project has a very heavy sound, we want to take that and, if we work with another artist, have them fit right in. No ego involved, we're not going to cater to one sound, we're going to cater to our sound. With Harleighblu, she's been singing since she was a little kid, I always commend her because she went with two guys here who haven't really produced a record, but knew what we wanted it to sound like, and she was like, 'okay, I trust you guys 100 per cent, let me fall right in'. She fell right in.
'I was reading Before Incal, the prequel to Moebius and Alejandro Jodorwosky's Incal (a space opera in comic form which expanded on the pair's designs for their abandoned Dune adaptation). Everything just kind of hit at the same time. We were talking about collaborating with Harleighblu, and we were doing music, I was reading that. She's a soul singer, and I didn't want to do cliched soul songs about being lost in love or hurt. But, I definitely wanted to do a love story because that's her forté. It just hit me: I want to do something that's a futuristic Romeo and Juliet. They talk about this drug in the story called Amorine, and it's the idea that all the rich people live at the top layer of the city, kind of like Judge Dredd. The poorer people take this drug to make them feel happy. The story progressed over a day or so then I sent her the synopsis, and said we're going to be scoring this love story, this movie, and that's how she approached the lyrics and we approached the music.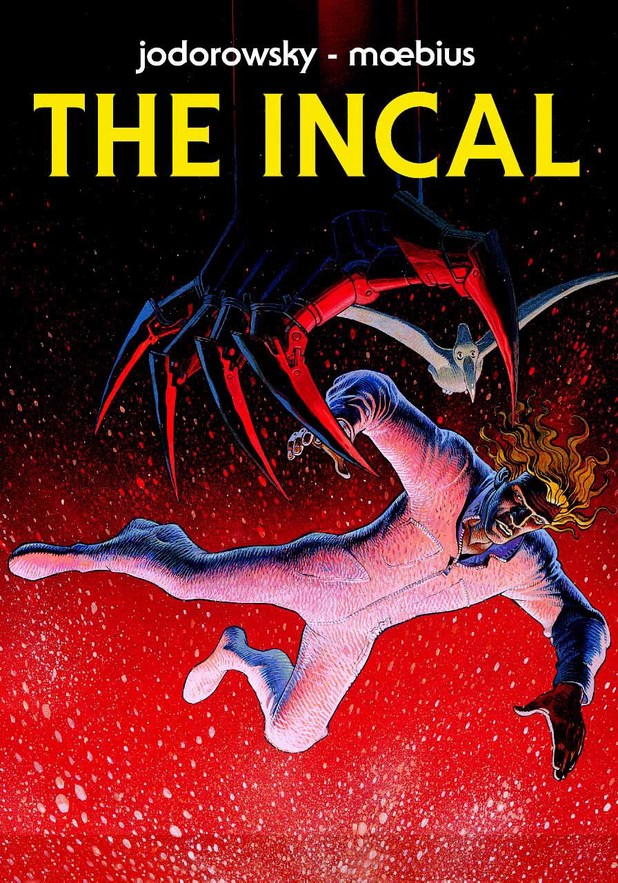 'It took about six months maybe, we went back and forth. It took us a minute to line up together on the same wavelength but after that, it was so easy. It was probably easier recording with her overseas than it is recording in America with someone in the same room. I'd call her, we'd talk for an hour, then she'd give me back three verses. It was that simple. I think two of the most powerful tracks on the album, Suddenly and Finish Me, and she did those with absolutely no instruction whatsoever.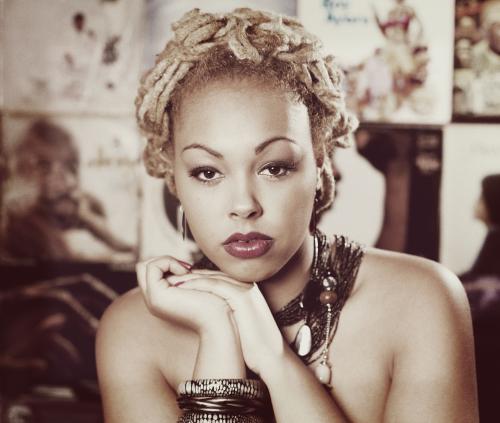 'She just heard the music. She wrote all the lyrics, pretty much all Alfredo and me did was write the music, record the music, arrange it, but everything else is from her mind.
I sent her one paragraph, that was it. I was like, have at it. I didn't want to strangle the track, I'm already writing and recording everything else, and arranging. She's an artist, she needs to be an artist. We gave her 14 songs, but only ten made it on the album.'
He must have an urge to produce more for phase one of Starkiller? 'Ideally, you'd make a movie or comic book out of it. But I just want to make sure it's delivered appropriately. I never ever say I regret doing this or that… it would be cool to do a comic book or a movie, but as of right now it's just the album. You never know, there may be a sequel.
'It'd be great to meld comics and music together moreso than they already are. I'm always talking to people who say man, I want to do a soundtrack to this comic book – okay, let's figure it out.'
The songwriting process with his partner Alfredo was an organic one also. 'On this one, it's kinda weird. We took The White Album approach, where we would come together and say, here's what I have. I have a tendency to take the lead when it comes to the music because I know where I want to go already, but some of the strongest tracks on that album, he wrote them and the only thing I did was play bass.'
Thinking of the future, is there a third part on the horizon for Twelve Reasons To Die? I spoke to Ghostface recently and he seemed keen. 'Adrian had the (original) idea as they approached him to do an album with Ghostface. He said okay, but I wanna do it as a theme, a horror theme. I got all the pieces and put it together, and was like, here we go. I told him dude, marketing wise: comic book. We got to get the comic book fans involved because they'll love this. That's how we approached it, and how the label approached it… and it kind of dissipated a bit at the end. We had the same idea for the second one too. When we did the first, I said man, we gotta make a trilogy out of this. I already had the idea for the second one, so when he said we're gonna do a Ghostface 2, I was like, I got it. He said Raekwon's going to be involved, I said even better. I do have an idea for a part three, and people are saying it needs to be a trilogy… for me, it would have to take place nineties era hip hop, like Juice. Or New Jack City, because it's gangsters. Let's just leave it at that, man, and see what happens.
'I'm a writer by passion. I went to film school, it just got real expensive. I got involved in music, and I was like, man, I can do this music thing. It kind of clicked with me really easily. I've always written scripts, I'm actually working on getting financing for a short film that I wrote. I've connected with another friend from school who's a music video director and is wanting to branch out into film. He's partnered with a company, and they gave us some money to shoot a scene from a short film that I wrote last December. We shot the film and that's what I'm scoring right now. I'm trying to take Starkiller into the realm of film score. I've always written things, it's my passion. I'm always looking for that excuse to write something. We're doing an album? Fuck it, I'm going to write a story then. Even the Souls Of Mischief album, it's a story, I think I wrote 15 different drafts of stories to pitch so we could get it together.'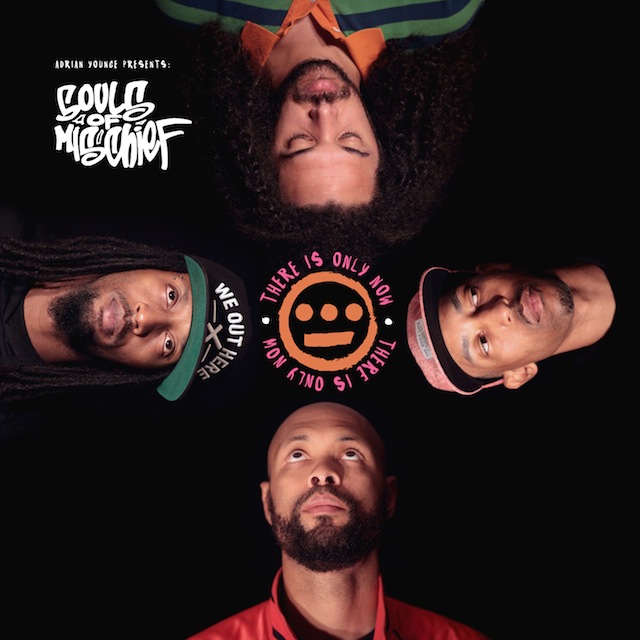 Is it a frustration not being able to input into something like Luke Cage then? 'No, because no disrespect to Marvel or Disney, but that's a machine and that machine's running. They know what they're doing. I love Luke Cage, the show, and I'd really love to see what Cheo (Coker, showrunner) and all those guys could do with an original universe too. I love Marvel comics, but I love Image comics too because I like that the guys can tell their own stories. I was just talking to (artist and writer) Tommy Lee Edwards, me and him, we're always trying to do something and end up missing each other just slightly. We were talking this morning about trying to put something together. He had an original story that came out two years ago called Vandroid, like an eighties Terminator kind of thing. I was talking to him saying you gotta do a sequel, Starkiller will score it. He wants to do an original idea, so I said fucking let me know dude. 
Tommy was the artist behind a watershed story for Marvel, in which characters from the Marvel universe fall into the real world, written by Mark Millar. 'I fell in love with Tommy Lee Edwards when I read 1985. That was my childhood right there.'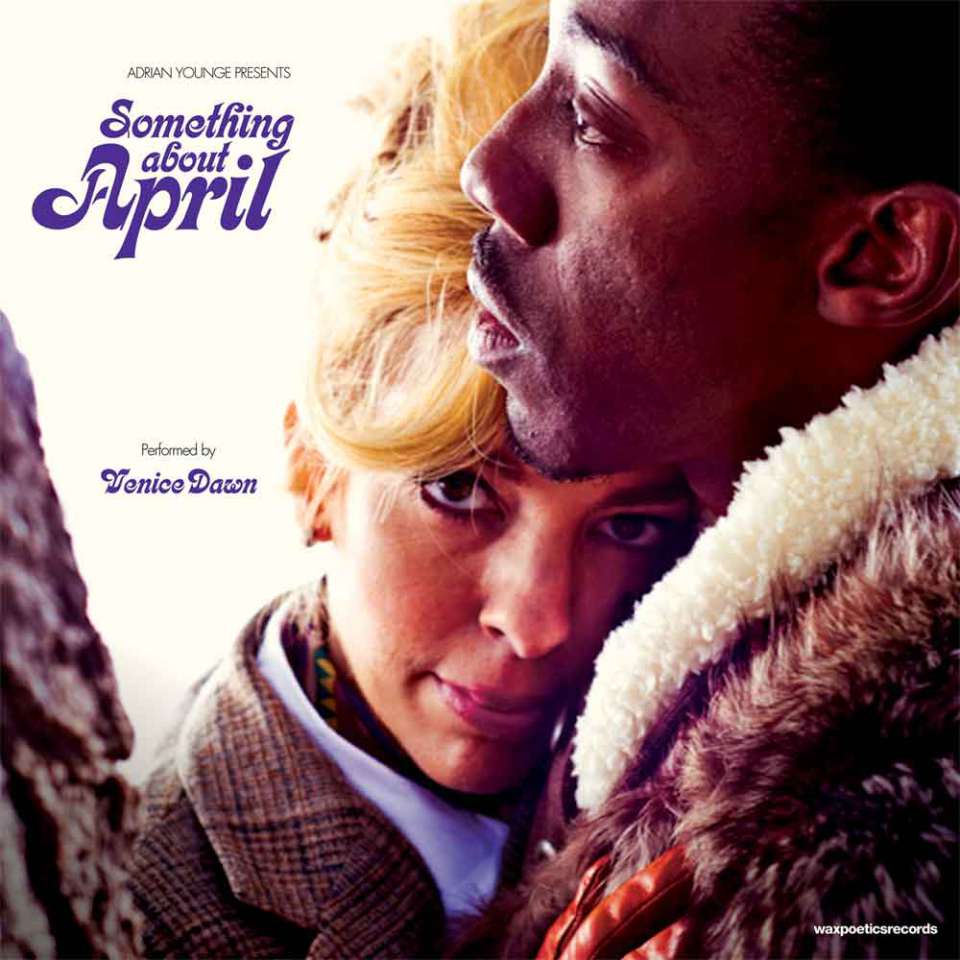 'Venice Dawn is Adrian's thing, but I just love playing in that group and working with those guys because you're dealing with five other musicians that, for lack of a better term, don't give a fuck. When we get out there on stage, we play every show like that's the last show we're ever gonna play. Everybody's giving off this energy to one another, which is why I love doing what we do with those guys. Starkiller is just an outlet to do different types of music. It's an influence of years and years worth of music that you're hearing. I don't mind following a script because sometimes, you know, Adrian sets those parameters and then says, play within those. I love that, it's all about restraint sometimes. What you don't hear and you don't do makes the most difference.
'Ali has an album coming out with Linear Labs that got put on hold to do the Luke Cage thing, what I've heard of it is great. I think that's the next thing that comes out. If that gets toured live, more than likely it'll be Venice Dawn doing the backing.'
Finally walking into the limelight must feel like quite an achievement? 'The whole record was a learning process. It was my first official mixdown and mastering of digital songs, and of course putting it to vinyl too, it was definitely a learning experience that I was very happy about, I'm glad we did it. Tru Thoughts sent me the test pressing, but if it was out here I'm pretty sure I'd have been sitting there at the pressing plant with my arms folded waiting for it to come off the machine so I could hear it. They were happy with the record and said it doesn't sound like anything else they've put out.' Garcia's pretty chuffed it's a UK label putting his work out too. 'I guess for all the supporting of UK artists I've done over the years, maybe the universe is smiling back at me.'