Preview // Danny Brown: Atrocity Exhibition, Manchester date
In the past you've mentioned seeing what you do as documentation, leaving something behind. Have you always been that melancholic? 

"I think that come with age. I didn't think like that in my early twenties. But that's just growing up and seeing different artists. Somebody like Joy Division. He (Ian Curtis) did that with Closer, that's what he was doing, and we still listen to that album to this day. It wasn't necessarily, I think, the music. It was the energy, you could feel the energy with that. I'm a firm believer that you can put energy into music and people that feel that energy, gravitate towards it, it gets them. There's a lot of songs that I hear, I might not like it, but for some reason it leaves something there for me to return to. Something triggers me to say, 'Listen to it again', and eventually I'm gonna like that song. There was a energy that was put in that, and I get that energy every time I hear that song and I get the feeling, more so than the sound or the words."
I told you Danny Brown liked Joy Division. Read my full interview with him here for Bonafide.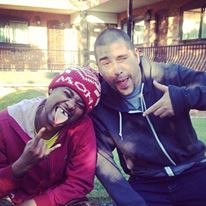 Not only did Danny enlist the fantastic Paul White for his recent single When It Rain, which makes amazing use of the Delia Derbyshire track Pot Au Feu, he's boosted awareness of his excellent taste by naming his new LP after a Joy Division track. The album will be released on the Sheffield-originated Warp Records on 30 September.
He's in Manchester at the Warehouse Project on November 11. Tickets for that night (also featuring Clams Casino, Wilye and a few more choice names) are £34 and available here.
Atrocity Exhibition track list:

01. Downward Spiral
02. Tell Me What I Don't Know
03. Rolling Stone (feat. Petite Noir)
04. Really Doe (feat. Kendrick Lamar, Ab-Soul & Earl Sweatshirt)
05. Lost
06. Ain't It Funny
07. Goldust
08. White Lines
09. Pneumonia
10. Dance In The Water
11. From The Ground (feat. Kelela)
12. When It Rain
13. Today
14. Get Hi (feat. B-Real)
15. Hell For It