Interview: DJ Jazzy Jeff's first 45s set for 20 years – RBMA UK Tour / Wax Works
RECORD STORE DAY – I'm sat in a hotel lobby in Manchester with the sunshine blazing through the window, grabbing a drop from Jazzy Jeff for the Groovement podcast. It's been a crazy afternoon already: Red Bull have asked me to chaperone Jeff and the Vinyl Destination crew for a whistle stop tour of a troika of Manchester record shops to mark the day, and in preparation for their Sunday night opus, Wax Works.
DJs playing on the night are busy hoovering up vinyl to incorporate into their sets for the gig, and today I'm lucky enough to hang with Jeff, Todd Terry, Josey Rebelle and Krystal Klear while they select their weapons.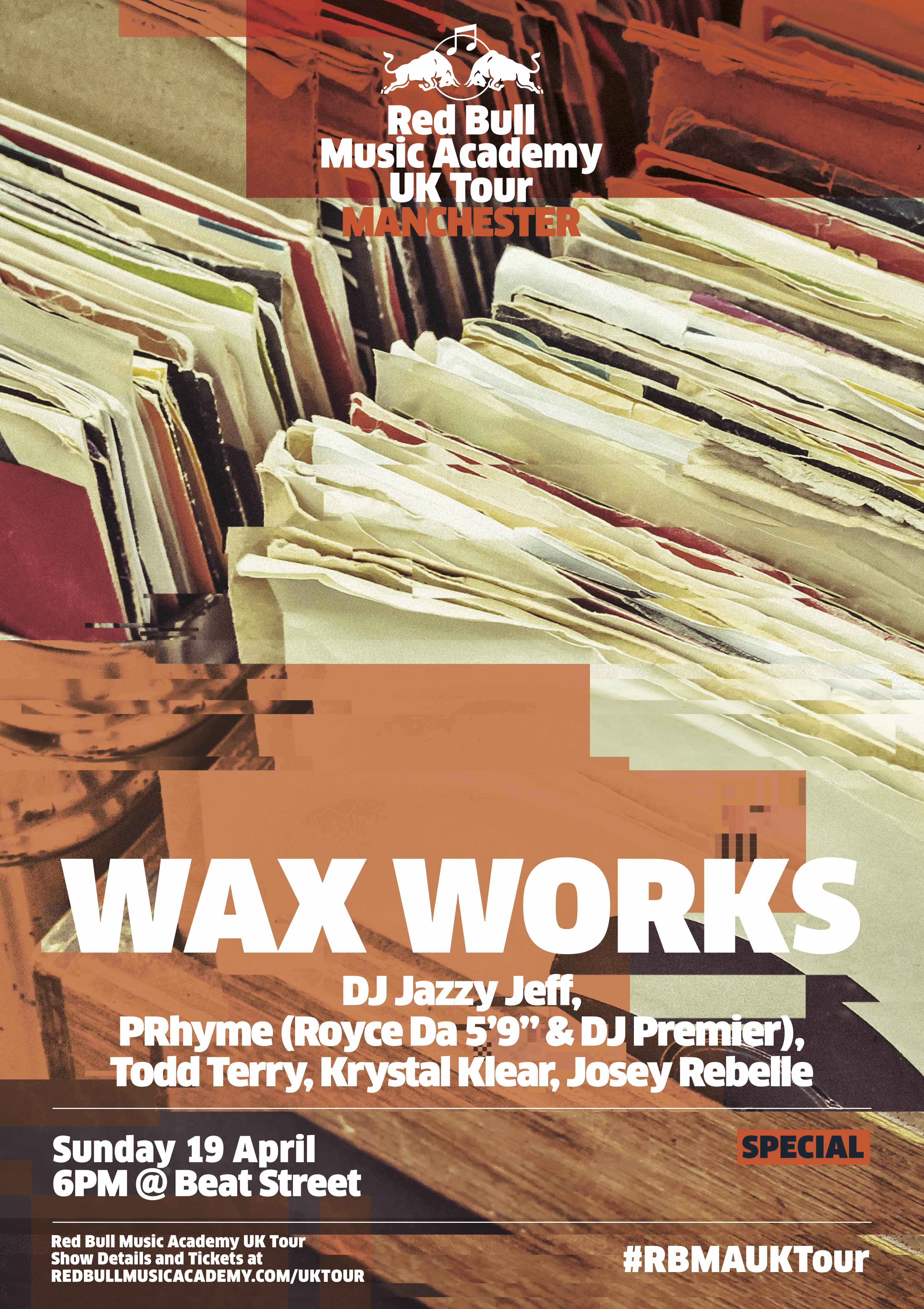 Earlier, Jeff and I hooked up with Krystal Klear, who's partnered with Jazzy on the Wax Works shop. Leaving the hotel, a bloke instantly spots Jeff, giving him a smile and asking for a picture to show his son. Without any fuss, he departs with a proud, "Enjoy Manchester!" and swings off with his carrier bags.
We hit Vinyl Exchange first, grabbing the 45 boxes from behind the counter while the legend Si G from the shop grabs Jeff, pointing at him, "I've got a record for you." Jeff picks out a few seven inches while Krystal Klear continues to dig deep in the twelves, and we head over to Eastern Bloc.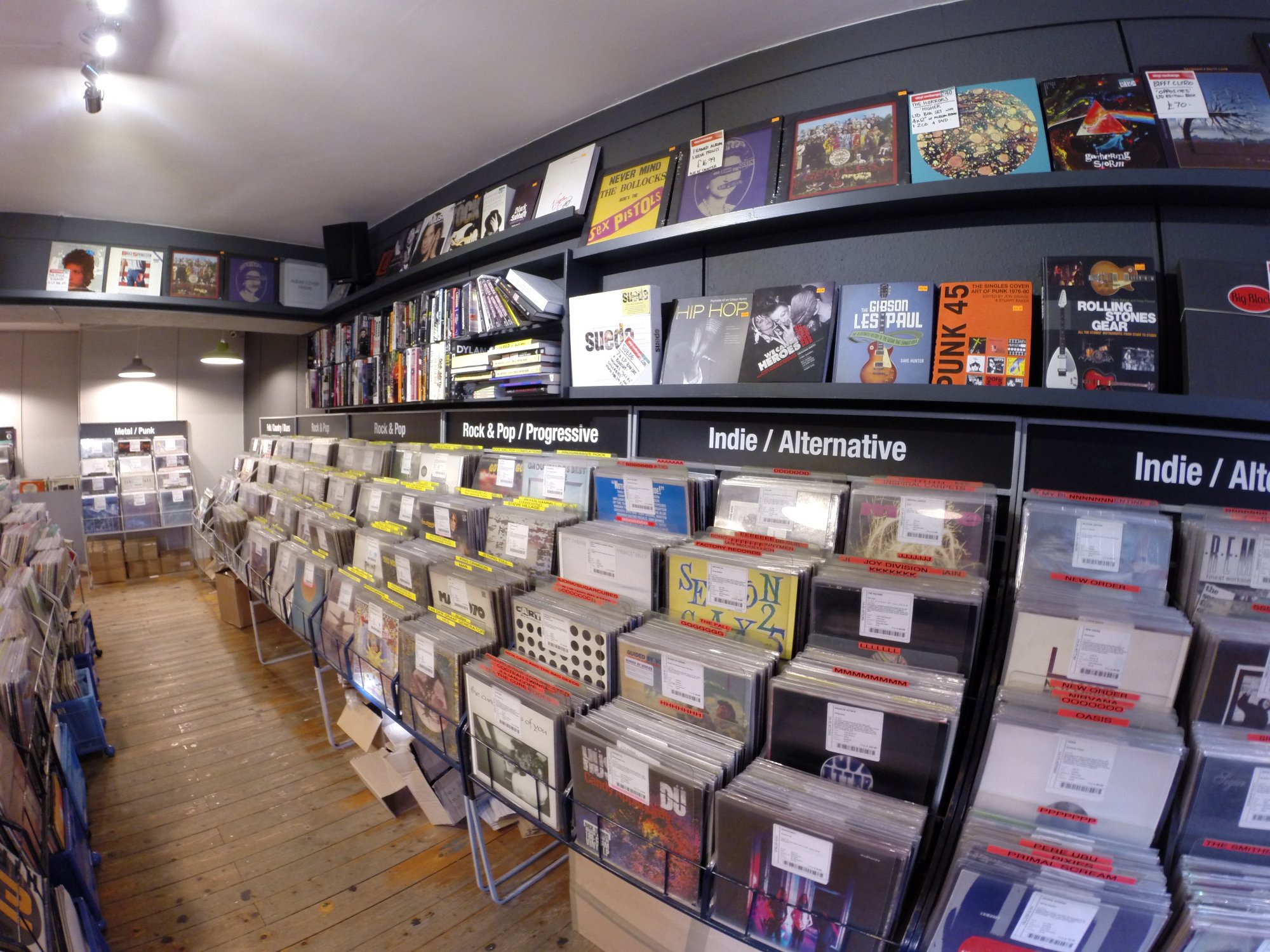 The BBQ's out and the party is in full swing here, with my partner in selection DJ A-UP having just finished his set in the store, who are hosting DJs all day (later on will see a surprise set from Todd Terry, who hasn't played all-wax for a long time either). Manager Bane sorts us out with a list of RSD releases from behind the counter and the next thing I know Jeff's got the Jurassic 5 wooden box set in his hands and is cursing Danny Drive Thru for being lucky enough to already have grabbed the Fuck The Police picture disc. "Who was it who got that disc?" "Danny Drive Thru." "I should've got someone to reserve one for me…", he reflects on the way out of the shop. Eastern Bloc celebrate their thirtieth anniversary this year… here's to at least thirty more, when vinyl will probably be succeeded by some sort of new-fangled digital format and dogs walk themselves.
pic.twitter.com/Wj8Ch1u1qS — Eastern Bloc Records (@Easternbloc1985) April 18, 2015
There are smiles all round outside while Jeff digs in the racks, the Vinyl Destination crew eyeing up the BBQ and giving props to people's kicks while they wait. The atmosphere at Eastern Bloc was amazing – remember folks, they host in-store events like this quite regularly… and every day is record store day there. On to Beatin' Rhythm, where rumour has it Jeff left a marker last time he was there, to remind him where he was up to in the rack. Was that true? "Yep," he grins, and heads into the shop to a cheery and familiar hello from the staff. They have a little reduced CD section, and I spot Summertime in the racks. I make the wise choice of leaving him to dig rather than point out this irony. Beatin' Rhythm is 45s heaven, and Jeff gets a good hour in before we have to head back to the hotel. Shouts also must go to Dave Ruf, who we didn't have time to get out to – make sure you check out the Scratch Jam at his record shop Planet Rock in Ancoats this Saturday 25th April!
Team Vinyl Destination – gentlemen all. Shouts to them! Props especially to Dayne Jordan aka Dosage, who has music forthcoming produced by Jeff. Check his work out at daynejordan.com  
This gig, Wax Works, is a significant one for Jeff – it will be his first 45s-only set for twenty years, and he's buzzing for it. Taking a breather on the couch while his crew grab the bags (they're off to Milan for the evening, returning to the rainy city tomorrow) we start to chat about how this came around.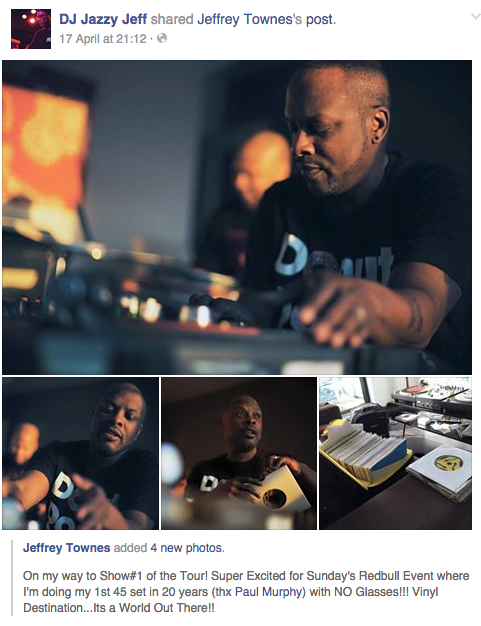 Jeff recalls a Red Bull Threestyle get together from last year, where the likes of Skratch Bastid, Shortkut, DJ Flipout, Z-Trip, and DJ Karve, the first Threestyle champion, were jumping on the decks. Two copies of Dance To The Drummer's Beat by Herman Kelly & Life were cued up, and the DJs were cheering for Jeff to jump on and do his business with the break. He was reluctant, but gave in and killed it.
He holds up his hands and looks at them, re-enacting the power of the moment he came off the decks, almost as if he felt the energy of vinyl recharging back through his fingers. A little while later, he received an anonymous package in the post: four copies of that record. He started ringing around his mates to figure out who sent them, but no-one was forthcoming – it seemed there was a wax conspiracy in place to get Jeff rocking the 45s again. (It turned out it was Skratch Bastid who sent them over in the end!)
So since around October last year, I've been buying more 45s. I've bought 4000 since then.

Putting sets together on Serato helps me put together those sets on the 45s. (Today) I was more digging for the stuff that I play.
Have you been buying doubles?
When I can. It's just hard. You know what's funny? I've got a copy of… Biz (Markie) came to my house and told me about a 45 of Good Times that has the eight minute break. I was like, no, no, no and I ended up finding it and I only found one. Everywhere I've looked. I have it with me! People don't believe me. It's… I wanna say Warm Summer Night on one side, and Good Times on the other side. It's the eight minute version of Good Times with the full break. I was so mad 'cos I only have one! No-one believed it. Those are the hard parts, because you got one and have to scour the globe to try and find another one. But I enjoy it.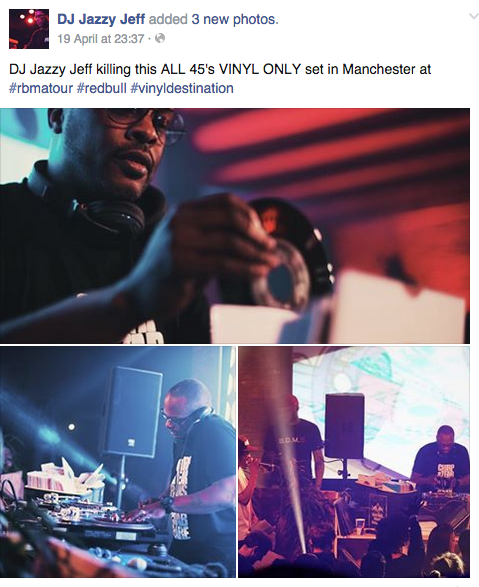 Last year when I came (to Manchester) I went crazy and went and bought 45s and I would ship 'em home. I went to Sao Paulo, which is the holy grail for 45s –  and I was mad because I didn't go 45 shopping there before, I went record shopping, because I love Brazilian music – and I got a bunch of stuff over there, but I did go to a really, really good spot in Rio. This guy might have had a hundred thousand 45s in this apartment, I went there and stayed for about seven hours, and just bought a bunch of stuff.
So do you have pre-planned sections for Wax Works?
It's a little bit of both. A lot of times what I play is eclectic, not just hip hop, funk and soul or such and such, but everything. I'll go from a hip hop record to a funk and soul record to a rock record. But I play a lot of tempos so it all goes together. So it's going to be interesting because there are records where I'll have to change pitch.
Did you put the BPMs on labels?
Yep. Just so that I know. And I used to do that with vinyl. When I would do my vinyl sets I would set up pretty much a hip hop box, funk, soul and disco box, and kinda like breaks and house box. And I would BPM them all the way out, and what I would do is bounce back and forth between the three boxes. I'd play five hip hop records, and then come in with five funk records… and then when you get uptempo go from disco to house. It's fun. It's definitely fun.
Lovers Holiday by Change, one of the 45s Jeff picked up today
I enjoy it because playing vinyl is more about the music. That was thing that got me when we were in Azerbaijan for Red Bull, we started at three o'clock in the afternoon and didn't finish 'til three o'clock in the morning. And the cool thing about that was, you had some of the best DJs in the world, and they'd rented the entire hotel, so it was just us. It wasn't like we were playing for a crowd, it was the contestants, the Red Bull Threestyle staff, and it was all these DJs.
It was one of those things that every night we would go back from the competition and go back to the pool and they had turntables set up there, and every night we'd play until the sun came up. And it was just for us.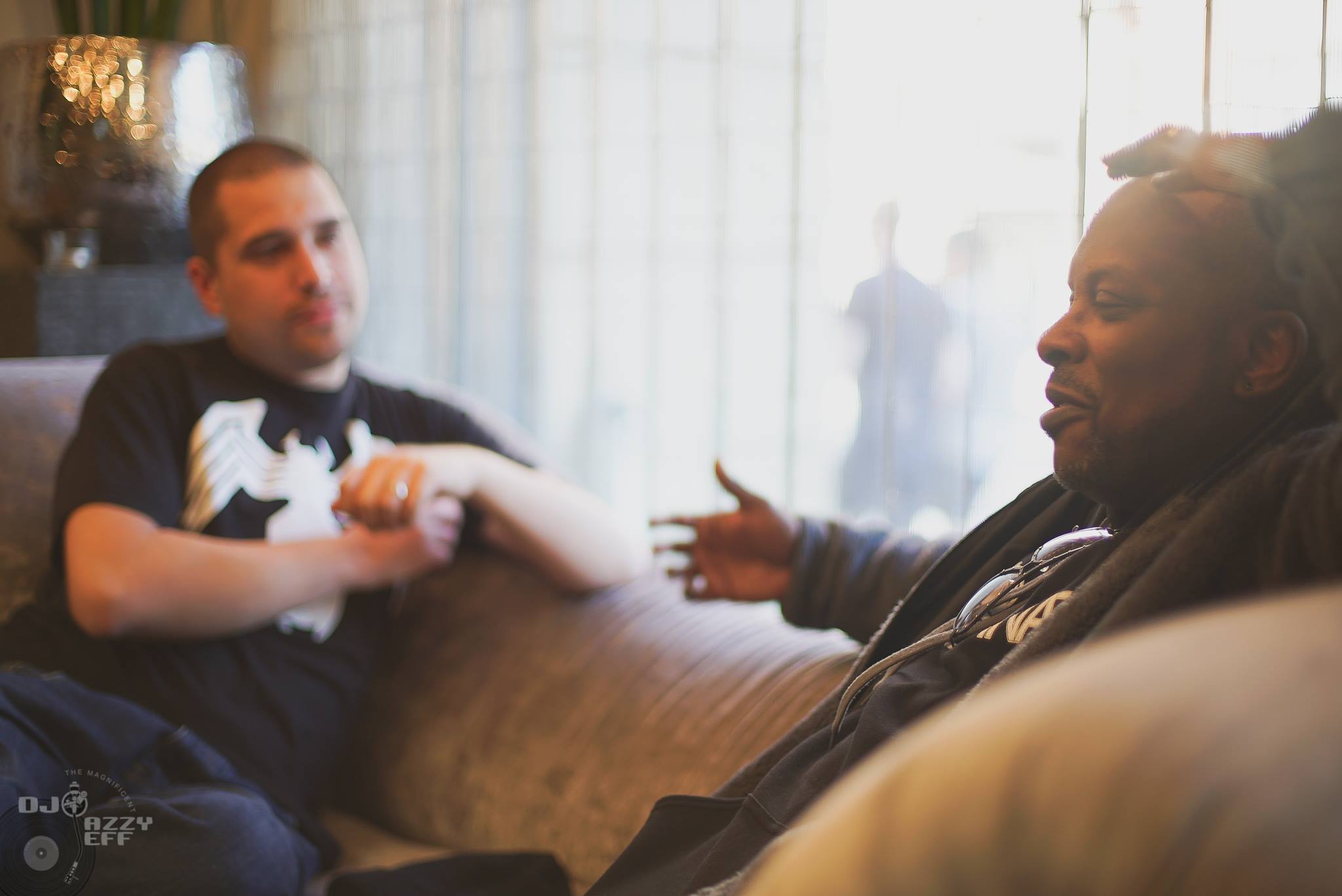 That's why this year, it's in Tokyo and when I tell you everybody is stoked… I know so many DJs that are like, I just have to try and find a ticket to just get out there for the week. I told people for the last three years, that probably was the best week of my life as a DJ. Not only are you with some of the best DJs in the world, but you're with DJs from every country. There was a DJ from… ah, where was he from? Somewhere near Russia, but played the most incredible set. Guys would put you onto music that you don't know about. It's all of that for ten days.
Is that frustrating, knowing there's music out there you don't know about?
It's more, to me, liberating. Anything I have that somebody wants, it's like yeah, you got it. I'm always listening. Your brain is like a hard drive, it can only store so much. There's times that records that are in my head get pushed out by new records, and I'll hear something… When we went into the second shop (Eastern Bloc) and that 45 that was playing, I was like, I know this record, and I couldn't think of it! I know this, this sounds so good, oh my god, the horns and the strings!
Jeff and fam continue the Vinyl Destination tour – keep track of them here. 
Jeff on Twitter / Instagram / Facebook
 ————————–
Below follows an unpublished interview I did with Jeff in 2013, when he span at Gorilla in Manchester for Fresh Fridays and Juicy.
The Magnificent Jazzy Jeff won't play solely hip hop in any one session, yet he's without doubt the world's ultimate hip hop DJ. Styles don't really mean a thing when you're this good and have this much experience of rocking a party – pooling from a variety of sources is the essence of hip hop, don'cha know. Born and raised in Philly, Jeff quickly developed a reputation and following as a block party DJ in his early years, quickly hooking up with with rapper Will Smith to form DJ Jazzy Jeff & The Fresh Prince.
Later years saw Jazzy establish A Touch Of Jazz, a production company that provided music for the likes of Jill Scott and Musiq (Soulchild). Significantly for UK fans, Jeff released landmark album The Magnificent (containing the sweet hip hop soul of For Da Love Of Da Game) on British label BBE in 2001, following it up six years later with The Return Of The Magnificent. Attracted by the prospect of complete creative control which the label offered, Jeff noted on the sleeve of the record that "makin this record was a breath of fresh air 4 me… being able 2 make a record with no limitation but ur creativity iz very rare n the major music industry 2day…"
Jeff continues to produce in the lab, but maintains his worldwide party reputation with relentless touring. He's recently kicked off web series Vinyl Destination to document those travels across the world – we chatted about that and more when catching up with him in Manchester's Gorilla, finding him fresh off the plane from the United Arab Emirates…
Shouts must go to Fresh and Juicy, two Manchester promoters who hold the monopoly on student-orientated hip hop events. Oscar Wildstyle and Wiggie Smalls of Juicy hold down Wednesdays at Joshua Brooks plus a monthly themed gathering at the Deaf Institute – recent shows outside of the club remit include DJ Premier and the 'official' J Dilla Changed My Life party. 'Fresh Live' kill it weekly at Club Academy with Fresh Fridays and are currently expanding operations to Leeds. Thanks to those guys for hooking up the interview!
www.freshfridays.co.uk
http://juicy-club.co.uk/
—
Jazzy Jeff, you just came from Dubai.. had a little sleep?
A very little! It's a long, long travel day.
I imagine flamboyant parties in Dubai, would that be right?
Yeah that's pretty safe to say! Very flamboyant. But it was good, I've played there a lot. I set this (Manchester gig) up without really thinking about it, 'cos it was a very long journey just to fly in for a day then fly back.
Appreciated by the people of Manchester though! You last played here quite a few years back, and played London recently. How do the UK parties compare to the rest of the world?
We love the vibe, we love the energy, we love the knowledge of the people, especially with the music. So y'know, it doesn't compare.
You decided to put a lot of your time touring to good use with web series Vinyl Destination – I heard mention of possibly a TV series? Are you thinking of branching that out a little bit?
Well, we're working on it. We have a ton of footage, we're probably a year ahead of what's already being shown. So that's the end goal, we have to really push to make that happen, but that's where it's at.
I'm looking forward to the eventual movie, who would you get to play you?
Oh, we haven't got there yet! (laughs)
You tweeted this week about the Coachella show that J5 did, they had a little section in there with a DJ focus, did you catch that?
Right, I loved it.
Now they were almost forcing the audience to look at the DJ there, to recognise. Do you feel the art, the beat juggling, the skills, do you think people are too lazy to get into that now?
Well no, I don't think so. I think the success of that had a lot to do with the success of the music also and just with EDM and other forms of music kinda taking the main stage, they kinda pushed the DJ back. I just thought it was really cool 'cos that's what Jurassic 5 was really about, real MCs and real DJs, putting all of that to the forefront, just educating the generation that didn't grow up with that to what its about is always important.
Out of interest, flying from club to club across the world, is there a lack of turntables? Do people have to hire in turntables now?
You can't hide technology, so people are gonna use whatever is new out. I think as long as you have DJs that make sure they show the importance of the turntable, then that'll never go away.
You've pioneered Serato and played around with all sorts of technology, you ride the wave of new stuff, but with Serato did you have any pangs of guilt or was it just excitement?
Well, mine wasn't guilt, mine was out of necessity because I got to the point where I started paying attention to the record companies not pressing up records like they used to, so it was just hard to find the records that you needed. And then also, what I found was that the airlines would really hit you for baggage when you would take your records, so it started making DJs have to rethink their set and take less records, which affects the party. So the invention of Serato, or just digital vinyl, that you are able to still do the same thing with that you would do with vinyl, but just carry your records on your computer, definitely helped the parties become better.
And when you're DJing or when you're at home in the studio, do you have any ideas about inventions ? Do you think about things that would make your life easier as a DJ? Obviously you still want your turntables to manipulate but…
Well I got some stuff coming up, I just can't talk about it…
Oh, right! Patent pending, eh…
Ha ha, yeah, we're talking about advancing the culture, we're on some stuff. I'm always on the quest for the perfect set up. I want the perfect mixer, I want the perfect turntable, so until I get that I'm not gonna stop pushing for it.
I notice in your home studio you've got a little Bumblebee Transformer there…
Heh heh, uh huh.
Obviously with the Transformer scratch, I always wondered… were you ever into Transformers? (Jazzy Jeff is often credited with the invention of this turntablist scratch, so named for it's similarity to the sound of giant robots transforming)
The cartoon, the original cartoon? Absolutely.
Who was your favourite, was it Bumblebee?
No, it was Optimus Prime.  So I was happy when the movie came out, it didn't kinda represent the original cartoon all the way but it was good enough…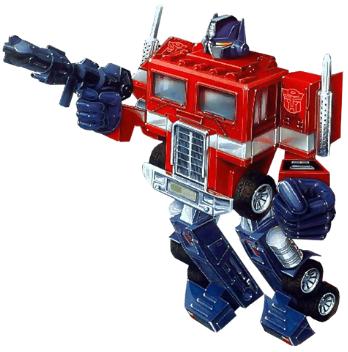 There's a lot of mythology behind that – but that's another conversation for another day.
Yeah, haha.
In terms of comics and culture, are you a Marvel or DC guy?
I'm a Marvel guy, absolutely. I'm the Avengers all the way.
You've been working with a guy called Dosage, who has a lyric, "word of mouth lasts longer than a day", in reference to blogs and social media. Do you find this is the way to consume music now rather than record labels? If you think of someone like BBE, I'm thinking if they put vinyl out now, perhaps they're worried about suffering financially because there's so much digital product – how do you view that situation?
I think social media is just another form of getting the word out. The biggest problem, especially back in the day with record companies, is that you would find a way to record your music, and find a record company who believed in you and put money up, to put you in a proper studio and record it and press up music, and promote it to get it to your fan base. I think now you can pretty much make the music in your house and give it right to your fan base so it cuts so much of the middle man out, and that's why you have success stories of the Mac Millers and the Macklemores  that go completely around the commercial aspect and is not played on the radio, but these guys are selling records and selling out shows because they're feeding their fan base and I think social media is a humongous factor in that. It's the good and bad as with everything, because of course through social media there's a whole bunch of crap out there that people want to push too, but i just think having a relationship with your fan base is very important. A direct relationship.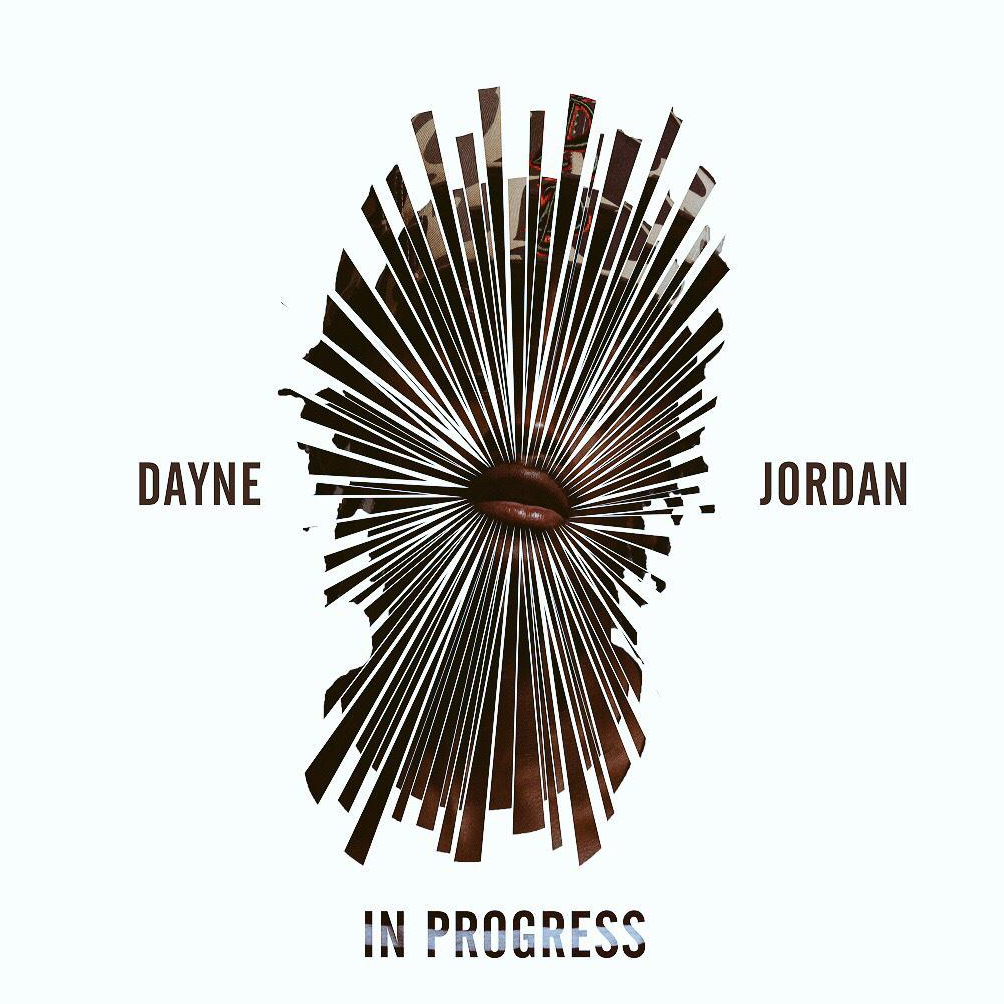 The stuff you've put out with Ayah on Bandcamp has involved free downloads – do you think that's a necessity nowadays?
Well, it's not necessary, but I'm one of those people that… I think there's so much shit out now, that you almost have to make your fan base understand that you're serious. So it's kinda like, "Listen, I'ma give you something. I don't want you to buy it, I'ma give you something because I want you to be a legitimate fan."


What do you find special about Dosage and Ayah particularly?
I just like the passion. Ayah was doing it on her own before her and I hooked up, and you just like that drive that people have. Dosage is a student, first and foremost. He'll spend hours and hours in the studio listening to other people's albums, dissecting … that's very different now.
Because of attention spans?
Yeah. Him and I have talked about working on a project now for two years and we just started, so I appreciate the patience.
You've been too busy?
Na, it's not that Im too busy, it's just… he said he wasn't ready. So you kinda respect an artist that says that.
Am I right in thinking that the original premise behind (production outfit) A Touch Of Jazz was to foster local talent in Philly?
No, actually, it was to hide behind something because there was so much different music that I wanted to do – that people didn't really accept a hip hop artist or producer doing a jazz album, or doing an R'n'B album, so it was almost kind of a front for me to kinda, launder music!
Do you think that attitude persists in 2013?
Na, na, not anymore. I think it's all starting to blend together.
Do you believe in music going in cycles? Is Nile Rodgers working with Daft Punk a case of things coming full circle?
Absolutely. Absolutely. The funny thing is, from that, the Duck Sauce record was just early Kenny Dope, funky house records, that's a cycle. To me the Mac Miller 'Kool Aid and Frozen Pizza' (track) was just a throwback of nineties hip hop – I think we're just fortunate enough to be around for the cycle to complete itself, 'cos you're getting a chance to see it.
Keep up with Jazzy Jeff's Vinyl Destination documentaries, as well as his ridiculously prolific gig list, at http://www.djjazzyjeff.com
Ayah and Jeff: http://backformore.bandcamp.com/
Dosage twitter: https://twitter.com/THEREALDOSAGE
Jazzy Jeff twitter: https://twitter.com/djjazzyjeff215