RBMA UK Tour: Manchester inc PRhyme, Jazzy Jeff, Zed Bias, Skepta and more
RBMA take their workshops and gigs on tour to Glasgow, London, Bristol and Manchester in March and April.
My personal Manchester highlight will be hearing Royce da 5'9″ and DJ Premier enlighten an audience to their Prhyme project, an all-Adrian Younge-sampling behemoth of an album.
Find details of the full tour, including an exciting night for Astral Black with Danny Brown in Glasgow, here.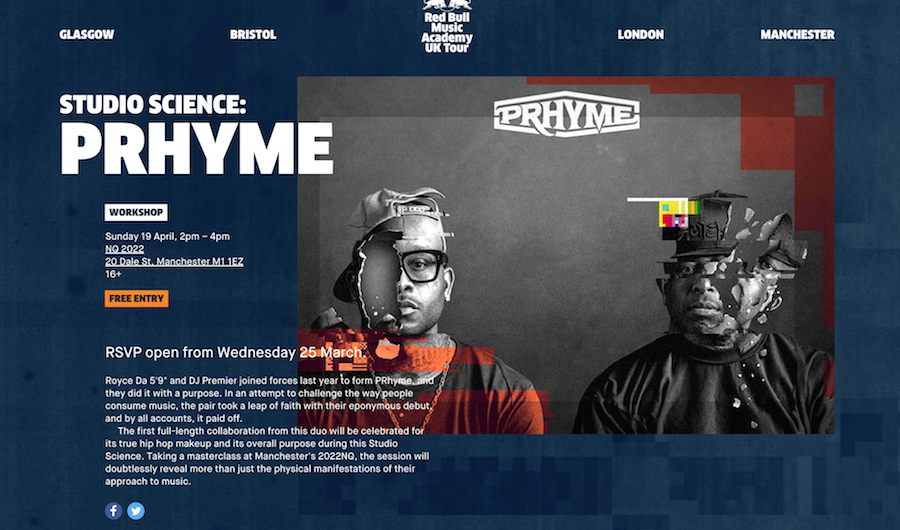 The Wax Works project also looks great, with Jazzy Jeff and Premo asked to plunder the city's record shops to form part of their sets on the night.
As always with Red Bull, there's a plethora of local talent making up the meat of events – particularly over at Zed Bias and friends and RBMA Radio live.

PRhyme Boiler (DJ Premier, Royce Da 5'9… by brtvofficial
EVENT: Dr Me's Jacket – A Red Bull Music Academy Exhibition
DATE: 16th – 19th April
LINE UP: Dr Me
VENUE: Soup Kitchen, 31-33 Spear Street, Manchester, M1 1DF
TIME: 12noon – 10pm
TICKETS: Free entry
EVENT: Red Bull Music Academy presents In Conversation with Skepta
DATE: Thursday 16th April
LINE UP: Skepta
VENUE: The Studio Gorilla, 54-56 Whitworth Street West, Manchester M1 5WW
TIME: 6.30pm – 8.30pm
TICKETS: £5
EVENT: Red Bull Music Academy presents Tropical
DATE: Thursday 16th April
LINE UP: Hosts on the night: JME, Skepta, C4, Flowdan & friends
DJs on the night: Todd Edwards, Preditah, Slimzee, Plastician & Logan Sama
VENUE: The Ritz, Whitworth Street West, Manchester M1 5WW
TIME: 10pm – 3am
TICKETS: £15
EVENT: Red Bull Music Academy presents Industrial City Sounds
DATE: Friday 17th April
LINE UP: Derrick May, Surgeon, Dana Ruh, Tin Man, Happa, Acre
VENUE: Sankeys, Beehive Mill, Jersey Street, Manchester M4 6JG
TIME: 10.30pm – 6am
TICKETS: £10 – £15
EVENT: Red Bull Music Academy presents Deep South
DATE: Friday 17th April
LINE UP: Omar-S, Doc Daneeka
VENUE: South Nightclub, 4a South King Street, Manchester M2 6DQ
TIME: 11pm – 4am
TICKETS: £10
EVENT: Red Bull Music Academy presents Simmering From Beneath
DATE: Friday 17th April
LINE UP: Mount Kimbie, Synkro, Braiden, Dan Hampson,
VENUE: Soup Kitchen, 31-33 Spear Street, Manchester M1 1DF
TIME: 11pm – 4am
TICKETS: £10
EVENT: RBMA Radio: Live in Manchester
DATE: Saturday 18th April
LINE UP: Krystal Klear, Zed Bias, Jon K, Jonny Dub, Chunky, Metrodome, Paleman, Danuka, Swing Ting, Meet Free DJs, Glowing Palms
VENUE: Soup Kitchen, 31-33 Spear Street, Manchester M1 1DF
TIME: 12noon – TBC
TICKETS: Free entry
EVENT: Red Bull Music Academy presents Zed Bias & Friends
DATE: Saturday 18th April
LINE UP: Zed Bias, ∆KKORD, Illum Sphere, Levelz, Chimpo, Sivey, Biome, Jonny Dub b2b Metrodome b2b Rich Reason
VENUE: Antwerp Mansion, Rusholme Grove, Wilmslow Road, M14 5AG
TIME: 11pm – 4am
TICKETS: £10
EVENT: Red Bull Music Academy presents Studio Science: PRhyme
DATE: Sunday 19th April
LINE UP: PRhyme
VENUE: NQ 2022, 20 Dale St, Manchester M1 1EZ
TIME: 2pm – 4pm
TICKETS: RSVP for guest list from 25.02.15
EVENT: Wax Works – A Red Bull Music Academy Special
DATE: Sunday 19th April
LINE UP: DJ Jazzy Jeff, PRhyme, Todd Terry, Krystal Klear, Josey Rebelle
VENUE: Beat Street, Great Northern Warehouse, 235 Deansgate, Manchester M3 4EN
TIME: 6pm – 2am
TICKETS: £10