17OCT14 // Swing Ting with DJ BBRAVE @ Soup Kitchen Manchester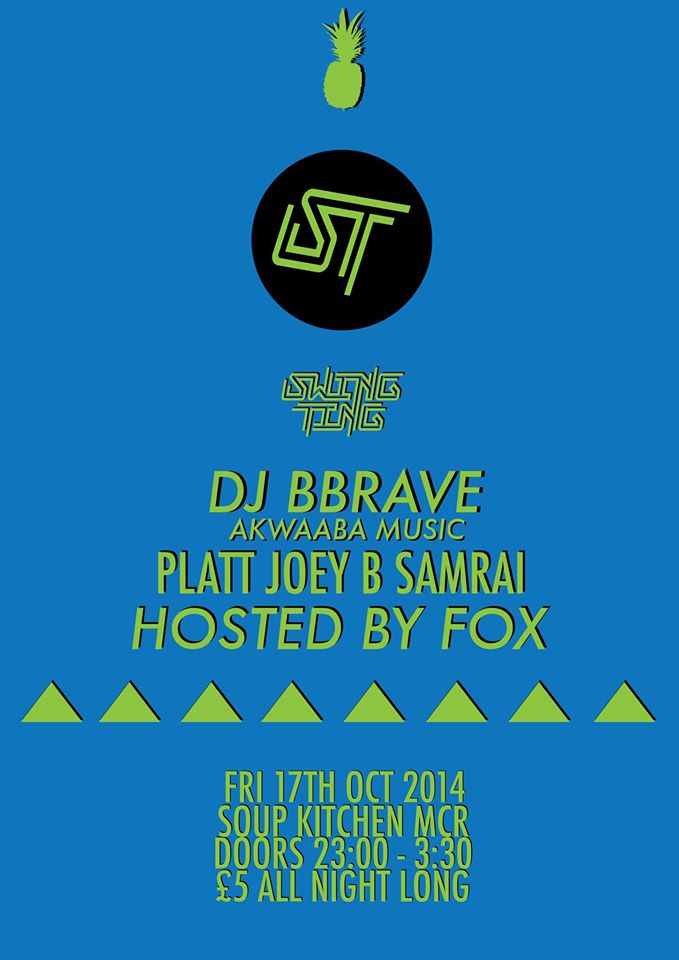 Behold the blurb for this month's Swing Ting, on the Friday not the Saturday!
———————–
*SWING TING*
*OCTOBER SESSION*
BBRAVE (AKWAABA MUSIC)
SAMRAI, PLATT & JOEY B
Hosted by THE ORIGINAL MR FOX
————————–——————

FRIDAY 17th OCTOBER 2014
SOUP KITCHEN CELLAR 31-33 Spear Street M1 1DF
£5 ALL NIGHT LONG
————————–——————
SOUL. RAP. RAGGA. GARAGE. GRIME. JUNGLE. SOCA. AFROPOP
————————–——————
Thanks to everyone who came down to our first session of the Autumn season, hold tight the Crazylegs family. Straight vibes! This month we're overjoyed to feature a Swing Ting debut for DJ BBRAVE, founder of the brilliant Akwaaba label.
BBRAVE (aka Benjamin Lebrave) coined Akwaaba in 2008 to introduce worldwide audiences to contemporary African sounds as well as welcome African artists to alternate markets. Since then he's released Kuduro compilations, Hiplife EPs, Folk, Hip Hop & Afropop LPs and much more featuring artists such as; EL, 4×4, Appietus and Art Melody to name a few. Based in Ghana since 2011 he's developed a reputation for being an outstanding selector seamlessly blending all styles and sounds from the African continent and diaspora: https://soundcloud.com/akwaabamusic/sets/bbrave-mixes. Expect to hear what's currently running the clubs in Accra as well as plenty of fresh, forthcoming Akwaaba material…
On the night BBrave will be joined by residents Platt, Joey B, Samrai & Fox for what promises to be a one-away dance!