Preview: Strut compile Sun Ra and his Arkestra – In The Orbit Of Ra
A perfect jumping on point for those unfamiliar with Sun Ra's work and a fitting archive for longtime fans, In The Orbit Of Ra is released on double CD, double LP (including the CDs!) and digital on 22 September 2014.
The collection is timed to coincide with what would have been Sun Ra's 100th birthday, and is compiled by the longest serving member of the Arkestra, Marshall Allen. My friend Claire Press, on her recent Bicycle Tracks escapade, was lucky enough to catch them in concert at this year's MOFO festival in Australia.
Mastered from original tapes, this is the first internationally released compilation to provide an introduction to the music of Sun Ra – no easy feat considering his catalogue of over 100 albums. With an ancient Egyptian influence coalescing with a cosmic outlook and poetry, magic and ritual, I've never considered myself to know nearly enough about this guy – this will be an essential purchase for me!
Pre-order the album from Strut.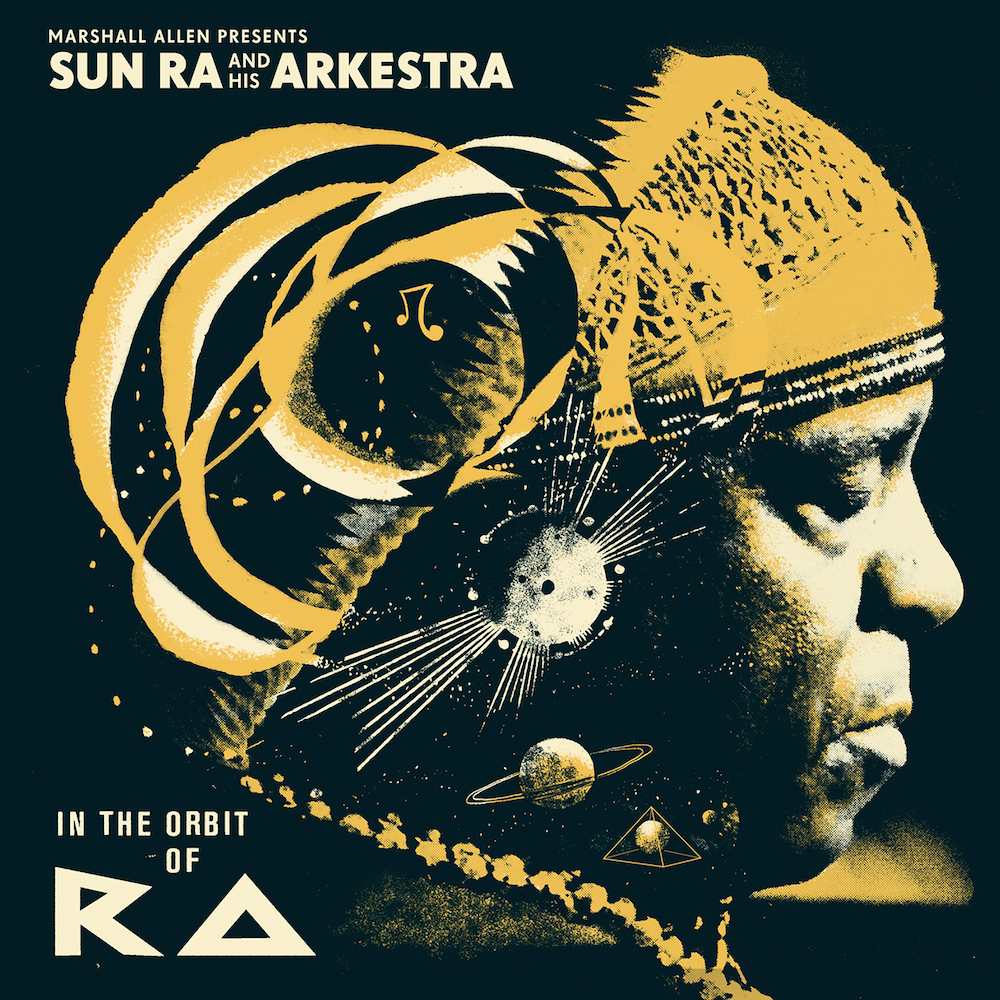 Track listings follow!
CD 1
1. SUN RA AND HIS MYTH SCIENCE ARKESTRA – SOMEWHERE IN SPACE 3.01
2. SUN RA & HIS SOLAR-MYTH ARKESTRA – THE LADY WITH THE GOLDEN STOCKINGS 7.43
3. SUN RA AND HIS AFRO INFINITY ARKESTRA – SOMEBODY ELSE'S WORLD 3.59
4. SUN RA – SPONTANEOUS SIMPLICITY 7.54
5. SUN RA & HIS SOLAR-MYTH ARKESTRA – PLUTONIAN NIGHTS 4.20
6. THE SUN RA ARKESTRA – ANGELS AND DEMONS AT PLAY 2.51
7. SUN RA – ISLAND IN THE SUN (Extended version – previously unreleased) 10.20
8. SUN RA – ROCKET NUMBER NINE TAKE OFF FOR PLANET VENUS 6.18
9. SUN RA – SOLAR DIFFERENTIALS 6.20
CD 2
1. SUN RA AND HIS ARKESTRA – ASTRO BLACK 10.51
2. SUN RA AND HIS INTERGALACTIC INFINITY ARKESTRA – HAVE YOU HEARD THE LATEST NEWS FROM NEPTUNE 5.51
3. SUN RA – DANCE OF THE COSMO ALIENS (Live In Milan, 1978) 11.00
4. SUN RA – TRYING TO PUT THE BLAME ON ME (Live In Rome, 1977 – previously unreleased) 3.37
5. SUN RA AND HIS SOLAR ARKESTRA – PLANET EARTH 4.55
6. SUN RA AND HIS MYTH SCIENCE ARKESTRA – THE NILE 4.55
7. SUN RA AND HIS SOLAR ARKESTRA – REFLECTS MOTION (Part 1 – previously unreleased) 3.21
8. SUN RA AND HIS SOLAR ARKESTRA – REFLECTS MOTION (Part 2) 8.09
9. SUN RA – ANCIENT AIETHIOPIA 9.15
10. SUN RA AND HIS ARKESTRA – INTERPLANETARY MUSIC 2.40
11. SUN RA AND HIS MYTH SCIENCE ARKESTRA – WE TRAVEL THE SPACEWAYS 3.21
—————–
LP (vinyl edition also includes both CD discs as free insert)
A1. SUN RA AND HIS MYTH SCIENCE ARKESTRA – SOMEWHERE IN SPACE 3.01
A2. SUN RA & HIS SOLAR-MYTH ARKESTRA – THE LADY WITH THE GOLDEN STOCKINGS 7.43
A3. SUN RA AND HIS AFRO INFINITY ARKESTRA – SOMEBODY ELSE'S WORLD 3.59
A4. SUN RA & HIS SOLAR-MYTH ARKESTRA – PLUTONIAN NIGHTS 4.20
B1. THE SUN RA ARKESTRA – ANGELS AND DEMONS AT PLAY 2.51
B2. SUN RA – ISLAND IN THE SUN (Extended version – previously unreleased) 10.20
B3. SUN RA – ROCKET NUMBER NINE TAKE OFF FOR PLANET VENUS 6.18
C1. SUN RA AND HIS ARKESTRA – ASTRO BLACK 10.51
C2. SUN RA AND HIS INTERGALACTIC INFINITY ARKESTRA – HAVE YOU HEARD THE LATEST NEWS FROM NEPTUNE 5.51
C3. SUN RA AND HIS MYTH SCIENCE ARKESTRA – WE TRAVEL THE SPACEWAYS 3.21
D1. SUN RA AND HIS SOLAR ARKESTRA – REFLECTS MOTION (Part 1 – previously unreleased) 3.21
D2. SUN RA AND HIS SOLAR ARKESTRA – REFLECTS MOTION (Part 2) 8.09
D3. SUN RA – ANCIENT AIETHIOPIA 9.15