MY VINYL WEIGHS A TON: UK screening and event details / Watch first 5 mins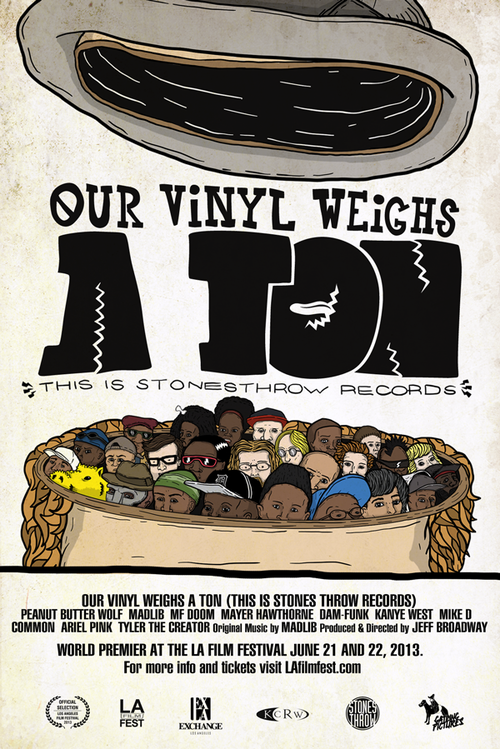 It's a proper film and everything! Gutted there's no Q&A or DJ event in Manchester though…
Watch the first five minutes here:

UK DATES FOR OUR VINYL WEIGHS A TON / PEANUT BUTTER WOLF TOUR
Mon 31 March: Glasgow Film Theatre Q&A screening + live event at Broadcast,Glasgow
Tue 1 April: FACT Liverpool Q&A screening + live event at Kazimier, Liverpool
Wed 2 April: Cameo Picturehouse Q&A screening + live event at Sneaky Pete's, Edinburgh
Thu 3 April: Ritzy, Brixton Q&A screening + live event at Plan B, London
Thu 3 April: Gorilla, Manchester – screening only
Fri 4 April: Hyde Park Picturehouse, Leeds, + live event at Hi Fi, Leeds
Sat 5 April: Broadway, Nottingham – screening only
Sun 6 April: Sugar Club, Dublin Q&A screening and live event (6pm)
Press release:
The film by Director Jeff Broadway (The Mark Sandman Story) deftly combines rare live concert footage, never-before-seen archival material, inner-circle home video and photographs and in-depth, and original interviews with the movers and shakers and many of the artists who have helped make Stones Throw the acclaimed label it is today.
The film features exclusive interviews with Peanut Butter Wolf, Kanye West, Snoop Dogg, Madlib, Common. ?uestlove, Talib Kweli, Mike D (The Beastie Boys), Tyler, the Creator, Flying Lotus, Dam-Funk and many more.
Our Vinyl Weighs A Ton weaves the story of one of the world's most vital independent labels into the lives of its protagonists, delving deep into their personal stories, collaborations and close friendships which have ultimately shaped Stones Throw. From the label's birth as a result of the tragic death of Peanut Butter Wolf's musical partner and best friend, Charizma, to Wolf's provocative alter-ego Folerio, the making of J Dilla's final record, as he battled a fatal disease, and much more.
Under the direction of founder and world-respected DJ Peanut Butter Wolf, Stones Throw has consistently released critically acclaimed, left-of-centre albums since its inception in 1996. The LA-based label is one of the leading names in underground hip-hop with a cult fan-following around the world. Applauded as a risk-taking, genre-bending imprint, Stones Throw not only is a top tier tastemaker for pioneering hip hop releases, but has built an extraordinary reputation for its soul, electro, disco, and psychedelia releases. Over the past two decades Stones Throw has released both cult and commercial classics from the likes of Aloe Blacc, J Dilla, Madlib, MF DOOM and Mayer Hawthorne, amongst many others.
On Stones Throw's success, Peanut Butter Wolf says, "Stones Throw Records is a very personal label for me. I put out what I personally like and save the rest for the other labels out there. As executive producer, I don't put out what I think the people will like, I put out what I like. This has worked for me so far, and if it stops working for me, it will be the end of Stones Throw as a label. I've passed on some artists that I knew would sell a lot of units because I didn't like the songs…but profit isn't the only thing that drives my label."
On Our Vinyl Weighs A Ton Director Jeff Broadway adds, "First and foremost, the film is for the fans…I wanted to provide an unprecedented look into the culture of Stones Throw and the key figures who have traditionally made it up—Peanut Butter Wolf, Madlib, J Dilla, MF DOOM, Jeff Jank, etc. These artists have quietly been incredibly influential to hip-hop culture and the independent music industry at large, yet there has historically been so little known about them publicly. Beyond that, I think the film explores a number of universal themes which anyone can appreciate and relate to."
Following hot on the heels from the film's official screenings at SXSW, Peanut Butter Wolf heads to Europe to screen Our Vinyl Weighs A Ton at cities across the UK and Dublin at the start of April with a number of Q&As and special DJ events planned with further screenings to be advised.