Listen! Saun and Starr – Hot Shot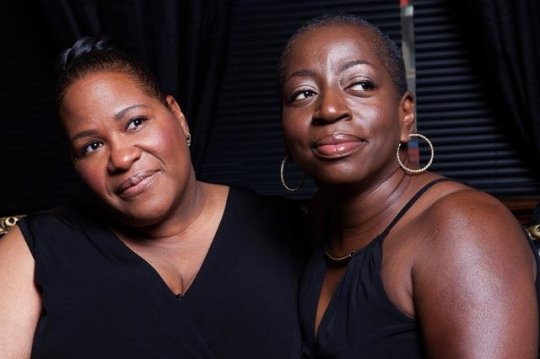 Available to pre-order now from Daptone Records.
Daptone say:
It is our distinct pleasure to present the debut release by two women who will forever change the Soul game: Saun & Starr. Like a two-headed Phoenix rising from the ashes of a bygone era when the duets of Sam & Dave, James & Bobby Purify, and Marvin & Tammi danced upon the airwaves, Saun & Starr have redefined the possibilities of what a great Soul duo can be. Though they each posess a tone and style that commands attention, together their voices compliment each other perfectly, lifting their sound to elevations neither could reach alone –– harmonies and phrases playfully intertwining to form the architecture for a soulful fortress of vocal prowess. This is obvious to anyone who's heard them backing up Miss Sharon Jones (on stage or on record) under the loving pseudonym "The Dapettes."
Though they are currently in the studio putting finishing touches on their debut full-length album, two of their tunes have thankfully been committed to seven inch wax. The A-Side, 'Hot Shot' is a feel-good shaker that features the inexplicable range of Miss Starr Duncan Lowe, backed staunchly by the "Baddest Band in the Land", The Dap-Kings. The flip, 'Gonna Make Time', showcases Saundra "Saun" Williams' smooth, smoky vocal, atop a bed of deep low-rider soul. If this 45 ain't your bag, please go lay down on a busy
street. There's no hope for you.