SUBSTANCE ABUSE // Exclusive interview and 'Frontrow' video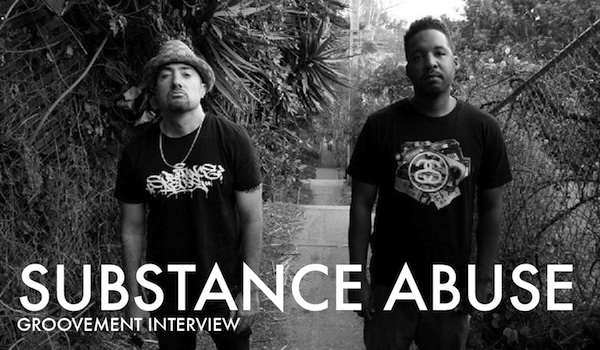 In an exclusive first look for Groovement, we have Substance Abuse's new video, Frontrow, taken from the Background Music album – we also got the chance to talk to them below.
GROOVEMENT FIRST LOOK // SUBSTANCE ABUSE: FRONTROW
Substance Abuse are Eso Tre and Subz – you may have heard of them most recently through the video for their track Paper Tigers (below), or the sick 7″ that's just been put out of Rear View with Kutmaster Kurt. The two grew up together in Los Angeles, attracted to the message of hip hop from an early age but most of all the idea of positive expression through creative art. The music they produce now recalls that Golden Era vibe without overdoing the nostalgia tip.
They dropped the Brand New Crime EP back in '98, have worked with the likes of Kool Keith (Night on the Town) and MF Doom (Profitless Thoughts), and dropped their first full length Overproof in 2006. Background Music dropped this year and features guest spots from Tash, Sadat X, Percee P, Myka Nyne, MC Eiht, and Max Julien around the nucleus of Eso and Subz.
First of all, thanks for the 'Frontrow' video! Give us the lowdown…
Eso: Frontrow is a song we did about the highs and lows of doing shows. Actually, my focus was more on the lows. Subz was a bit more positive.
Subz: We just like to get the crowd involved so we saying something that's motivational to help wall flowers break out of their shell.
Winding back, how did the formation of Substance Abuse come about?
Eso: We were homies since 5th grade. We both went to Uni High in L.A. which, at the time we went there, was a mecca for hip hop and graffiti culture. We came up together in the L.A. scene and it shaped our outlook about how music was supposed to sound. On this album we boldly talk about a lot of things that people don't give a shit about anymore but that mean a lot to us.
Subz: It furthers explains where we are from and where we are heading.
Give me a quick three adjectives that most suit each member of the crew.
Eso: cautious, hopeful, non-suckerish
Subz: Open, Creative, Pensive
How is the hip hop scene in Los Angeles nowadays? Has it been infiltrated by the 'beats' scene that Low End is famous for, do they go hand in hand, or do they stay out of each others way? Please share your thoughts and opinions.
Eso: L.A. was and is a place where, at least in terms of hip hop music, you could be yourself and people would appreciate what you were trying to do. Project Blowed really open the gates up for people who were trying to do something different. I think L.A. is known for being receptive to music from all places, and I think that's why some of the most creative stuff has come out of this town.
Subz: There are so many bands and groups from all over the globe concentrated in LA because they are serious about their craft that this town can't help but be diverse and inspirational.
Your first LP dropped in 2006, Background Music at the end of 2012 and the Brand New Crime EP back in 1998 – why so long between works?
Subz: It took a while to understand the changing dynamics of the music business we wasted some time trying to get things done the traditional way. We have so many tracks on this album it probably should have been divided up.
Eso: Politics. No A&R plucked us out of obscurity, so we always had to use our own resources to make things happen. When you don't have some big machine behind you, it's hard to get things crackin' the exactly the way you want them to be. But this struggle has made us stronger as artists.
As you've been active since '98, what have been the most exciting (and conversely, disappointing) aspects of the way the music industry (or lack of) has developed? Have social platforms made it easier to connect with people or are those connections to shallow, lost amongst a sea of artists?
Eso: social media is something you HAVE to use as an artist. Has it made things better or some how facilitated broader exposure? In my opinion no, but people will say it has because you have no choice but to fuck with it if you're trying to put out music. In myspace's heydey I think I counted literally around 1 million hip hop pages. Anyone who could create a profile was a rapper, which made it harder for people who really had made it a point to master their craft. People were jaded from getting a billion friends requests a day. It's like a girl getting hit on twenty times at a bar. You could be Mr. Right, but by the time you get to her, she's over it.
Subz: that's why you have to be interesting, original, and at least slightly familiar, you dig?
What made LA special in the early nineties? Is that a spirit that can be recaptured?
Eso: the past is in the past, but I think there is a feeling of excitement that we can still recapture. What I remember about LA that made it interesting back then was these wild as house parties where kids from all over LA would come to. Cats from South Central would be at a house party in Beverly Hills. I think people in this city became more weary of throwing wild parties because no one wants to get their crib ransacked. But those days were fun.
Subz: My level of excitement never stopped. I like being out having fun staying up especially if it's productive or a good atmosphere. I'll never take my finger off the pulse of where the energy is.
I met up with Kool Keith recently, and found him pleasant company. How was it working with him?
Eso: I remember being at Kurt's house and he was making some lentil soup. Keith comes out and says, "Kurt, what are you making? Some beef stew? Some pterodactyls?" Pterodactyl Soup. I always thought that would be a funny intro to one of their albums.
Subz: I remember swooping him up to shoot "Night on the Town" and he was posted up in Seventh Veil on Sunset strip. It took forever to get him up out of there! And then when we finally did we had to drive back because he left his hat up in there.
What are the main thoughts and drive behind Background Music?
Eso: We're trying to talk about the environment that created us, and how it's the lens through which we see reality now. But we're also talking about what hip hop has become, at least to most people.
What features are on the album – how have you chosen who to work with?
Eso: We've never really gone with the flavor of the month dudes, but instead with people who really meant a lot to us. On certain albums you can see very "obvious" cameos, like damn, they went with so and so, what a shocker. I don't knock anyone's hustle, because cameos can be a very strategic and effective way of gaining new fans. The main thing for us was making sure they fit the vibe of the song.
What's the day to day grind like out there in terms of live shows?
Subz: At the moment we are tied up in our other hustles but are always open to hear offers.
Eso Tre, you write too. What's the context of that?
Eso: Was tired of lame ass critics who haven't done their homework talking about a genre of music that they never experienced firsthand. I didn't get my game on hip hop from a message board or some toy rapper writing salty reviews 'cause his own music is so criminally inept. Someone had to put the intellectual smackdown on these chumps.
Subz, what else takes up your time?
Subz: I am into art and design. About to be an architect soon so hit me up if anyone wants something fresh!
Does hip hop need saving? Can it be? Has anyone come close?
Eso: People have to be careful with that, because it can be a self-fulfilling prophecy. What really needs saving is people's ability to think for themselves, especially when it comes to their musical tastes.
Subz: No.
What are your plans for the near and far future? Can we expect a follow up album sooner rather than later? Rumours abound of you nipping over to UK shores… 
Eso: Expect the unexpected from The Abuses. And whoever is spreading those rumors needs to contact us so we can talk about our travel arrangements.
Subz: Word.
www.substanceabusehiphop.com
Check the back catalogue…