Nikitch & Kuna Maze + Mango Thomas
Band on the Wall presents a series of free entry gigs and DJ sets on our second stage, located to the rear of our brand new bar. We'll be shining a light on our favouring emerging artists across all genres with a diverse programme of global sounds from, and inspired by, the music of cultures from around the world.
Nikitch & Kuna Maze are an electronic instrumental jazz trio synthesising broken beat, footwork, hip-hop and jazz.
The collaboration project between musician Nicolas Morant aka Nikitch and Brussels-based producer Edouard Gilbert aka Kuna Maze began when the duo met at the Chambery Jazz Conservatory in France. Before attending university to study jazz, both artists had trained in classical music while growing up in the Lyon countryside.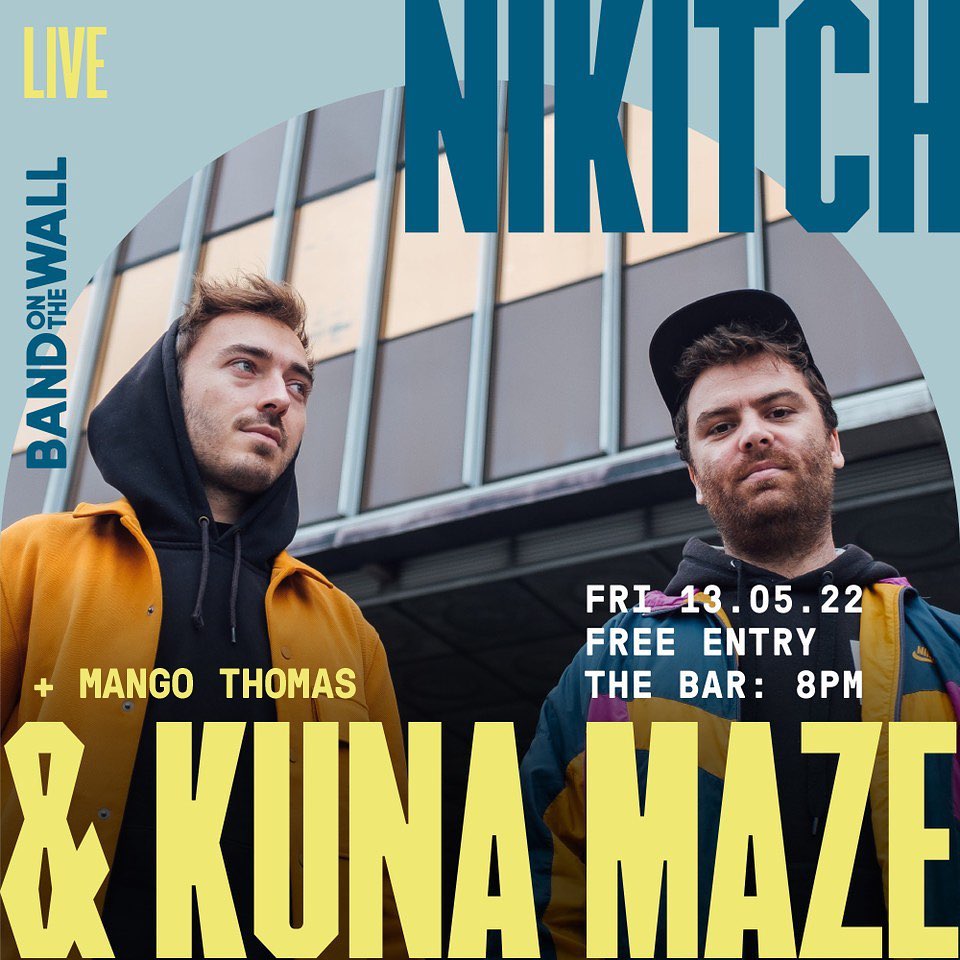 This early musical development from Nikitch & Kuna Maze laid the blueprint for their musicianship today, allowing the duo to gradually explore the new artistic languages of jazz, and later electronic music. Both artists used their time at university to widen their horizons, encountering other musicians from outside from classical and jazz music circles, and as a result, started gigging and working on projects beyond the conservatory's curriculum.
It wasn't long until the duo started making electronic music together – a genre that wasn't popular at the conservatory at the time, as retaliation. Born out of wanting to try something different, and a mutual love of the same artists, the pair produced their first beat on the train from Chambery to Lyon. Influenced by the likes of Flying Lotus (a pivotal artists for Kuna Maze, who started producing after hearing his fresh sounds), as well as Roy Hargrove, Thundercat, Flako, Dorian Concept, Tigran Hamasyan, Esböjrn Svensson Trio and Erykah Badu – the duo blend their influences from jazz, broken beat and a wide pallet of electronic music, into dance-floor package.
he duo perfectly syncretises their sound – with the vibrant colours of jazz, mixed with the frenetic beats of footwork & juke from Nikitch, combined with the granular synth-cosmict extures of Kuna Maze. This oscillation of jazz, downbeat, and hip-hop produces the duo's signature sound, a crisp groove-laden output, that offers intimate and irresistible vivid textures to the listeners.
Part of the new wave of musicians, producers and DJs who are heavily influenced by the melting point of jazz and club culture – Nikitch x Kuna Maze draw parallels to UK counterparts such as Neue Grafik, Nubya Garcia, Joe Armon-Jones, and fellow broken beat revivalist Kamaal Williams aka Henry Wu.
Mango Thomas
Twist and turn through a dark world of unexpected whimsy and emerge laughing into the sarcastic sunshine. What the fuck was that?? No-one wants to say, "You've been mangoed", but that's the flavour on everyone's lips. Genres are flying in every direction and no-one is even sure what decade it is anymore! Mango Thomas is a genre-defying, rule-breaking and mind-bending phenomenon, fraught with laughter, surprise, intensity and excitement! Fusing together a progressive & psychedelic mashup of live and electronic styles, Mango takes you on a magical, mystical and eccentric journey from the depths of the soul to the heights of madness!